Black Sand Beach at Playa La Esperanza in Manatí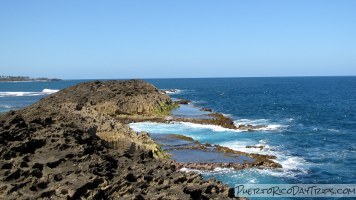 If you are a regular reader of our blog, you know I am not much of a beach/sand sitter. I love beaches for the views and the breezes, but not so much for the swimming.
We've been to a number of beaches along the northern coast of Puerto Rico, and I've rarely been let down by their rugged beauty.
Playa La Esperanza was no exception. Located in Manatí, it is a remote and beautiful place. Not only did it have a great cove for cooling off in the water and beautiful views, it had a surprise — a black sand beach area.
Getting There
Playa La Esperanza is located on land owned by the Fideicomiso de Conservación de Puerto Rico (Puerto Rico Conservation Trust). The beach is only open Friday through Sunday, and holidays, from 8am to 6pm. At other times, the gate across the entrance is kept locked.
You really have to want to go to this beach, because the road to it is in bad shape — it is packed dirt with lots of ruts, holes and rocks. I imagine that is must be even worse after a rain storm. It is a long drive on the dirt road, about 1 mile — walking it would not really be practical.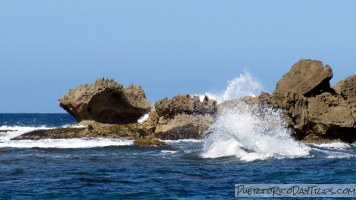 The dirt road is one lane, with a few pull offs for cars coming from the opposite direction to pass. I was glad that we only met up with one car going in the opposite direction! I hear that in the summer, it is much busier. At one point on the dirt road, there was a Y in the road where you had an option to go to the right or left. We went left. I don't know where that other road goes … maybe next visit we will explore that area.
We decided to park when we saw other parked cars. I assumed they knew the best spot. Parking is just anywhere you can find a clear patch of sand off the road. I suggest backing into your parking spot — it would make getting out easier if it gets crowded. Be aware and stay in obvious parking areas on the ocean side of the road. The other side of the area was a marsh that I bet would swallow your car!
The Beach
Just a few steps from the car, we were on the beach! What a view — a blue cove, some limestone rocks with waves crashing through them, the white foam on top of the blue water. Always suckers for a pretty picture and view, we walked toward the rocks to get a look at them and the ocean beyond.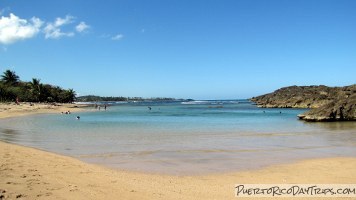 As expected, the view was great and the colors were amazing. If you go out on the rocks, watch the waves — they can come up and over and could knock you over, causing, at very least, a lot of pain. There were some kids jumping from the rocks into the water, though I wouldn't recommend trying it.
There is a large sandy area right by the rocks that was clean and a perfect place with plenty of room to spread out a towel and relax. The pool itself this day was calm and beautiful. Many people were just sitting and enjoying the day. I didn't do it, but it looked like there were a few rocks out in the pool that probably had some marine life to check out if you brought your snorkel gear.
When we went, it was low tide. There was not a lot of beach in some areas, and the beach itself had loads of driftwood and natural debris (and some trash) on it. That part didn't look too appealing, but we found a nice large driftwood log to sit on and have lunch. If you looked around, you could also find some decent sea glass.
Black Sand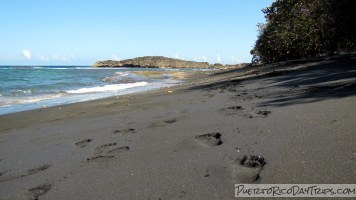 After lunch, we took a walk to the west along the beach. Before too long, you could see the color of the sand changing from golden to darker to black! It seems this part is called Playa Machuca. The sand was so black that some areas shimmered a blueish tone in the sunshine. The black sand part was maybe a couple hundred feet long. It was really cool to see, and a nice surprise. I have no idea way it was black sand only in this area, it would be interesting to find out.
Upon continuing our walk westward, the sand turned back to the golden color and the beach got wider. For the most part, the beach was deserted this January day, but there were a few kids out in the water surfing.
As with most beaches in Manatí, we were told that there is the occasional car break-in. I suggest, if you go, that you should park as close to a large family that is tailgating it, or just tailgate it yourself — leave someone near the car at all times. I hear in the summer, when more people are around, that they have a security guard patrolling the parking area — but not in the winter months.
Details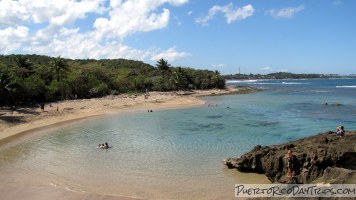 There is no fee to use this beach.
The beach is open Friday through Sunday, and holidays, from 8am to 6pm.
There are no facilities at this beach. Pack in. Pack out.
Driving directions from the San Juan area: Take Route 22 west to Exit #46. At the end of the ramp, turn right onto Road 686 North. Follow Road 686 North until it dead-ends at a tee. At this tee, turn left onto Road 685. Follow Road 685 to Road 616, where you'll make a right (there's a gas station on the corner). Follow Road 616 until it dead-ends at the entrance to the dirt road that leads to the beach.
Playa La Esperanza is about a 1-hour drive from San Juan.
Click on a placename below to view the location on Google Maps ...
PuertoRicoDayTrips.com assumes no responsibility regarding your safety when participating in the activities described in this article. Please use common sense! If your mother or that little voice in your head tells you that you are about to do something stupid … then don't do it!