Playa de Jobos and Pozo Jacinto in Isabela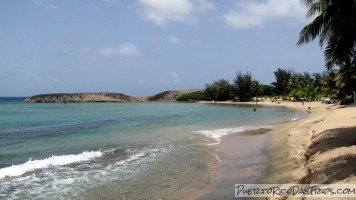 If you are looking for a fun beach spot in the north-west part of Puerto Rico, you can head to Playa Jobos (Jobos Beach) in Isabela. This stretch of sand offers surfing, beach bars, and a little exploration around the rocky coastline. It is super popular place to visit on weekends, a great hang out!
One of the things you'll find there is Pozo Jacinto (Jacinto's Well) — a rock formation that has a legend attached to it. The whole beach and coastline area is a pretty thing to see, but, like much of the north-west coast, Playa Jobos is not a swimming beach — so you'll just be content with a little sun and fun on the beach.
The town of Isabela is located along the coast about 1.5- 2 hours west of San Juan. Isabela offers some of the best surfing in Puerto Rico. In fact, many professional surfing events are held here every year. While the surfing is great at Playa Jobos (winter and spring are the best times, so I hear), Jobos Beach has more to offer than just surfing.
Playa Jobos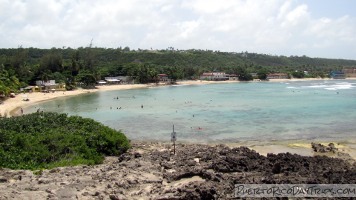 Jobos Beach is a long, but narrow, strip of sand that is very popular with locals and tourists alike. Depending on the weather and surf conditions, there may be a shallow area where you can cool off in the water — but be very aware that there is an extremely dangerous rip current at this beach.
Before entering the water find out if there is a rip current, and if there is, find out where it is. All too often surfers risk their own lives saving swimmers that got caught in the rip current.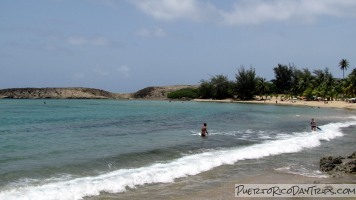 Though Playa Jobos is mainly a surfing or sun bathing beach, it is also a great place to hang out and party. There are some beach bars and restaurants, where you can relax, have a drink, and watch the surfers. Those places serve low-cost local fare and drinks. There are some places that rent beach chairs.
We went to Playa Jobos on a Thursday, in late summer, and the waves were about 3-4 feet, so just a few guys were surfing. There was a handful of people on the beach and hanging out in the local establishments. But on weekends … watch out … the whole area gets crowded and active!
Pozo de Jacinto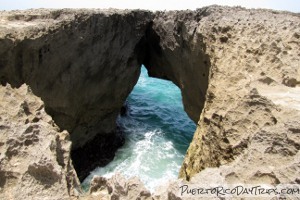 We didn't stay at the beach for a swim, but instead took a walk along the rocky coastline to see Pozo de Jacinto (Jacinto's Well). It is a little east of the beach. It is a large "hole" in the rocks where, when there are large waves, the seawater shoot up and out of the rocks. Just a little to the east of the large opening is a small hole, where you can hear the sounds of the sea, as it comes and goes, making moaning and chugging sounds. If you are a fan of Anthony Bourdain No Reservations, he visited this spot in his Puerto Rico episode.
The legend of Pozo de Jacinto goes something like this: Jacinto was moving some cows from a pasture in the area. He was leading a cow with a rope, which was tied around his hand. The cow got spooked by something, ran over the rocks, and into the hole, taking Jacinto with it. Both perished.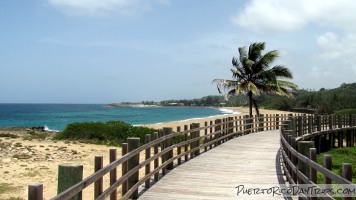 Today, they say that if you go to the edge of the hole and yell in "Jacinto, dame la vaca" ("Jacinto, give me the cow"), Jacinto will respond by splashing you with seawater. In reality, this will only happens when the waves are high and the seas are rough. When we were there, the seas were calm, and Jacinto did not splash us.
Nearby the Pozo de Jacinto you will find the end of a walking/bike path.
Details
If you venture out onto the rocks, be careful. Stay away from the edge. The rocks are rough and sharp – hard-soled shoes are a must.
The rip currents at Playa Jobos are bad … really bad. More people drown at Playa Jobos than at any other beach in Puerto Rico. There are no life guards, so swimming is at your own risk. If you're not sure about rip currents, read the warning signs that are posted or ask someone there before you go into the water.
Getting parking at Playa Jobos is tough. Most parking is along the roadside, so space is limited. Don't leave anything of value in your car. If a restaurant offers paid parking in a lot, that might be the best option.
Playa Jobos is on Road 466 in Isabela.
There are no facilities at Playa Jobos. Only the ones in the restaurants (that are for customers only).
As we mentioned, this is a popular beach for surfing. During high season, lots of people go to the beach, and the area can (unfortunately) get trashy. Some local volunteers try to keep the beach clean. Please do your part by packing out your garbage.
Click on a placename below to view the location on Google Maps ...
PuertoRicoDayTrips.com assumes no responsibility regarding your safety when participating in the activities described in this article. Please use common sense! If your mother or that little voice in your head tells you that you are about to do something stupid … then don't do it!