Update-Destroyed: Playita Rosada – An Ocean Pool in Parguera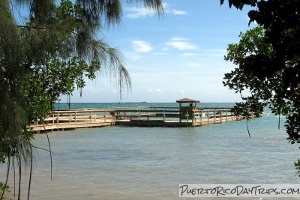 Sept 2022- Hurricane Fiona destroyed what was left of the "pool".
Aug 2020, Sadly, Tropical Storm Isaias destroyed a large part of the boardwalk, destroying the "pool". Playita Rosada pool area will be closed until it is repaired, but you can use the walking paths and facilities..
What does a town do when they have a beautiful waterfront area, but no natural beaches there? Enclose the ocean, build decks around it, and make an ocean pool.
That's just what the town of Lajas did to create Playa Rosada — it boasts a nice ocean swimming area without the sandy beach, and without the risk of any "big critters" to bother you while swimming!
Playa (or sometimes Playita) Rosada is located to the east of the main Parguera area, in Lajas, in the south-west part of the island. This is another lovely, local place to spend a day with family.
Co-managed by the DRNA (the Department of Natural Resouces) and the municipality of Lajas, there are bathrooms, showers, picnic tables and picnic pavilions (for rent for groups), and this lovely swimming area — and it is all handicapped accessible. The picnic area has some grass, but it is mostly sandy. It was really clean. I believe there are also nature trails to walk around, but we didn't have time to explore the area much. This beach has been awarded the prestigious Blue Flag status.
The Ocean Pool
In order to create this "pool", an area of the ocean was enclosed with fencing, from the surface to the ocean floor, in order to keep large fish and jellyfish out of the swimming area. Then they built a wooden deck around the whole "pool" area.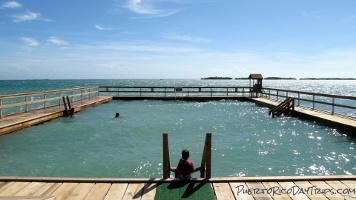 The day we went, there were some small waves in it, but it can be almost totally calm other days. Due to the waves, the water was a little turbid, but still nice. On calm days you can see (smaller) fish swimming on the pool area.
There are a boatload of rules posted that should make it safe and enjoyable for everyone … though, on the day we went no one was enforcing the rules! But it was still a nice place, and a great idea, and everyone seemed to be having fun.
I think the sign said there was no lifeguard on duty, but it looked to me like there were 2 located in opposite corners of the decking. About 5 ft deep in the deep end and got a little shallower to about 3.5 ft. There was some sand and some sea grass on the bottom of the pool area. It didn't look like there was anything sharp that would be a problem for bare feet.
We went during a "winter weekend", so there were very few people there. But I imagine that you should expect many more people to be there during the summer months!
I love finding things like this — something that I have never seen before — an ocean pool!
Details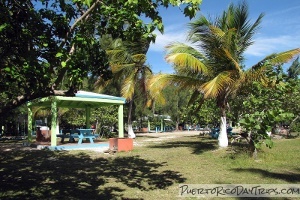 There is a sign that says there is a fee of $2 to park at the Playa Rosada area, but there was no on there to collect money on the day we went. Maybe they charge during the summer months.
>Update 8/2020- closed for repairs. The posted hours said that Playa Rosada is open from 9am to 5pm, Tuesdays through Sundays. Closed on Monday.
Driving directions from La Parguera — Take Road 304 until it ends at a tee on Calle 6. Turn right onto Calle 6 and follow it until it ends at a tee on Calle 7. Turn right onto Calle 7 (the name of the road changes to Camino Paseo de la Guayacanes) and follow it until you see the entrance to Playa Rosada.
Click on a placename below to view the location on Google Maps ...
PuertoRicoDayTrips.com assumes no responsibility regarding your safety when participating in the activities described in this article. Please use common sense! If your mother or that little voice in your head tells you that you are about to do something stupid … then don't do it!