Currently closed- Relish the Ponce Museum of Art
Post Earthquakes 2/21 The Museum is currently closed until further notice!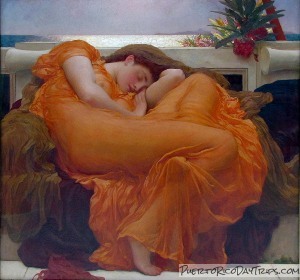 "A thing of beauty is a joy forever."
The Ponce Art Musuem (Museo de Arte de Ponce) and its collection totally exemplify this John Keats quote. The museum reopened in November 2010, after more than 2 years and LOTS of money in renovations and acquisitions. It really is a joy to experience.
It is larger and it now has more than 800 art objects on display. That is more than double the number of pieces on displayed than they had in the past. I think it is the nicest art museum on the island, that I have visited, and it is a must-visit for anyone who has even a remote interest in the arts.
The museum started as a small collection of art pieces bought by former governor and art collector Luis A. Ferré. He had a dream of opening a museum so that others could see the art works … and the Ponce Museum of Art was born. In the time since Ferré's original donation of 71 pieces, the collection has grown to about 4500 pieces. There are objects from all over the world, but mostly from Latin America, Puerto Rico and Europe. They range from 3000 year old pottery pieces to modern art and sculptures … and everything in between. It was one of first institutions to be acredited by the American Association of Museums.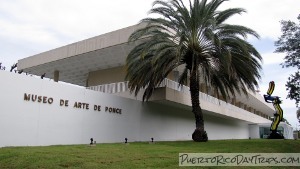 A new pop art sculpture by Roy Lichtenstein, called Brush Strokes in Flight, welcomes visitors at the entrance to the musuem. Once inside, people can spend time with the Ponce Art Museum's most famous painting Flaming June by Lord Frederic Leighton (1895).
But there is so much more to see. They have a large collection of European paitings by many classical artists from the 16th to 20th centuries such as Rubens, Rizzoli and Cranach. And, of course, there are some works from the classic Puerto Rican painters Oller and Campeche. There is something for everyone — from ancient pottery enthusiests to modern art lovers. The works are in all types of media and variety — drawings, prints, photographs, sculptures, videos and decorative arts.
The pieces are artfully arranged. There are 19 display spaces set up with various themes, so each art piece in the room compliments the others — or some are set to counterpoint to inspire thought and conversation. There are a few outdoor garden areas that have sculptures and art pieces, so you can reflect quietly in a peaceful, outdoor setting.
Our Visit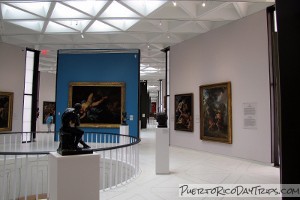 We had not visted the Ponce Art Museum before they closed for renovation. We knew that we had to get to the museum in Ponce once it reopened. We got a chance to go last week — and we were blown away.
I admit that I am a classical art fan. I love the "old masters", the rubenesce figures, religious art and renisance works. And they had plenty of it at the Ponce Art Museum. But they had enough other art pieces and other period works to make the museum interesting and varied.
For $2, you can rent hand-held audio guides that explain, in detail, a number of objects in the museum. I recommend that you rent one for each person in your group — we tried to share one, but with so much great information, it took too long to share, so one of us missed a lot of interesting stuff.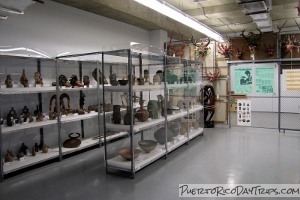 The museum's permanent collection has over 4500 objects of art, but there is only so much the museum can display at one time, and that you can absorb in one visit. So the displays will be changed every so often. Our visit took about 3 hours, but could have easily lasted longer.
In the building behind the museum (accessible from the second floor) they have opened part of the storeroom (depository) area, so you can see some other pieces of the collection that aren't currently on display in the museum proper.
In that same building, there is the lab area (Anton J Konrad Center of Conservation) where they work on, repair and restore the artwork. They have found a few remarkable discoveries on some of the old paintings while restoring them — like someone covered the real artist's signature with a more "popular" artist's name (presumably to fetch a higher price when the painting was sold)! This lab area is open by appointment only.
Details
Admission fees are $6 for adults, and $3 for children under 12, seniors (60+) and students (with ID).
The museum is open Wednesday to Monday from 10am to 5pm (Sundays it opens at 12 noon- 5pm). It is closed on Tuesdays. Guided tours are available at 11am and 2pm (12n and 2pm on Sundays), in English and Spanish.
HINT: On our visit, it was REALLY cold in the museum. Bring a sweater!
There is a small parking lot at the museum- maybe 20 spots, and there is free on-street parking around (and behind) the museum. Just be aware of the No Parking signs.
Currently, there is no restaurant at the museum. They have a little snack/coffee cafe.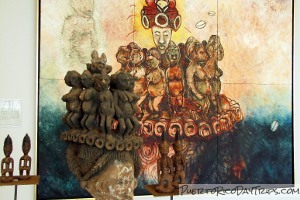 Allow at least 3 hours.
You can call 787-840-1510 for more information.
You can visit the Ponce Art Museum web sitefor more information.
Groups of 10 or more people are asked to call ahead for reservations.
The Ponce Art Museum is located at 2325 Las Americas Ave (Route 163) in Ponce.
Allow 1½ hours to drive to the museum from the San Juan area.
Click on a placename below to view the location on Google Maps ...
PuertoRicoDayTrips.com assumes no responsibility regarding your safety when participating in the activities described in this article. Please use common sense! If your mother or that little voice in your head tells you that you are about to do something stupid … then don't do it!