Ponce Carnival or Carnaval Ponceño 2021- A special Edition
There will be a 2021 Carnaval Feb 13- 16th! BUT it will be special "Rolling Carnaval". To avoid the agglomeration of people, the carnaval will go to different areas of the city, so people don't all come in to town.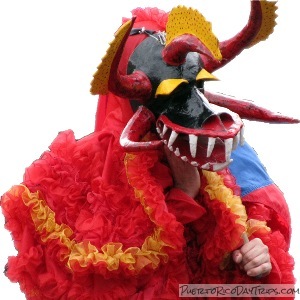 The Ponce Carnival (Carnaval de Ponce or Carnaval Ponceño, in Spanish) is an annual week-long celebration. There are parades with wildly decorated floats, crazy costumed people, lots of music, loads of spectators, and merriment.
Similar to Mardi Gras in New Orleans, it is derived from the old world tradition of a final celebration before the beginning of Lent. But over time, it has transformed into a week-long party!
If you want to party Puerto Rican style, mark your calendars — The 163nd Ponce Carnival will be Feb 13-16, 2021 . But due to COVID, it will be very different this year.
A Normal Year
Normally, the Ponce Carnival is full of loud and colorful parades, with marching bands, with dancers and floats. The parades are similar to those held around the island throughout the year at other town festivals or Carnivals — but on steroids!
Central to the festivities in Ponce are the vejigantes — masked, colorfully-dressed, clown-like characters, wearing paper mâché masks with scary teeth & horns — dancing and strutting to bomba and plena music. They may swat bystanders with soft balloons (supposedly to chase away the evil spirits) as they go by.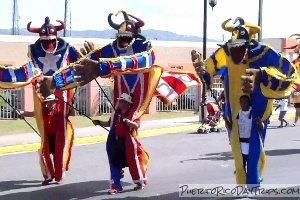 There will be lots of bomba and plena music, and many of the interactive, chanting songs. Before and after the parades, there will be other live music at stages throughout the evenings.
But this year, due to COVID restrictions and the concern to people's health, they are going to make it a "Rolling Carnaval"! They will be bringing the parades and music to different areas around Ponce….since people can't come to the parade, they are bringing the parade to the people! .
The Mayor says the rolling carnival will go to different areas around Ponce. The caravan will have several rolling platforms and the participation of parade and floats of vejigantes, music by Bomba and Plena, and the typical characters of this traditional festival.
Special schedule and route 2021 – This will be updated when they post info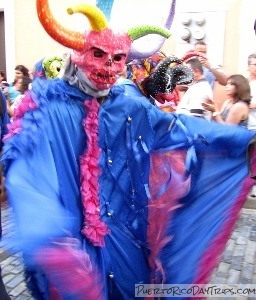 Saturday, Feb 13

10 am the Caravanal starts Ponce North: Carr. #139 toward Carmelita, carr. #143 in direction to La Pica, carr. #503 to La Mocha and carr. #505 until the cross of Glenview.

1:00 p.m. – Ponce East: from Los Caobos, Coto Laurel, Las Monjitas, Cantera, El Madrigal, Chavier y Calle Villa.

Sunday, Feb 14

On Sunday, they go to the La Cuarta neighborhood and end up in the community of San Antón.

10:00 a.m. – Ponce Northeast: Carr. 511 going down Jurutungo exit from carr. #511 from el Jurutungo (El Patriota) until they arrive to carr. #14 until they arrive at Comunidad Mercedita, La Calzada, Buyones y Tiburones.

1:00 p.m. – Ponce East: La Cuarta, Sabanetas Oeste, Las Delicias, Nuevo Mameyes, San Antonio, Ave. Las Américas y San Antón

Monday, Feb 15

On Monday, the caravan will start at the Real Anón sector and from there go to numerous urban areas of the city

1:00 p.m. – Leave from Parque Portugués, La Coquí, Residencial Los Claveles, Ponce Housing, Villa Elena, Rio Chiquito (carr. #504), Sector Pastillo del Barrio Tibes. Carr. #10 Tibes, Sector Jacanas y Aguacate. Carr. 10 until carr. #123 (sur) going down by Guaraguao until they arrive at the Comercio Cash & Carry.

5:30 p.m. – Ponce West: Las Delicias, Casco Urbano, Magueyes, Jardines del Caribe, Casamía.

Tuesday, Feb 16

they will start at Guaraguao neighborhood and end at La Playa de Ponce.

5:00 p.m. – Ponce South: Villa del Carmen, El Tuque, Canas, Punto Oro, Pámpanos, Hostos, Playa de Ponce.
You can get more information by calling the Ponce Carnival coordinator at 787-841-8044 ext 2245. Or try the Ponce Cultural Office: 787- 284-4141 ext. 2249.
Assume that the schedule is subject to change with little or no warning. Schedule source: https://eladoquintimes.com/2021/02/12/rutas-programadas-para-el-carnaval-de-ponce/?fbclid=IwAR3sRwk9OM0DpxKCxm5tQzNg8LDLBsOa_2gh78LgMlbavYmJI9nWTv3G4FA
PuertoRicoDayTrips.com assumes no responsibility regarding your safety when participating in the activities described in this article. Please use common sense! If your mother or that little voice in your head tells you that you are about to do something stupid … then don't do it!