Ponce Carnival or Carnaval Ponceño 2021
If all goes as usual, 2021 Carnaval will be Feb 12- 16th.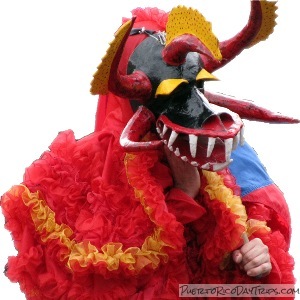 The Ponce Carnival (Carnaval de Ponce or Carnaval Ponceño, in Spanish) is an annual week-long celebration. There are parades with wildly decorated floats, crazy costumed people, lots of music, loads of spectators, and merriment.
Similar to Mardi Gras in New Orleans, it is derived from the old world tradition of a final celebration before the beginning of Lent. But over time, it has transformed into a week-long party!
If you want to party Puerto Rican style, mark your calendars — The 163nd Ponce Carnival will be Feb 12-16, 2021 .
What to Expect
If you plan to attend the Ponce Carnival, you should expect to see loud and colorful parades, with marching bands, with dancers and floats. The parades are similar to those held around the island throughout the year at other town festivals or Carnivals — but on steroids!
Central to the festivities in Ponce are the vejigantes — masked, colorfully-dressed, clown-like characters, wearing paper mâché masks with scary teeth & horns — dancing and strutting to bomba and plena music. They may swat bystanders with soft balloons (supposedly to chase away the evil spirits) as they go by.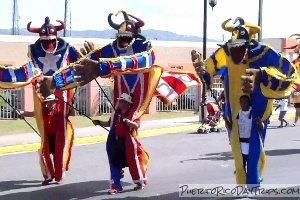 There will be lots of bomba and plena music, and many of the interactive, chanting songs. Before and after the parades, there will be other live music at stages throughout the evenings.
The schedule is basically the same from year to year. The most popular events are the huge parade on Sunday, and the burial on Tuesday, but each night has great activities.
The events take place, and the parades end, at the main stage on front of the Ponce City Hall (Casa Alcalde) at the town plaza, Plaza las Delicias. This is the same plaza where the where the famous black and red firehouse is located.
We hear that the town of Ponce will have free buses going around town to help move people, so hopefully traffic will be reduced. Note to Poncenerios: check the bus routes!
Usual Schedule and route 2021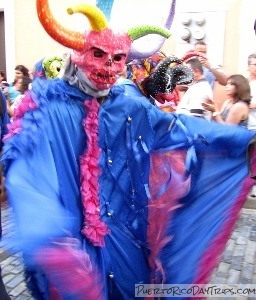 Friday, Feb 12@ 7:30pm:Parade of the carnival's King, "Rey Momo" The parade starts at the Museo Francisco "Pancho" Coímbre (the sports museum), goes down Calle Isabel and and ends at Plaza Delicias in front of City Hall. Live music and Fun.
Saturday, Feb 13 @ 7:30pm: The Parade and crowning of Ponce's young Princesses and Queen. Then Live music and dance shows in Plaza las Delicias. The parade starts at the Museo Francisco "Pancho" Coímbre (the sports museum), and ends in front of City Hall.
Sunday, Feb 14 1:00p:The parade starts at Parque Pasivo Julio E. Monagas, heads north on Route 2, continues on Boulevard Miguel Pou, to Calle Isabel, to Plaza las Delicias, and finally ends in front of City Hall. The Ponce Mayor will be in the front of the parade, and should get to the Town Square in less than 1.5 hrs, but the rest of the parade can take 2-3 or more hours to get there- with all the stops along the way to perform their musical and dance numbers.
Monday, Feb 15 @ 7pm:Dance of the Masks and live music at the main stage in Plaza las Delicias .
Tuesday, Feb 16 @ 7:30pm to midnight: Live music in Plaza las Delicias. The celebration comes to an end with the Entierro de la Sardina (Burial of the Sardine), which is not what it sounds like! There is no fish nor burial. It's a mock funeral with a hearse containing a dummy in a casket that ends up being burned. There are lots of crazy "mourners", and more music and dancing. This procession at the Museo Francisco "Pancho" Coímbre (the sports museum), and ends in Plaza las Delicias.
Planning to attend?
Make the most of your day or night in Ponce by keeping these tips in mind
This is a family-friendly event, everyone is welcome.
If you are driving into town, you'll want to get there early to get a decent parking spot. Look for public parking lots, or metered parking on the street.
Wear comfortable shoes. You will probably have to walk a distance from where you've parked, and you'll be standing around waiting for, and during, the parade and shows. Bring a folding chair if you have one.
It is hot during the day of the parade, so dress appropriately — hat, sunglasses, and maybe even an umbrella for some shade.
Stay hydrated! Bring some water. People will be selling drinks and food during the parades.
Bring some change- some of the bands and dance clubs pass around cans for donations to help with costumes and expenses.
There will be restrooms (port-a-potties) along the parade routes. Might be smart to bring some tissues, just in case they run out.
Most importantly — Have patience, get in the spirit, and have fun!
You can get more information by calling the Ponce Carnival coordinator at 787-841-8044 ext 2245. Or try the Ponce Cultural Office: 787- 284-4141 ext. 2249.
Assume that the schedule is subject to change with little or no warning.
We are in the process of updating the maps we use on our web site. While we're working on that, you can click on the GPS coordinates below to view the location on Google Maps ...
PuertoRicoDayTrips.com assumes no responsibility regarding your safety when participating in the activities described in this article. Please use common sense! If your mother or that little voice in your head tells you that you are about to do something stupid … then don't do it!