Poza Prieta Waterfall in Bayamón
When I think of Bayamón, I picture a suburb of San Juan, with lots of people, stores, and general congestion. One thing that I didn't expect to find in Bayamón is the Poza Prieta or Charco Prieta waterfall. This hidden gem in the back-country of Bayamón is one of the biggest surprises because of its size — probably one of the highest waterfalls in Puerto Rico (at least out of the waterfalls I have seen here).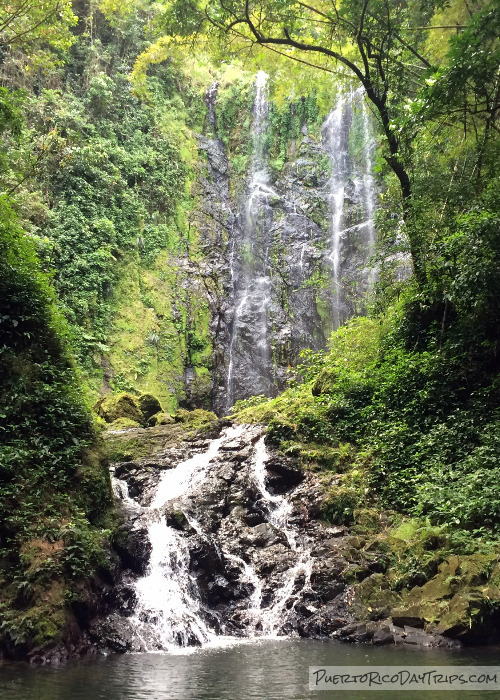 This waterfall is more than just a little off the beaten path!
There are countless waterfalls in Puerto Rico, some of which we have explored and many we have yet to explore. There are many that are less well known or publicized because some people like to "keep secret" about these natural wonders.
I recently joined a Facebook group of local nature lovers who get together and explore the island's natural beauty. They are dedicated to sharing their knowledge about the island, and cleaning up these beautiful areas. We met up with some members of this group to go explore the falls at Poza Prieta.
I don't think this is a place for the average tourist to day trip. You need to know the route, and you need to have proper clothing & footware, water & snacks, and first aid (just in case). You need to be able to "read" the river for signs of possible flash floods, and be prepared if that situation should arise. The trail is not always obvious.
Our Trek to the Falls
Good thing that we found this group to go with! Our (volunteer) guide for this hike knew how to get to the falls — as we scrambled up, down, over and around rocks, we crossed the river at least twice. Each time, we stopped to rest, cool down, and enjoy the water.
There is a thin, worn path that leads to the falls, but it's not always obvious. You need to know where to look for it, or you will be doing a lot of river trekking (which is fun in its own right, just more time consuming). Our goal was seeing the falls, and they were a prize!
This route is not for the timid, but everyone (young and old) in our group made it at their own pace. We collected (and carried out) trash along our route, and at the falls … enough to fill 8 large trash bags.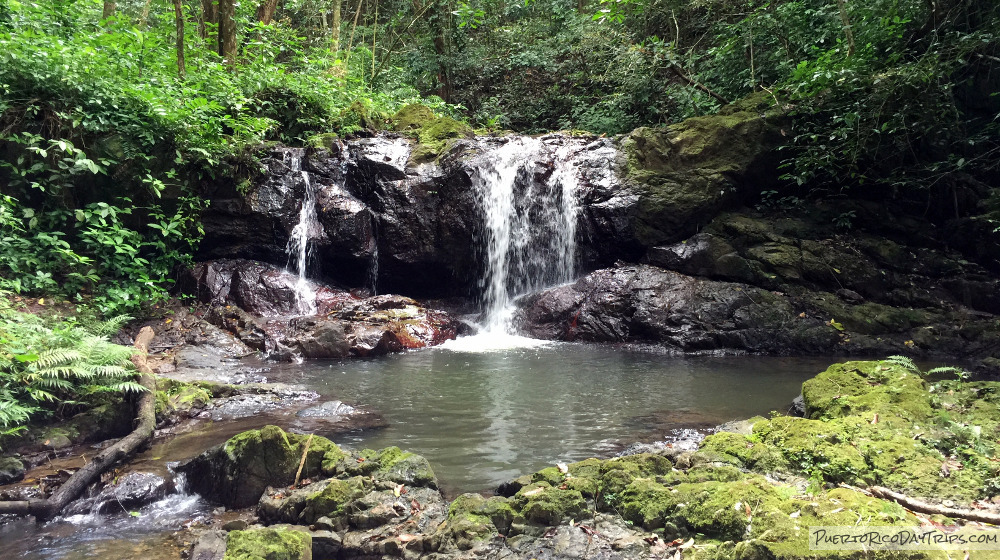 Details
From the San Juan area, take Route 22 west to Route 167. Take 167 South to KM 10.1. Turn left onto Road 812 (there is a bus stop). Pass a big church on right, bear right at the tee, then at the Y go left into Camino de Jesus Hernandez, then right at Camino la Camandula. Follow road down by concrete wall on left. Park at the bridge over little stream. Easiest entrance to river is just behind the little brown house. Cross the river, and there will be a trail on other side. You need to watch … sometimes the trail is on dry land, sometimes a river trek is required. The trail crosses the river a couple of time. After about a 20-30 minute trek up-river, you will see the large waterfall. There are a few smaller falls and pools along the way.
Click on a placename below to view the location on Google Maps ...
PuertoRicoDayTrips.com assumes no responsibility regarding your safety when participating in the activities described in this article. Please use common sense! If your mother or that little voice in your head tells you that you are about to do something stupid … then don't do it!