Get Ready for an Underground Adventure in Lares!
They are running tours of this and other areas. Check them out!
Not that we are adrenaline junkies, but Ray and I have done a number of adventure tours here in Puerto Rico. While they are always fun, many of them are similar, and we like to try new things once in a while. So, whenever we see a new company, we check to see if they offer something different.
I was psyched when I found Puerto Rico Interior Tours. We took their tour that included hiking, cave exploration, rappelling, and ziplines, along with subterranean caverns, rivers and waterfalls. Located in the karst area of Lares, their playground is a large farm that has many caves, both above ground and underground. We knew it was a must-do experience.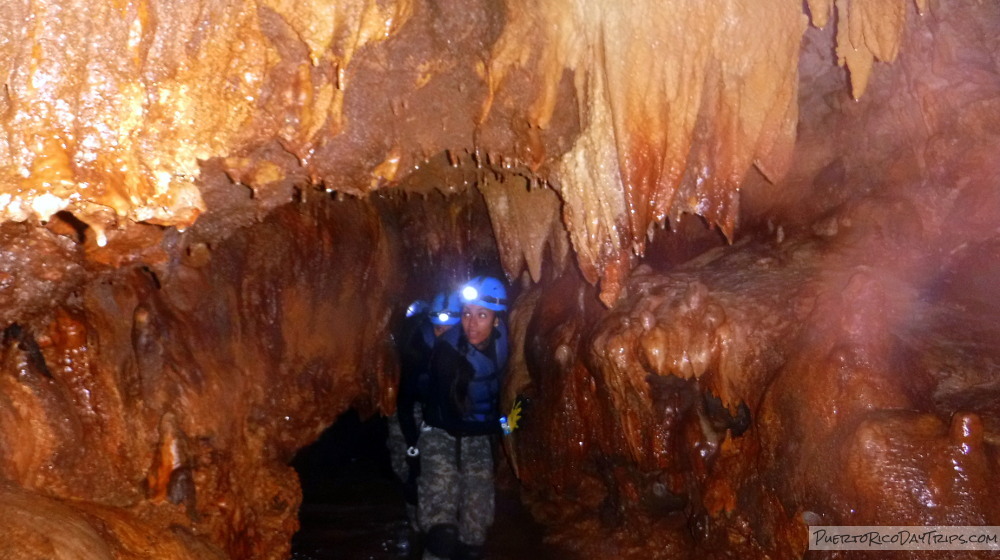 Our Tour
An early start got us to the meeting point to meet our guides and the rest of the group. They lead us back to their base camp at La Jungla Cave Park. It is a nice private farm, with some gazebos, showers, restrooms, and even playground equipment for kids who are too young to go on the tour.
We geared-up at base camp with full gear — PFD, knee pads, gloves, helmets, and headlamps. We met our guides, Gabby, Alex and Jimmie, who gave us a briefing of the day's activities. They knew in advance that English was our preferred language, so they made sure to have bi-lingual guides. They told us to expect to spend the first half of the trip wet and underground, and to expect the second half to start out wet, and then get dry once we got above ground.
After the briefing, we started off walking to the entrance to Cueva Encantada. This cave looks like most other caves until you get inside … it is has a river running through it. This was really neat, so we hopped in and, for the next hour and a half, we were thrilled with this beautiful subterranean experience.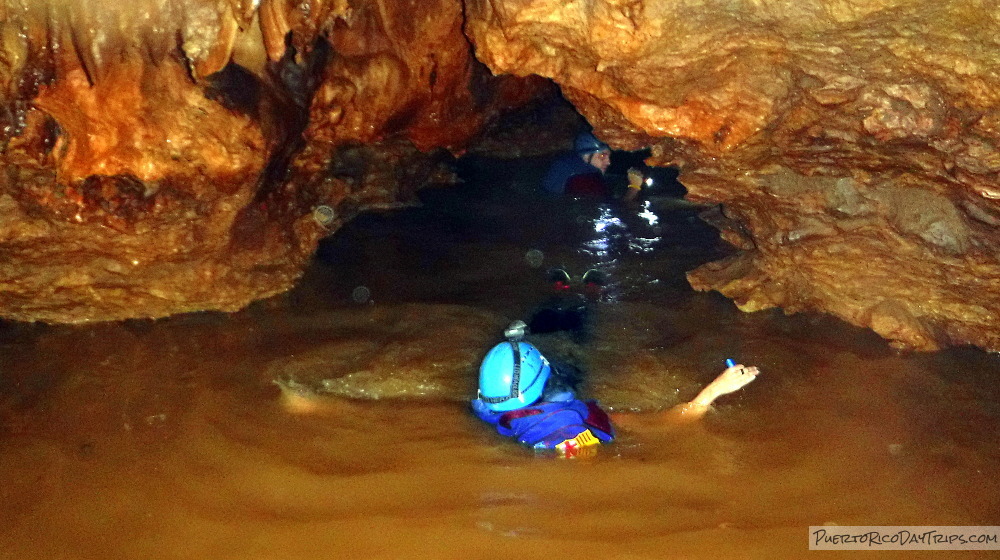 The cave was pitch dark, except for our flashlights and headlamps. Most of the time we were walking in just ankle or knee-deep water. Occasionally, we needed to jump in and float/paddle. There were spots we had to climb up or down rocks, crawl through tight holes, and squeeze past rocks. It is truly beautiful in the cave. Some of the formations were huge and unique, and the guides pointed out the natural fauna in the cave, and shells left over from when cave was under the ocean. I think the whole group enjoyed this cave exploration immensely.
After we came out of the cave, we headed back to base camp for lunch and a short break. After lunch, we geared-up again, this time with the addition of a harness, and we hiked for a bit until we got to the sky light opening at the top of a cave. This is where we rappelled down into the unknown … into another cave with a stream running through it … so you drop into waist-deep water at the bottom of the rappel.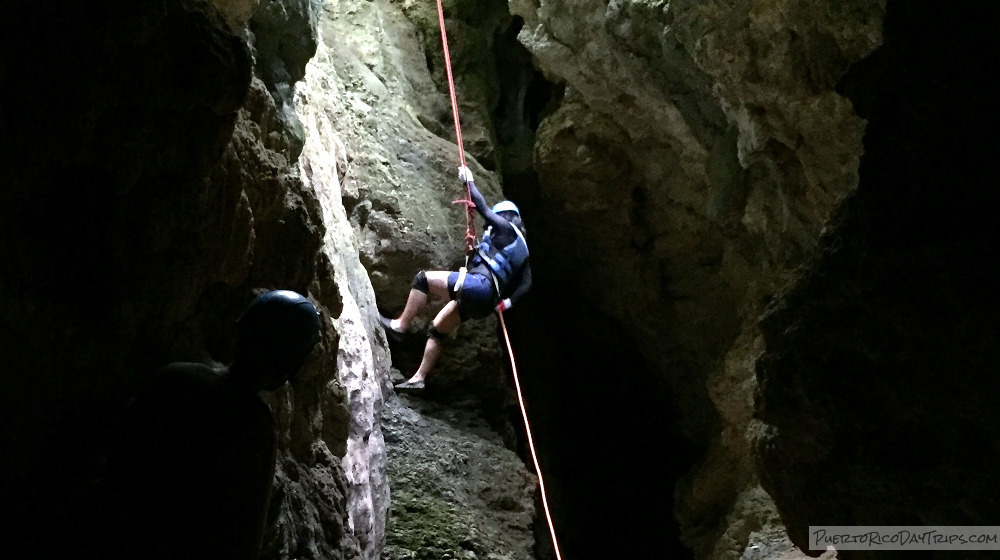 The rappel from the sky light to the water is about 70 feet, I would guess. Part of it was rappelling against the cave wall, part of it was free fall abseiling (no wall). Great fun! After everyone (who wanted to) rappelled, the group went through the rest of that cave. There is a small waterfall that we jumped from the top of into the river. Exhilarating!
Once we exited that cave, the wet part of the tour ended. We hiked a bit and went into 2 more caves. One was dark and had tight spaces to crawl through, and an even darker history. The other was an open cave, we could walk through on our way, and this one had a happier history. Both interesting.
After the caves, we went on to the zip lines. When we did the tour, there was one zip line, which was fast and fun. Gabby said they are adding 4 more.
After the zip line, the trip was basically over, so we began the walk back to base camp. Along the way, Alex showed us a real treat — a mudslide, which I didn't opt to do, but it was pretty funny to watch the people who tried it!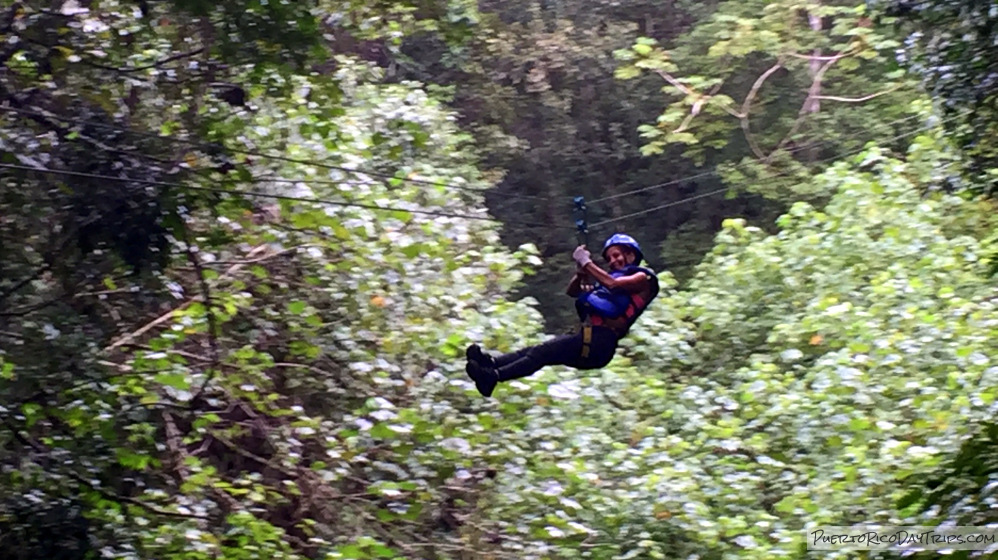 My Thoughts
Gabby and his staff are very careful to ensure everyone's safety. I was happy to find out they use ACCT standards. They have employees that are cave rescue instructors, and have all certifications and experience for your safety. You could opt out of things, like the rappel, waterfall jump, or zip line if you wanted.
One important thing to note about this trip is that much of it will be in dark, enclosed spaces, underground, and in water. It is not for the claustrophobic!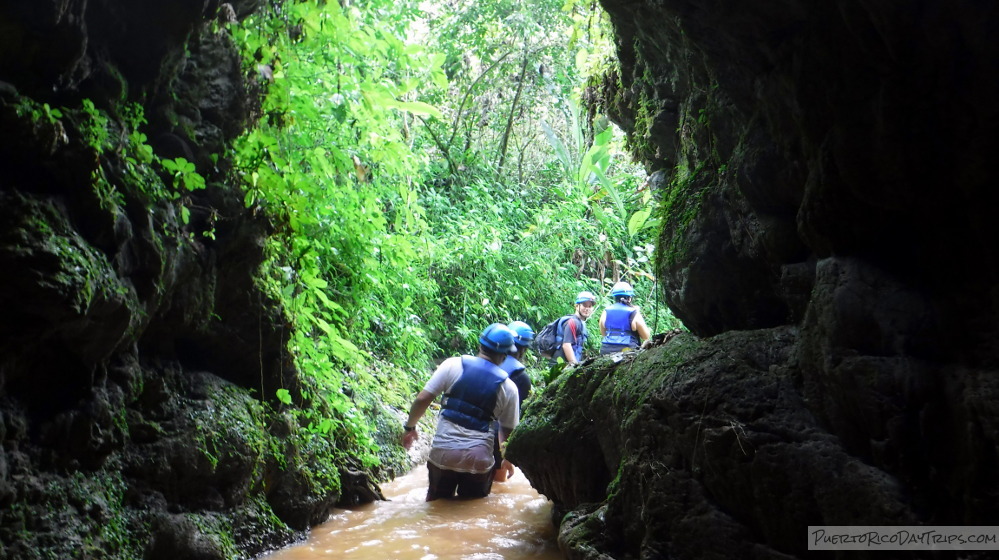 Details
They offer other tours, and they can make personalized tours if you want to do something special (including camping).
They supply helmets, PFDs, kneepads, and gloves. You need to wear closed-toe shoes (sneakers or water shoes), and quick-dry clothes. Long sleeves and long pants are preferred. Tights or yoga pants under shorts work great. Minimum age for this tour is 10 years old.
The tour takes about 6 hours start to finish, not counting the drive there and back home. Pack a lunch, or have the guides order lunch for you (they ordered pizzas the day we went).
You can call Gabriel López at 787-487-7815, 787-405-0134, or 787-814-4456 for more information or to make a reservation.
You can check the Puerto Rico Interior Tours Facebook page for more information, or to send them a message.
They can offer photos of your trip. Take you own camera at your own risk. We recommend a waterproof/shockproof camera.
Click on a placename below to view the location on Google Maps ...
PuertoRicoDayTrips.com assumes no responsibility regarding your safety when participating in the activities described in this article. Please use common sense! If your mother or that little voice in your head tells you that you are about to do something stupid … then don't do it!