Find Lady Luck in a Puerto Rico Casino
Casino hours may have changed- check before going!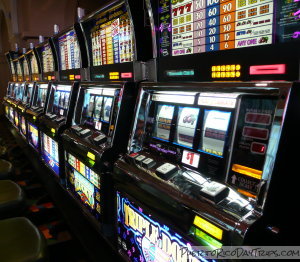 You're on vacation and you're feeling lucky. Well then, you might want to pay a visit to any of the 16 casinos here in Puerto Rico. Now before you get ahead of yourself, don't think Las Vegas-type (or even Atlantic City-type) casinos. These are much smaller by comparison. However they offer state-of-the-art casino action, with all the lights, bells and whistles that you seek! Of course they have slot machines. But they also a variety of exciting table games, from roulette and craps to blackjack and mini-baccarat.
Slot machines are the most popular games in most of Puerto Rico's casinos. There are even slots in the airport and many bars. Slot machines make almost three-quarters of most casinos' income. In most casinos, you can find them ranging from penny slots all the way up to $25 slots. A few of them still take coins, though most of the casinos have changed to plastic magnetic-strip card or paper bar-coded cards tied to a debit card.
Some places still have some of the older machines, where you can pull a lever on the side of the machine (or push a button) and watch the reels spin. When they stop, the pattern of visible symbols determines if the player wins money and, if so, how much. But more often you will see the more modern computer video ones. Personally, I like the old ones – they feel more lucky to me!
The choice in game tables are a little more limited. Not all places will have your game of choice. Roulette is pretty easy to find. It is best to call ahead of you have your heart set on a certain game.
Over half of the casinos are located in the San Juan area, though we have a couple right here in Rio Grande. There are also casinos in Ponce, Manati, Bayamon, Dorado, Aguadilla and Mayaguez. Business casual dress is fine, but you must be 18 years or older to play (and even to be admitted in). Most casinos offer free drinks (and sometimes snacks) for players. Some casinos also have live music on weekends in attached lounges. The following is a list of casinos on the island.
Casinos in Rio Grande & North East
Casino "Club Bahia" at Wyndham Rio Mar – Rio Grande
6,000 square foot casino, offering 150 slot machines from 1¢ to $5, and 12 games tables. Open: 10am – 2 am 7 days a week .
web: Wyndham Casino webpage
phone: 800-4-RIOMAR or 787-888-6000
Casinos in Isla Verde/Carolina
Currently closed- Ritz-Carlton Casino, San Juan – Isla Verde
17,500 square foot casino, with a very elegant atmosphere, offering over 300 slot machines, and 16 game tables. Open 24hr/d, tables open 12 pm- 4 am.
phone: 800-241-3333 or 787-253-1700.
Ritz Carlton Casino Webpage
Casino del Sol at the Courtyard by Marriott, Isla Verde
14,000 square foot Casino del Sol, offering almost 400 slot machines, and table games. Open 6am-12 mn.
phone: 787-791-0404 or 800-791-2553.
Casino Del Sol Casino Facebook page
Foxwood El San Juan , San Juan – Isla Verde
15,000 square foot casino, with a very elegant atmosphere, offering over 300 slot machines, and 14 game tables. Open 8am- 2 am.
phone: (787) 936-7777
Foxwood ESJ Casino Web page