Go Underground at the Rio Camuy Caves Park
Update- 3/21 The Camuy Cave Park reopened March 24, 2021!. You must to call and make a reservation 787 999-2200 ext. 3470, 3471, 3472, 3473, 3474 y 3475 or try 787-898-3100, 787- 898-3106 . Only 120 spots/day. For now, there is no trolley…you have to walk down to cave AND BACK UP! They are hoping trolley is back in working order by June/July. Tours are bilingual. I will update article when we get more info!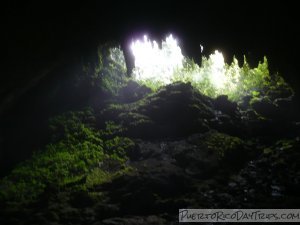 Personally, I am not really "into" caves. Coming from the north-east of the US, I have seen my share of cold, dark caves. But there is something about the Rio Camuy Caves that is different (I guess because they are not dark and cold!), and I actually enjoyed this trip.
On a trip to the Rio Camuy Caves Park pre-Maria (or, in Spanish, Parque de las Cavernas del Rio Camuy), we arrived early (about 9:30am) and had no trouble getting in. After you park, head into the ticket booth to purchase your reserved tour tickets. After you buy your tickets, sit tight or visit the gift shop while you wait for your tour to be called. It is an open air waiting area, but it has bathrooms, a food stand and some vendors selling snacks and artisan crafts. You wait for your reserved tour time and meet your guide and start walking to the cave.
You walk to the cave entrance. The park is nice and lush, and many of the trees are marked with their names. When you get to the caves, your guide takes you into the cave system. Basically, many, many years ago, the roof of a cave on both ends fell in, exposing this cave. There is a huge opening on both sides, so you shouldn't get claustrophobic.
Our guide, Marcano, was very interesting and he had some jokes that were pretty amusing, so we were all entertained as we learned about the caves. The guide will tell you about the cave system. Clara Cave is the name of the cave you walk into first and it is huge and beautiful. After about a 20 minute walk through this cave, with about 7 -9 audio stops along the route. The cavern opens into another area where you can see the Camuy River running below you and there is a huge overhang above you. They also have the "fountain of youth" – a natural spring you can drink from (we had to try that!- But Note- When we went in 2016, this area was closed off due to a landslide. But I have to say, our tour guide answered everyone's questions very well – he really seemed to know what he was talking about – he had been doing it for many years and still seemed to enjoy it.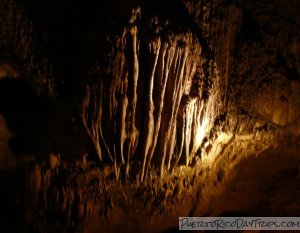 We then turned around and went through the cave again, but on the other side, so it looked totally different. Here our guide gave us the less educational version – pointing out more of the amusing looking formations- "the gorilla sitting at a table", a "Christmas tree" etc. It was fun.
We also passed the section where you can hear the river racing below you, and where you can hear (and smell) the bats. They say there is a colony of half a million bats that live in the cave. Luckily, they sleep during the day, so you won't run into any of them! But note- DO NOT TOUCH THE HANDRAIL HERE- it is full of bat guano- yuck!!
As you walk along the concrete path, watch out for all the stalactites hanging down (someone in our group hit their head!). The walkway is wet, and in some parts slippery, so wear sneakers or shoes with good traction, and use the handrails as suggested.
Once out of the caves, you walk back to the main entrance and your tour is done.
The only bathrooms are located at the waiting area. The tour takes about 1.5 hours, so plan accordingly. The caves are cool, you may want to bring a jacket. You can take all the pictures you want, and the guides point out the best ways and places to get good shots.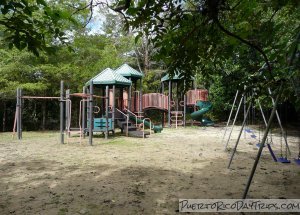 The caves are located in a 268 acre park. This is a very popular site with tourists and locals alike. The park only allows a certain number of visitors in a day. They ONLY take reservations. Also, they close the caves if it is raining too much, because it could get flooded. (On our most recent visit, it started to rain during our visit and we had waterfalls all around- it was spectacular)!
The park has a wooded area with picnic pavilions, a play area for the kids, walking trails, a little restaurant, and a souvenir shop. Tour is bilingual (English/Spanish).
They say if you have asthma, other medical conditions or are pregnant, don't go into the cave, or see their health department before going in. I assume it is mainly for insurance purposes as the walking part is easy, just slippery. But the air in the cave is thick with moisture, and a guy with asthma in our group had to use his inhaler.
Tickets are $18 for adults, $12 for children ages 4 to 12. All prices include an audio guide for your touring pleasure. Parking is $3 to $4 depending on your vehicle.
Open only Wednesday through Sunday from 8:00am until about 4:30pm, (or when it is raining). Note- they close the parking lot at 2:45pm SHARP- you need to get there before 2:45pm to get in! The last tour is at 3:00pm. The park is closed most major holidays (including New Years Day, Three Kings Day, Good Friday, Thanksgiving, Christmas, possibly Mother's Day, Father's Day, Easter), lesser holidays they are open.
Allow 2 hours for the cave tour.
Call to reserve a spot! 787 999-2200 ext. 3470, 3471, 3472, 3473, 3474 y 3475 or try 787-898-3100, 787- 898-3106 for more information. It is best to call before going to make sure park is open (they will close if it is too rainy). Check their webpage for more info.
Camping is allowed in the summer (June 15-Aug 15) for $5 per person. Call ahead for info.
From the San Juan area, take Route 22 west to Arecibo – exit 77b. Then Route 129 south to Km 20. There are signs to guide you once you get off of Route 22.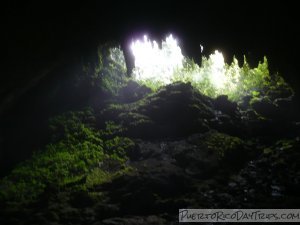 A mi personalmente no me atraen mucho las cuevas, quizás sea porque vengo del noreste de los Estados Unidos y he visto gran cantidad de cuevas oscuras y frías. Pero hay algo especial acerca de las Cavernas del Rio Camuy que las hace diferentes (Me parece que es el hecho de que no son oscuras ni frías), además disfruto del trayecto a las mismas.
En un reciente viaje al Parque de las Cavernas del Rio Camuy, llegamos temprano (a eso de las 9:30 pm) y no tuvimos ningún inconveniente al entrar.  Los encargados te dan un boleto numerado a la entrada del estacionamiento. Luego te llaman a la entrada dejándose llevar por el número o sea por el orden de llegada.  En cuanto se estacionen pasen al Centro de Visitantes para que puedan comprar sus boletos y "audio guide", luego durante la espera pueden pasar por la tiendita de souvenirs hasta esperar a que llamen su número.
Ahora, se aborda el tranvía o trolley y se pasa a la entrada de este bello parque.  El mismo posee una naturaleza exuberante y muchos de los arboles están rotulados con sus nombres. En cuanto lleguen a las cavernas, los guías los llevaran dentro del sistema de cuevas. Básicamente lo que ocurrió aquí  hace mucho tiempo fue que el techo de la cueva se desplomó dejando la cueva al aire libre. Hay una enorme cavidad a cada lado de la misma, así que no debe preocuparse si padece de claustrofobia.
Nuestro guía, el señor Marcano, hizo nuestro recorrido muy interesante y nos conto varios chistes muy divertidos, así que la pasamos muy bien mientras tomábamos el tour y aprendíamos sobre las cavernas. (Ahora usa un audio guide). La Cueva Clara es la primera que tendrá la oportunidad de apreciar. Es enorme y muy bonita. Luego de una caminata de 15 minutos por esta cueva, la misma se abre a otra área donde se puede apreciar al Rio Camuy por debajo de donde uno esta y hay una enorme plataforma que sobresale por encima de las personas. También tienen su "propia "fuente de la juventud"– un pequeño manantial del que uno puede beber (¡No podíamos dejar de beber agua de esa fuente!). El guía contesto muy bien todas las preguntas que se le hicieron — se veía muy versado en la materia ya ha estado realizando este trabajo por muchos años y parece que aun lo disfruta.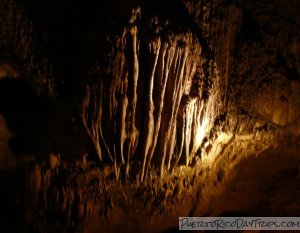 Luego regresamos a la cueva pero caminando por el otro lado de la misma así que lucía totalmente diferente. Nuestro guía, luego de informarnos cómo y por qué esas formaciones se crean y se desarrollan, nos dio también su versión menos educacional al señalar las formas  tan divertidas que adquieren las mismas – "un gorila sentado en una mesa", "un árbol de navidad", etc.  Fue muy divertido.
También pasamos por la sección donde se puede escuchar el rio por debajo de la cueva y donde se puede escuchar (y oler) a los murciélagos. Dicen que hay una colonia de cerca de medio millón de ellos en la cueva. Agraciadamente, ellos duermen durante el día así que no se toparán cara a cara con ninguno de ellos.
Al caminar por la vereda de cemento, tengan cuidado con las estalactitas.  ¡Una persona de nuestro grupo se golpeó la cabeza! El camino es húmedo y algunos trayectos son resbalosos así que usen zapatos seguros al pisar que tengan buena tracción.
Una vez se llega al exterior de las cuevas, vuelves al tranvía nuevamente y te llevan a ver un sumidero donde se ve el rio nuevamente.  Entonces van de vuelta a la entrada y ese es el fin del tour. Los únicos servicios sanitarios que hay, están localizados en la entrada (detrás de la taquilla). El tour se toma cerca de 1.5 horas así que planifique con anticipación. Las cuevas son algo frías así que posiblemente quiera llevar un abrigo. Puede tomar todas las fotos que guste y los guías señalaran los lugares idóneos y la mejor perspectiva para tomar sus fotografías.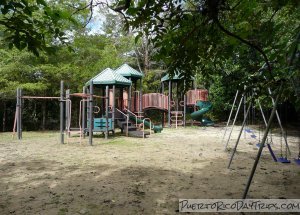 Las cavernas están localizadas en un parque de 268 hectáreas. Esta atracción es muy popular para los turistas  y para el público local en general. Es mejor llegar antes de las 10:30 am No se hacen reservaciones. Tome en consideración el hecho de que si esta lloviendo cierran el lugar por el peligro de inundaciones repentinas que pueden ser causadas por la creciente del rio subterráneo.
Este parque tiene un área de madera donde se puede hacer picnic, un área para los niños, veredas para caminar, un restaurante pequeño y una tiendita para comprar souvenirs.  El audio guide era en ambos español y Ingles. 
Se explica que de padecer de asma y otras condiciones medicas similares o si hay una mujer en estado de gestación, no debe pasar a la cueva o debe preguntar en su departamento de salud antes de proceder al interior de las cavernas. Supongo que debe ser por razones del seguro del lugar ya que la caminata es relativamente fácil de hacerse aunque el camino es resbaloso. El aire de la cueva es sumamente húmedo y un hombre con asma de nuestro grupo tuvo que usar su inhalador.
Los boletos o taquillas están a $18 por adultos,  $13 por los niños de 4–12 años de edad y  los envejecientes tienen un descuento. Estos precios incluyen una guía de audio. El estacionamiento es de $3 a $4 dependiendo del tipo de vehículo que usted maneje.
Abren solo de miércoles a domingo desde las 8 am hasta cerca de las 5:00 pm o hasta que el parque se llene o cuando comienza a llover. They close the entrance at 2:45pm- go need to arrive before 2:45pm to get in! El último tour es a las 3:30 pm El Parque de las Cavernas cierra la mayor parte de los días feriados (incluyendo el Día de Año Nuevo, Día de Reyes, Viernes Santo, Día de Acción de Gracias y Navidad).
Separe 1.5 horas para la excursión.  Si el parque esta lleno, posiblemente se tome mas tiempo ya que ellos admiten a las personas en el orden de llegada al parque.
Note 1/15- temporary phone number- 787-382-0119.Puede llamar al siguiente teléfono para mayor información: 787–898–3100. Es preferible que llame antes de ir al parque para cerciorarse de que va a estar abierto ese día. Recuerde que el lugar cierra cuando llueve mucho.
Se permite acampar en el verano (junio 15– agosto 15) a $5 por persona. Llame antes para información.
Desde el Área Metropolitana, tome la Autopista 22 hacia Arecibo – salida 77b.  Luego la carretera 129 hacia el sur hasta llegar al kilometro 20.  Siga los letreros  una vez salga de la autopista.
We are in the process of updating the maps we use on our web site. While we're working on that, you can click on the GPS coordinates below to view the location on Google Maps ...
PuertoRicoDayTrips.com assumes no responsibility regarding your safety when participating in the activities described in this article. Please use common sense! If your mother or that little voice in your head tells you that you are about to do something stupid … then don't do it!