Go Underground at the Rio Camuy Caves Park
Update- 2/22/2023 The Camuy Cave Park has reopened! They say "By previous reservation", so there many not be any open spots if you show up without a reservation. So get there early and if there are open spots, you will be able to buy any available tickets at the window and go on the next available tour.
For now, there is no trolley…you have to walk down to cave AND BACK UP! So this is not for everyone! It is hot and humid and steep. Walk down takes about 20 mins, going back up takes longer! Bring water! You need to have CLOSED TOE SHOES! And bring a flashlight…it is a bit dark in the caves. Tours are on the hour, so come with time before the hour or you will have to wait an hour for next tour. Tours are bilingual.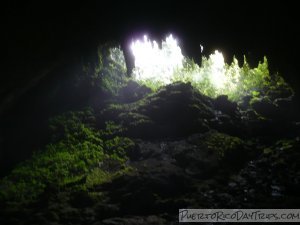 Personally, I am not really "into" caves. Coming from the north-east of the US, I have seen my share of cold, dark caves. But there is something about the Rio Camuy Caves that is different (I guess because they are not dark and cold!), and I actually enjoyed this trip.
On a trip to the Rio Camuy Caves Park pre-Maria (or, in Spanish, Parque de las Cavernas del Rio Camuy), we arrived early (about 9:30am) and had no trouble getting in. After you park, head into the ticket booth to purchase your reserved tour tickets. After you buy your tickets, sit tight or visit the gift shop while you wait for your tour to be called. It is an open air waiting area, but it has bathrooms, a food stand and some vendors selling snacks and artisan crafts. You wait for your reserved tour time and meet your guide and start walking to the cave.
You walk to the cave entrance. The park is nice and lush, and many of the trees are marked with their names. When you get to the caves, your guide takes you into the cave system. Basically, many, many years ago, the roof of a cave on both ends fell in, exposing this cave. There is a huge opening on both sides, so you shouldn't get claustrophobic.
Our guide, Marcano, was very interesting and he had some jokes that were pretty amusing, so we were all entertained as we learned about the caves. The guide will tell you about the cave system. Clara Cave is the name of the cave you walk into first and it is huge and beautiful. After about a 20 minute walk through this cave, with about 7 -9 audio stops along the route. The cavern opens into another area where you can see the Camuy River running below you and there is a huge overhang above you. They also have the "fountain of youth" – a natural spring you can drink from (we had to try that!- But Note- When we went in 2016, this area was closed off due to a landslide. But I have to say, our tour guide answered everyone's questions very well – he really seemed to know what he was talking about – he had been doing it for many years and still seemed to enjoy it.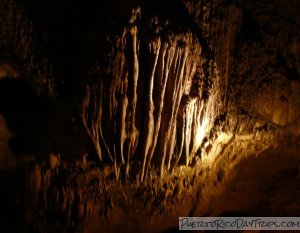 We then turned around and went through the cave again, but on the other side, so it looked totally different. Here our guide gave us the less educational version – pointing out more of the amusing looking formations- "the gorilla sitting at a table", a "Christmas tree" etc. It was fun.
We also passed the section where you can hear the river racing below you. There used to be a huge colony of bats, but they are gone after hurricane Maria.
As you walk along the concrete path, watch out for all the stalactites hanging down (someone in our group hit their head!). The walkway is wet, and in some parts slippery, so wear sneakers or shoes with good traction, and use the handrails as suggested.
Once out of the caves, you walk back to the main entrance and your tour is done.
The only bathrooms are located at the waiting area. The tour takes about 1.5-2 hours, so plan accordingly. The caves are cool, you may want to bring a jacket. You can take all the pictures you want, and the guides point out the best ways and places to get good shots.You need closed toe shoes to go into the cave )no open toe sandals etc). . if you don't have any, they will sell you watershoes.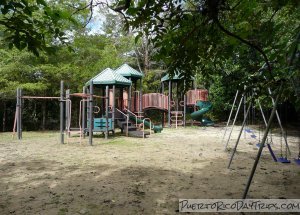 The caves are located in a 268 acre park. This is a very popular site with tourists and locals alike. The park only allows a certain number of visitors in a day, so get there early. Also, they close the caves if it is raining too much, because it could get flooded. (On our most recent visit, it started to rain during our visit and we had waterfalls all around- it was spectacular)!
The park has a wooded area with picnic pavilions, a play area for the kids, walking trails, a little restaurant, and a souvenir shop. Tour is bilingual (English/Spanish).
They say if you have asthma, other medical conditions or are pregnant, don't go into the cave, or see their health department before going in. I assume it is mainly for insurance purposes. But the air in the cave is thick with moisture, and a guy with asthma in our group had to use his inhaler. Also the walk is not easy- steep down and up, and the cave inside is slippery.
Tickets are $18 for adults (there is a discount for 65+), $13 for children ages 4 to 12. All prices include an audio guide for your touring pleasure. Parking is $4/car
Open only Wednesday through Sunday from 8:00am until about 4:30pm, (they will close the park if it is raining). Note- they close the parking lot at 2:45pm SHARP- you need to get there before 2:45pm to get in! Seems the tours are on the hour starting at 9am until last tour at 3pm. There is no tour at 12 noon.The park is closed most major holidays (including New Years Day, Three Kings Day, Good Friday, Thanksgiving, Christmas, possibly Mother's Day, Father's Day, Easter), lesser holidays they are open.
Allow 2 hours for the cave tour.
They suggest reservation are needed. If you show up without a reservation, you may be able to buy a ticket, but it would be first come/first served. Call 787-898-3100, 787- 999-2000 ext 3474 for reservations or more information. It is best to call before going to make sure park is open (they will close if it is too rainy). .
You can also try writing to them for reservations at Cavernasdecamuy@@drna.pr.gov
Camping is allowed in the summer (June 15-Aug 15) for $5 per person. Call ahead for info.
From the San Juan area, take Route 22 west to Arecibo – exit 77b. Then Route 129 south to Km 20. There are signs to guide you once you get off of Route 22.
Click on a placename below to view the location on Google Maps ...
PuertoRicoDayTrips.com assumes no responsibility regarding your safety when participating in the activities described in this article. Please use common sense! If your mother or that little voice in your head tells you that you are about to do something stupid … then don't do it!