Attend Carnival in the "City of El Yunque"- Rio Grande
Dates for the Rio Grande Carnaval 2022 are July 14-July 17. The fun starts on Thursday!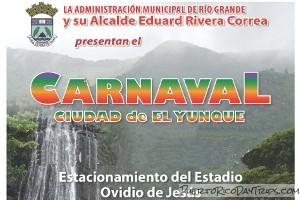 Carnival — the word itself conjures up images of festivals and fun from around the world! And Puerto Rico is no exception. Almost every town holds a carnival — some big, some small. No matter what the size, you can always count on finding music, dancing and food.
Our town (Rio Grande) holds their 4 day carnival every year somewhere during the end of June through the first week of July, and it is a pretty big deal for our little town. (Of course, due to COVID, 2021 wil be a little different, but we are happy to have fun again!). The town gets decked out with colorful decorations, the amusement rides arrive & get set up, and you occasionally see people working on floats & costumes. We look forward to it every year. Don't miss the fun!
Carnival in Puerto Rico
Carnival (or Carnaval, in Spanish) here in Puerto Rico is not the same as it is on other Caribbean islands. Each island has their own traditions and customs that make their carnival their own. In Puerto Rico, carnival even varies from region and town, and is highly influenced by the original townspeople and their traditions. Many towns have their special carnival or festival in honor of their patron saint. As far as town carnivals go, Ponce has the largest (and most famous) one they hold just before Lent starts.
Carnival in Rio Grande
Rio Grande is a much smaller town than Ponce, but we still know how to have fun. 2022 marks the 36th year for Rio Grande's Carnaval Ciudad de El Yunque.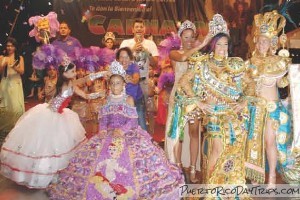 The fun starts mid-week in the evening with a small opening ceremony, some live music. There will be the crowning of the new town queens and princesses, and other ceremonies and talent shows. Every evening, the amusement rides open and the live music shows start for another evening and continue until the wee hours of the morning.
By the weekend, during the day, they usually have a 10k race on Saturday and the parade on Sunday. Most of the carnaval festivities are held, or end, at the Ovidio de Jesus stadium and parking lot near the intersection of Route 3 and Road 187R. The stadium parking lot will be full of the typical amusement park rides, games and food kiosks. The location makes it a bit tricky to find nearby parking. You can try parking in the Ralph's Food Warehouse parking lot or down the road by the track field. Expect to walk a bit.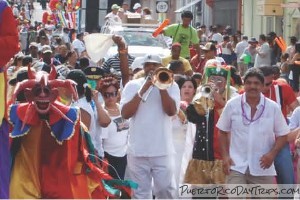 If you can only attend for one day, make it Sunday for the parade. I think this is the best part of Carnival! The parade starts at about 1pm and lasts about 2 hours. For best viewing, you want to follow the crowds! The parade usually starts at the school on RT 187R and winds its way through the streets of town, usually along R187 ends at the Plaza or sometimes at the Mercado/Publico Station on rt 187. Just follow the people into town for the viewing route and good viewing spot!
The parade is full of dancing, loud music, sequined costumes & floats, high school bands, pom-pom girls & flag twirlers, suped-up cars & antique vehicles, and usually the Rio Grande unicycle team! And it is not just people from Rio Grande. Many area towns come and participate — with their own bands, dancers, and floats. And of course, since it is Puerto Rico, there will be a number of Vejigantes joining the parade. There is live music at the stages from 3-5pm. Then later that night at the stadium again and it ends with fireworks again!.
Details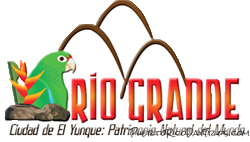 The rides and games usually open at 6pm on weekdays and about 4pm on weekends. Usual hours- musical and other events (rides, games etc) will be happening at about 6:30pm until about 11pm.
You can call the Rio Grande tourism office for more information at 787-887-2370
We will post the event schedule on our Facebook page.
Other towns have their own Carnivals throughout the year. We post that information in our event calendar when we find out about those festivals.
Parking will be an issue any carnival you go to, so try to get there early to get a spot.
Click on a placename below to view the location on Google Maps ...
PuertoRicoDayTrips.com assumes no responsibility regarding your safety when participating in the activities described in this article. Please use common sense! If your mother or that little voice in your head tells you that you are about to do something stupid … then don't do it!