Chill Like a Local in El Río
El Yunque National Forest is full of rivers and waterfalls. As many people have come to appreciate, rivers offer great places to jump into and cool off as they make their way to the ocean. The Río Mameyes (Mameyes River) is a beautiful river that runs down from high in El Yunque National Forest. As it gets to the flat "Palmer" area in Río Grande, the river is known locally as Río la Poza. Here, you will find La Poza del Angel — a nice, deep swimming area surrounded by green areas for picnics and general enjoyment.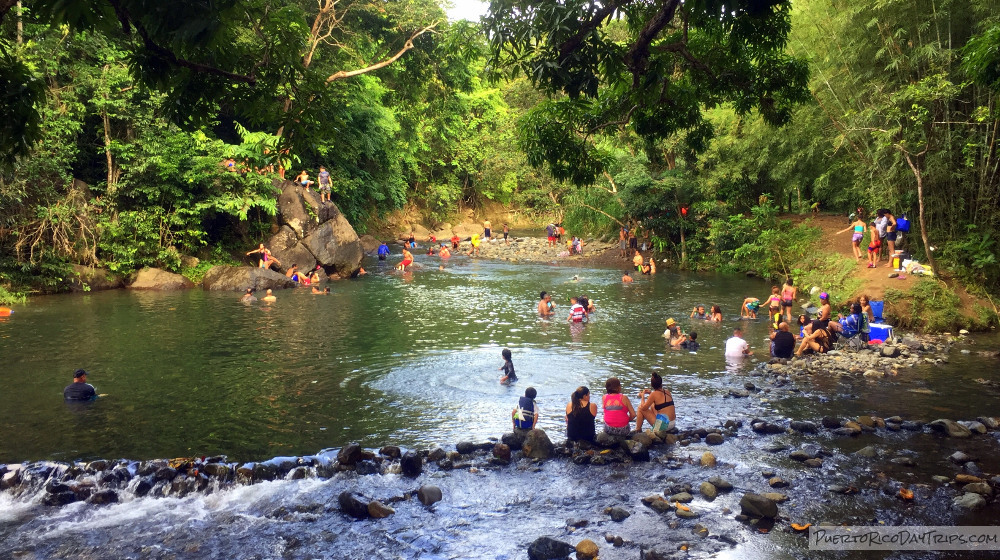 In this age of internet, there are not many "secret" places left these days. And finding "secret spots" is not hard to do on weekends, especially in the summer. If the place is really popular with the locals, just look for where all the cars are parked on the side of the road! We have gone by this particular place a lot, and assumed it was "just a river". Sometimes, it just pays to stop and check something out!
As it turns out, hidden behind the brush on this one section of the Mameyes River, there is a secret swimming hole. The river has been dammed up a bit to help make this nice deep area — perfect for swimming and jumping off the conveniently situated boulder!
This river is subject to flash floods. Be aware of the weather up in El Yunque National Forest. Rivers are not a safe place to be during bad weather.
From Road 191, there is a dirt path that sneaks behind the trees along the river edge. It can be muddy and slippery. Walk upriver until you see the Poza. You have to cross the (normally ankle-deep) river to get there, and walk on some rocks while doing it. I found those rocks not to be slippery at all.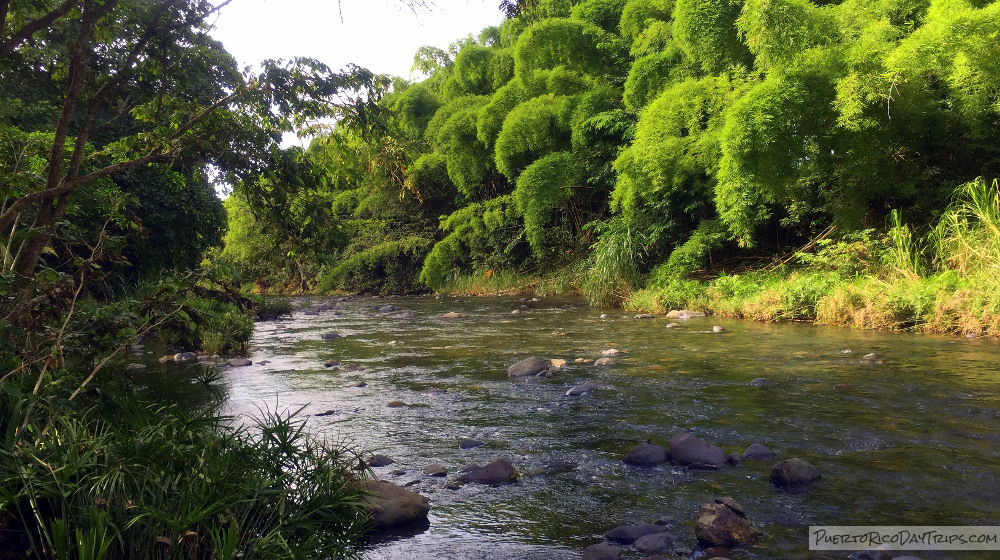 We went on a Sunday afternoon in June, and the place was packed with people hanging out and enjoying the river. I am sure that on weekdays, especially during other seasons, it is not busy at all. I don't know how deep the Poza it is (we weren't dressed for swimming), but people were jumping (even diving!) into the pool. There is sometimes even a rope swing! I would recommended checking out the depth for yourself before jumping from the big rock — no need to crack your skull on vacation!
It is a nice size area. I liked the bamboo area, it looked so pretty. If you don't care for the crowds and loud music, you can wander up-river or down-river a bit where it is more natural and more tranquil.
The one bad/sad thing about this area is the large amount of trash that people leave behind. So remember to bring an extra trash bag and along with your own garbage, pick up a little of what others have left behind. Leave it nicer than you found it!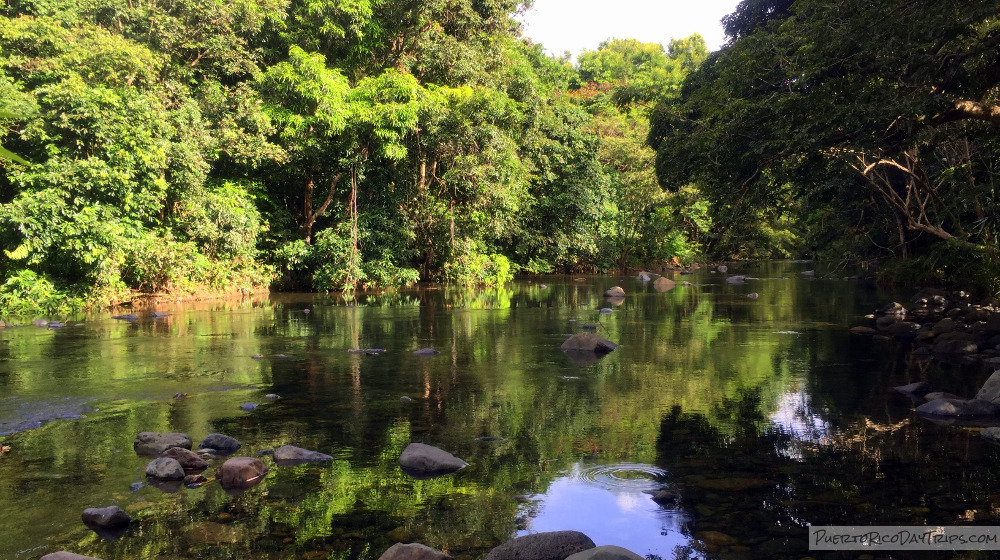 Details
Rio de Poza is located around KM 1.2 on Road 191 in Río Grande. It's located on the eastern side of the road (that's the left side of the road if you're driving uphill).
There are occasionally parking lots to park in and walk, or you can carefully park roadside. From the road, at KM 1.2-1.3, and close to that, there are small paths behind the guardrail that lead you down to the river. The area we enjoyed the most, with the pool area is upriver. You can also park farther uphill, for free on the road, around KM 1.4. From there, there is also a path that leads to the river. Follow the river downstream to the Poza.
Click on a placename below to view the location on Google Maps ...
PuertoRicoDayTrips.com assumes no responsibility regarding your safety when participating in the activities described in this article. Please use common sense! If your mother or that little voice in your head tells you that you are about to do something stupid … then don't do it!