Trek to Salto Curet in Maricao
Waterfalls are always beautiful. Here is another example of an off-the-beaten-path waterfall. Salto Curet in Maricao is not easy to get to. Besides being about ½-hour drive along a small, twisty, turning mountain road, once you actually get to the river you have hike in and then walk up stream. But I think it is very pretty and worth the effort — if you have the time.
Our Up-River Trek
It had rained hard all morning the day we went to the falls. By afternoon, it was still overcast but dry. So we went out exploring. Just as an FYI — much of the Puerto Rican mountain region is orange clay soil. This became very obvious when we finally got to the river — it was orange!
Now, I will tell you that this river trek was not the smartest thing we have ever done. When playing in rivers, you have to be constantly aware of the conditions because flash floods happen when it rains higher upstream.
On this particular trek, we could see where the water line was earlier in the day. The river had flooded about 6-feet higher than it was when we got there. But being us, we went into the river anyway.
Just because we did this does not mean it's a smart thing to do. In hindsight, it was pretty careless of us. If you decide to do this (or any activity in the river) please don't be stupid!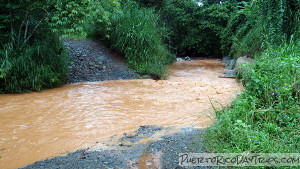 To get to the waterfall, follow the driving directions below and drive as far as you feel comfortable driving. Keep an eye on the condition of the dirt road and don't drive so far that you end up stuck!
From the parking area, follow the dirt road down and to the right, down to the river. Cross the river and follow the road up and go to the left. You'll have to cross the river again. Keep following the road until you come to a house at the end, where you'll see a
Salto Curet
sign. From where we parked, it took about 20 minutes to walk this far.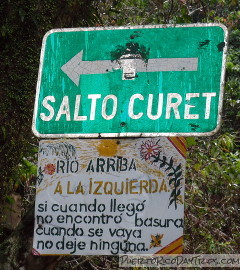 At this point, you'll be back at the river yet again. From here there is an upstream walk to the falls, which will take another 10 minutes.
The river is usually clear and not very deep, so I bet it is easy to make your way. Of course the day we went, we couldn't see the bottom, so we had to really take our time and watch our footing. But it still was easy enough and when we got to the falls, it was great!
I'd say the falls are about 40 feet tall, with another set of falls above that, and even another set above that. Probably 100 feet in total from top to bottom. If we could have only been there when it wasn't orange! But still … it was beautiful!
Directions, GPS, and Map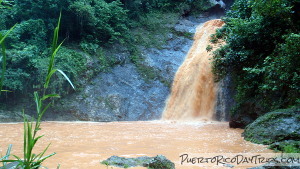 Driving Directions: Once in Maricao, take Carratera 105 East until you get to a bridge, at about KM 28 or so. On the other side of the bridge, you will see a sign for Salto Curet. Turn right onto that Road 425 and drive to the end and park. If you have a 4WD vehicle, you may be able to drive farther (across the river a few times) and save yourself a little walking. But it may not be worth the risk of getting stuck in the mud. We parked and then did the rest on foot on the packed-dirt road.
Click on a placename below to view the location on Google Maps ...
PuertoRicoDayTrips.com assumes no responsibility regarding your safety when participating in the activities described in this article. Please use common sense! If your mother or that little voice in your head tells you that you are about to do something stupid … then don't do it!