Explore Salto de Jiménez Waterfalls & Pools
We are lucky enough to be able to call El Yunque rain forest "our backyard". We have explored many areas of it, and still we have not seen everything there is to see. When talking with some friends who live in our area, they mentioned the really nice waterfalls just up the road. What!? We've lived here for years … how did we miss them? We once did a little exploring down river, but obliviously didn't go far enough! We'll let you in on this little-know secret!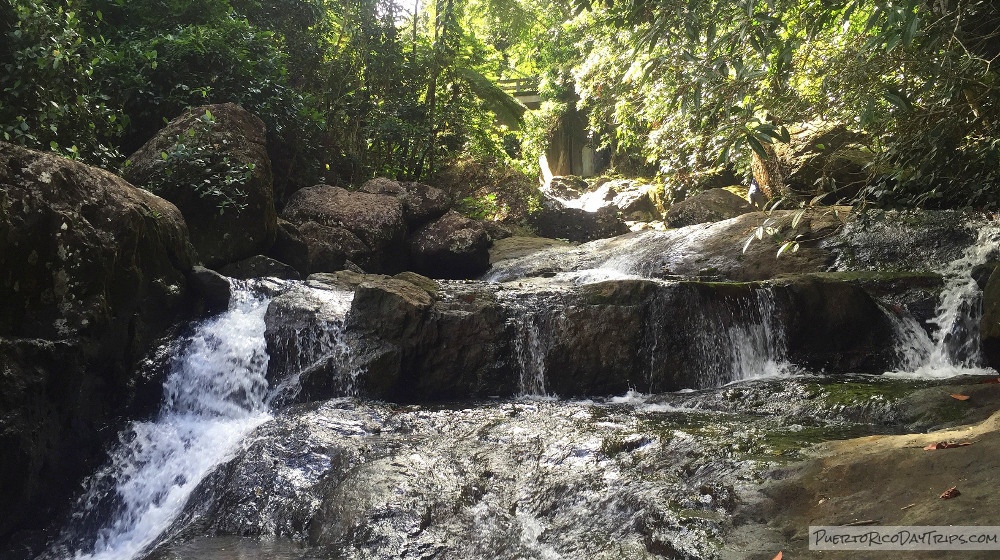 Take Note — This is not a "walk in the park". It is a relatively difficult proposition to venture beyond the first waterfall. The rocks are slippery — VERY SLIPPERY. The path from the road to the river is slippery mud. The weather can change quickly. Even if its not raining where you are, it can get dangerous real fast if it starts raining up higher on the mountain. One needs to be alert of rapid rises in water level, and the speed at which the river is running. You will be climbing up/over/around boulders. It is really almost canyoning. Wear a helmet, and a personal flotation device. If you get hurt, rescue will not be easy nor quick.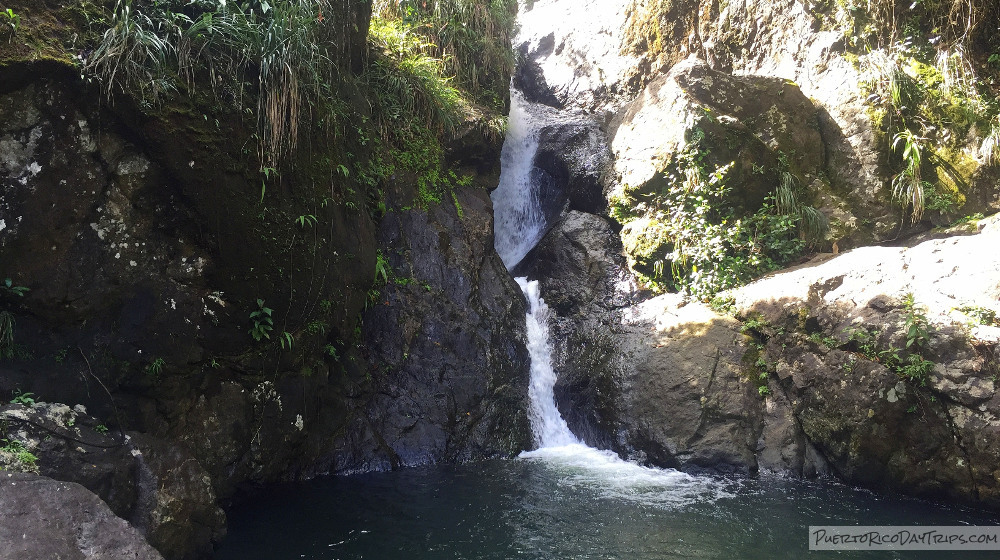 So if I haven't scared you away … We had a great time the day we went. Sadly, we were on a tight schedule so we could only go down-river a short distance. From looking at Google Maps, I can see more falls farther down-river from where we stopped. We will go back when we have more time (and better equipment with us).
Salto de Jiménez is located along Quebrada Jiménez. This small river eventually runs into the Río Espíritu Santo much lower down the mountain. This quebrada (which means "small river") is easy to get to. It is the first bridge you come to as you enter El Yunque National Forest as you go up Road 966/9966. There is parking right near the bridge. From the bridge, you can walk up-river or down-river.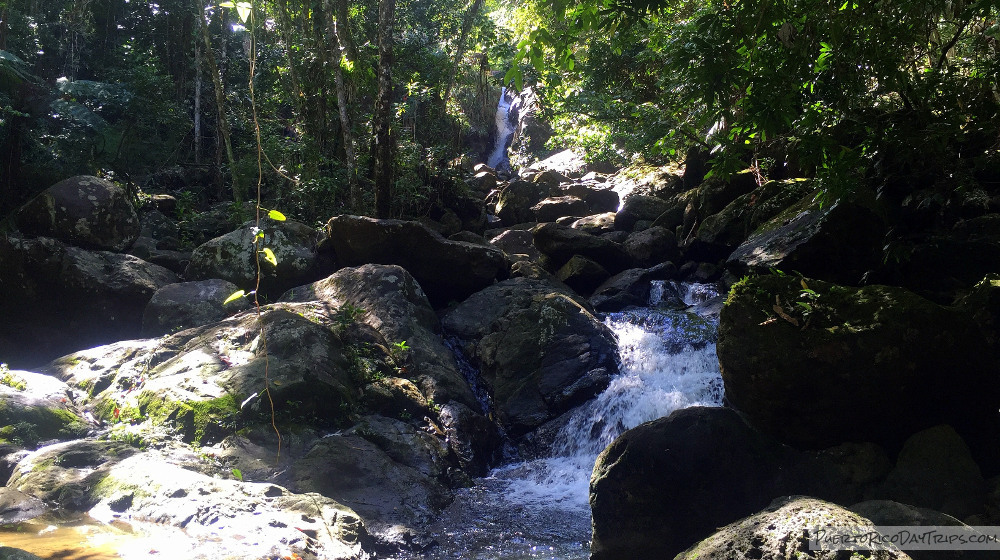 The waterfalls pictured here down-river from the bridge. There is a steep path down to the river on the north end of the bridge. It starts at the edge of the gravel "parking area".
That path leads down to the rocks at the edge of the river, and then we scrambled down the rocks carefully until we got to the first waterfall. From there, farther and farther down-river. There are at least 3 sets of big falls (over 30 feet tall), and many smaller falls and cascades. Some have beautiful blue pools at their bases. Sometimes there were just refreshing blue swimming holes along the way. We took loads of pictures, went swimming (the water is cold!), and had a lot of fun.
Our friend always plays on the rocks barefooted and I though he was crazy. But I found my hiking shoes just had NO traction on slippery rocks. So I took them off and just walked in my socks, and had much better traction. It seemed much safer.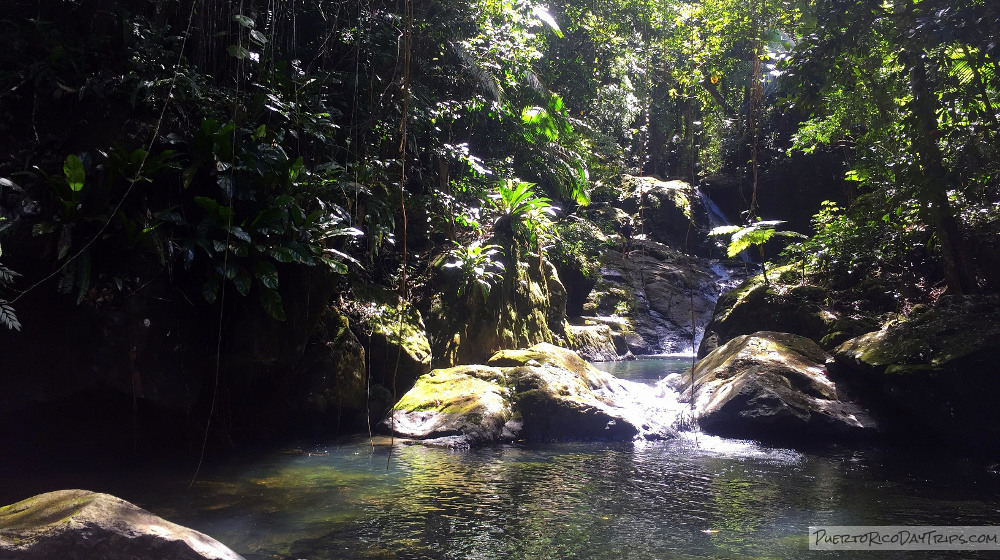 Details
Wear sturdy shoes that have good traction on wet/slippery surfaces. Most hiking shoes to not fit this description. You need a shoe that is "sticky" on the bottom. Water shoes can fit the bill here. Wearing a helmet would not be a bad idea. Take water to drink. Pack out all of your trash.
We spent about 2 hours from start to finish, but we could have easily spent a lot more time there.
From Route 3 in Rio Grande, take Road 186 south (uphill) for about 1 mile, then take Road 966 uphill. Road 966 becomes Road 9966 near the "Welcome to El Yunque National Forest" sign. Continue until you come to the bridge.
From Road 191 (that's the road that most people take up into El Yunque National Forest), you will see a sign for Road 9966. That's where you would turn, and then follow Road 9966 until you come to the bridge.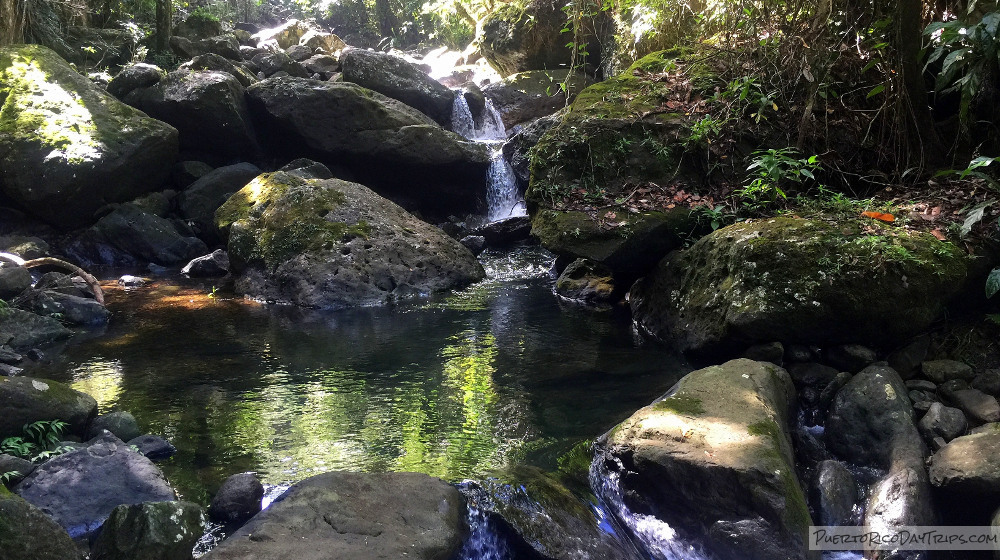 Click on a placename below to view the location on Google Maps ...
PuertoRicoDayTrips.com assumes no responsibility regarding your safety when participating in the activities described in this article. Please use common sense! If your mother or that little voice in your head tells you that you are about to do something stupid … then don't do it!