Check Out Salto del Limón
If you, like me, enjoy spending the day hunting waterfalls, then heading to the center of the island is a must! With so many rivers running down the many mountains, waterfalls are all over in Utuado, Jayuya, and the surrounding towns. Salto del Limón or Cascada del Limón (or possibly Salto del Caballo) is a waterfall in the Río Limón, which separates the towns of Utuado and Jayuya. This beautiful walterfall has a nice deep pool, and it is just one of many falls along this river.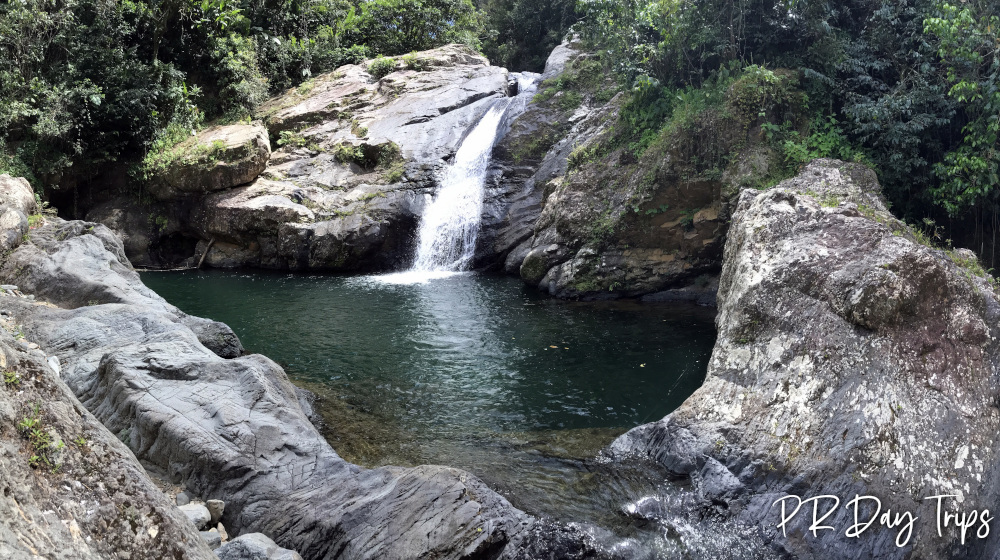 Salto del Limón is on the Utuado/Jayuya border, which is in the center of the island, about 1.45 hours from the San Juan area. Getting there on these small mountain roads is part of the adventure!
To get there, you need to take PR613 into Jayuya. You will come to a small side road that goes down a hill (you will see where people parked on this side road). We parked roadside, and then walked down the side road. The road starts to go up a little hill, but soon you will find a thin dirt trail off on the right. This trial is very thin, with a pretty steep drop off on the right side almost the whole way. It is about a 5-10 minute walk on this trail. It is slippery, muddy, and sometimes there were washouts. So be careful. Probably best to wear sneakers (not flip-flops). You will soon hear the falls and the trail leads right to it. It is so pretty — a big payoff for the tricky path!
The waterfall itself is maybe 25-30 feet tall, and it dumps into a beautiful deep emerald pool. It is really nice. There are rocks where you can hang out around the pool area. Just a lovely place to spend some time.
With the drone, we could see a bunch of other falls and pools above it. There was a small path up the rocks on the left that would bring you up, but exploring up there would be best for people with some rope, good shoes, and nerves of steel! Not something we would recommend! I believe Charco los Novios is up-river from this point.
Note that this is on private property. Luckily (and very nicely), the owner hasn't posted it. So please keep it clean (and please pick up after others if you see any trash there). Let's respect it so the owner doesn't close off access.
Details
Sturdy footwear is required for the thin trail to the river. Please pack out all of your garbage. Do not attempt to go up-river from this waterfall unless you are prepared with the proper equipment.
Access to this waterfall is on Road 613 (or 630 on Google Maps) near KM 11.1, in Barrio Mameyes Arriba, Sector Limón in Jayuya.
Click on a placename below to view the location on Google Maps ...
PuertoRicoDayTrips.com assumes no responsibility regarding your safety when participating in the activities described in this article. Please use common sense! If your mother or that little voice in your head tells you that you are about to do something stupid … then don't do it!