Fish Tales: Deep Sea Fishing in San Juan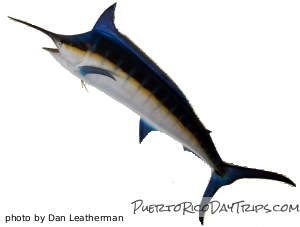 The water around Puerto Rico is deep, rich, and full of some of the world's best big game fishing. The Puerto Rico trench runs just beyond the north shore of the island. In this deep water swim loads of big fish, such as mahi-mahi , wahoo, tuna, white marlin, and blue marlin. If you want to try your luck and see if you can reel in a big one, take a deep sea fishing charter.
Personally, we don't fish, but some of our guests recently went out deep sea fishing. The following is an overview of their experience, as told over drinks.
After trying Mahi-Mahi for the first time, they thought they would like to try their hand at catching their own.
Planning the Trip
After doing some research on the internet, it appears that the best deep sea fishing is off the San Juan coast, so they decided to go with Mike Benitez Fishing Charters out of the Club Nautico marina just outside of Old San Juan (note-this company no longer runs tours, but it will give you an idea). There are a number of trips to choose from, including 4-hour and day trips. It seems like as long as you have 2 or more people in your party, you qualify for a split charter, meaning it is charged per person, not for the cost of the whole boat (which holds 6 fishermen).
They decided on the 8:00am – 12:00 noon trip, so they would have the rest of the day to play in San Juan area.
The Thrill of the Hunt
They found Club Nautico easily, and they told the guard at the gate that they were going out fishing with Benitez and he let them in. There is parking right at Club Nautico by the marina.
They went in to the office, did the paperwork and away they went. On time – very impressive!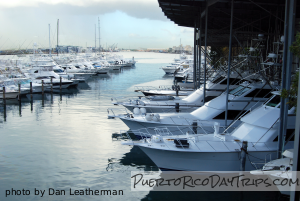 The boat was nice and large, about 45 feet. It had a nice air conditioned carpeted inside cabin and bathroom. That should make it comfortable for rough deep sea waters. They take out a maximum of 6 passengers for the trips, so there is plenty of room.
Soon after leaving the harbor, the mate started setting up all the equipment. They supply everything, the poles and bait, and they do all the work. All you have to do is man your pole and have a great time hanging around telling fish stories! This is deep sea fishing – the boat trolls slowly the whole time. Our friends thought it was rough seas, but the captain assured them it was not that bad – only 4 foot swells. Sometimes it can be 8 foot swells! If you are at all prone to sea-sickness, take precautions ahead of time!
There was a cooler full of water and cold sodas for everyone's enjoyment, and to keep you refreshed. About halfway through, they changed lures, to see if new bait would attract anything. Unfortunately on this trip, Lady Luck was not with anyone on the boat. But it still was an enjoyable trip.
The rate for the Half Day Charter is around $600.00. The rate for the Full Day Charter is $900.00. There are usually Split Charter available. Rates usually include the captain, mate, fishing equipment, bait, and a cooler stocked with soft drinks and bottled water. Charters may be booked on a full boat or on an individual/share basis.
The Half Day Charters are about 4 hours, and depart at around 7- 8:00am and again in pm around 1:00pm. The Full Day Charters are 7-8 hours
Remember, each boat, capt/crew and experience will be different and offer different services. Decide what is important to you and then choose your boat! This was just what our guests experienced with their trip. An easy way to find a trip- Fishing Booker has a bunch of boats listed, just enter your desired location and info and you will get a list and prices etc!
some Options
Here is some info on other fishing charters available in the San Juan area
Extreme Fishing Puerto Rico – 787-528-0715 or email: juancarlostorruella@yahoo.com www.extremefishingpuertorico.com
Caribbean Outfitters – Captain Omar Orraca 787.396.8346 Facebook page
Castillo Tours – 787-791-6195 – www.castillotours.com
If you want to leave out of Fajardo, look up
There are also trips for light-tackle fly-fishing that go after Tarpon and snook in the Puerto Rican back country lagoons. These trips are perfect for fisherman who can't take the rough open water of deep sea fishing. These are smaller boats, so there is usually a maximum of 3 fishermen on board, and the trips are usually less expensive than deep sea.
For light-tackle trips from San Juan area contact
Click on a placename below to view the location on Google Maps ...
PuertoRicoDayTrips.com assumes no responsibility regarding your safety when participating in the activities described in this article. Please use common sense! If your mother or that little voice in your head tells you that you are about to do something stupid … then don't do it!