Sample Sangría, Hand-Crafted With Love, in Caguas
Update Nov. 30th, 2017- Post Maria- They are open! And they have some new flavors of sangrias.
Sangría is a traditional drink in Spain … and of summer. This delicious and light blend of wine and fruit juices make it a perfect drink to enjoy any time. With Puerto Rico's Spanish heritage, and year round hot weather, it is only natural that sangría is all the rage here. There are large sangría festivals held a few times a year around the island, and you will find a decent selection of different brands/flavors available in supermarkets and restaurants.
Sangría Los Hermanos is a small (but fast-growing) family-operated business, specializing in hand-crafted sangría. It is a labor of love, and it tastes great!
We have always enjoyed sangría, so when we got the opportunity to do a tasting of all the flavor offerings of Sangría Los Hermanos at The Sangría Factory, we happily went.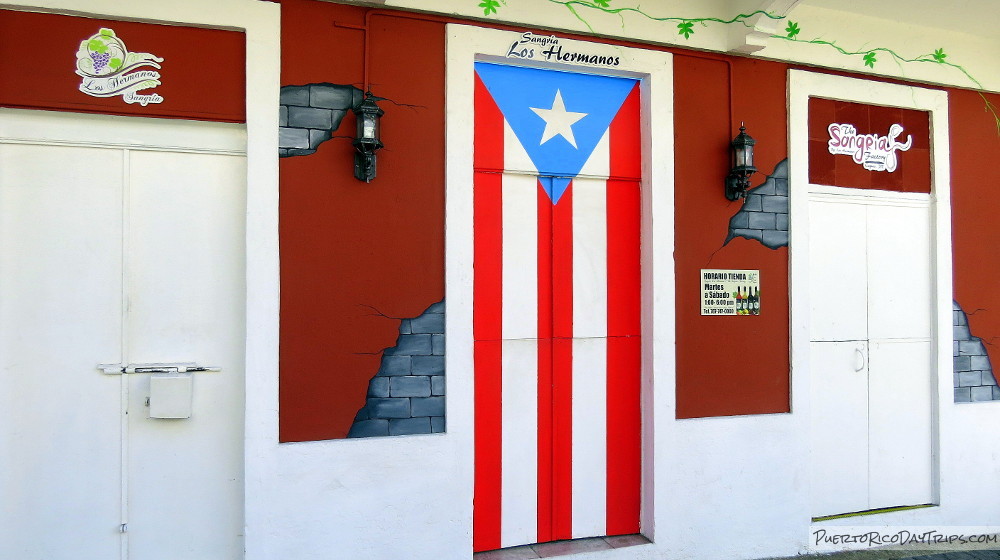 The Sangría Los Hermanos store, and manufacturing area, is located in Caguas. It's a small building near the center of town, with a really cute paint job. The business is owned by Emmanuel Reyes Ruíz and family. With the help of his family, Emmanuel developed his recipes using a mix of wine, various fruits from Puerto Rico (some from his family's yards), and Puerto Rican rum from Serralles.
When we went, he had four flavors of sangría — grape, passion fruit, tamarind and guava — and was working on another (of which we got a preview sample). His sangría has won awards at the local competitions, and proudly boasts the "Hecho en Puerto Rico" logo. They were awarded an Excellence in Quality Award by "Hecho en Puerto Rico" in May 2016.
Our Tasting Experience
We met Emanuel at The Sangría Factory one afternoon, while my brother and sister-in-law were visiting from the States. We immediately fell in love the outside of the place … obviously the owners are Puerto Rico proud. Just inside the door, there is an area with some chairs and tables. After being welcomed in, Emmanuel started a short video (bilingual) about sangría (in general), and the history and products offered by Sangria Los Hermanos.
As he gave out samples of the sangría, one flavor at a time, Emmanuel talked a little with us about how he actually makes the sangria, about his family, his business, running a business in Caguas … really everything. He was so pleasant, and obviously proud — as well he should be.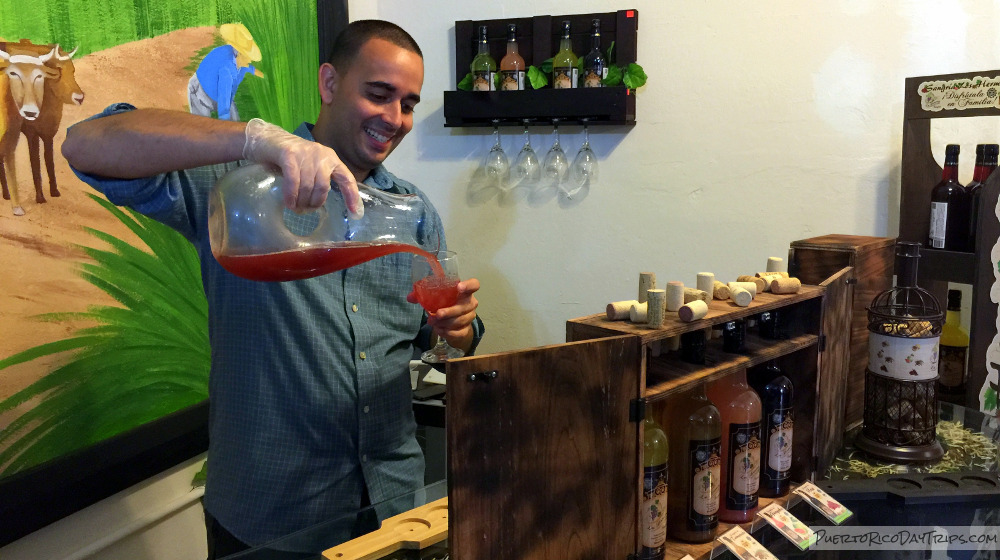 With each new flavor we tried, we had a hard time deciding on our favorite, as they were all very good, light, and refreshing. Of course, after a few glasses of sangría, the atmosphere got more jovial, too!
Emmanuel has a "family toast" that he asks everyone to say as they enjoy a drink. It is quite funny. We enjoyed ourselves. We got giggly. We bought a couple bottles to take home for future enjoyment.
We did not get to go into the kitchen "factory" area … it is really small, and needs to stay clean. We were comfortable just hanging out at the tables by the bar. There was local cheese, crackers, and bread on the table for us … each local business helping promote another.
At the end of our tasting, Emmanuel suggested we stop in some of the museums along Caguas' Ruta del Corazon. We took him up on his suggestion, and spent some time walking around Caguas.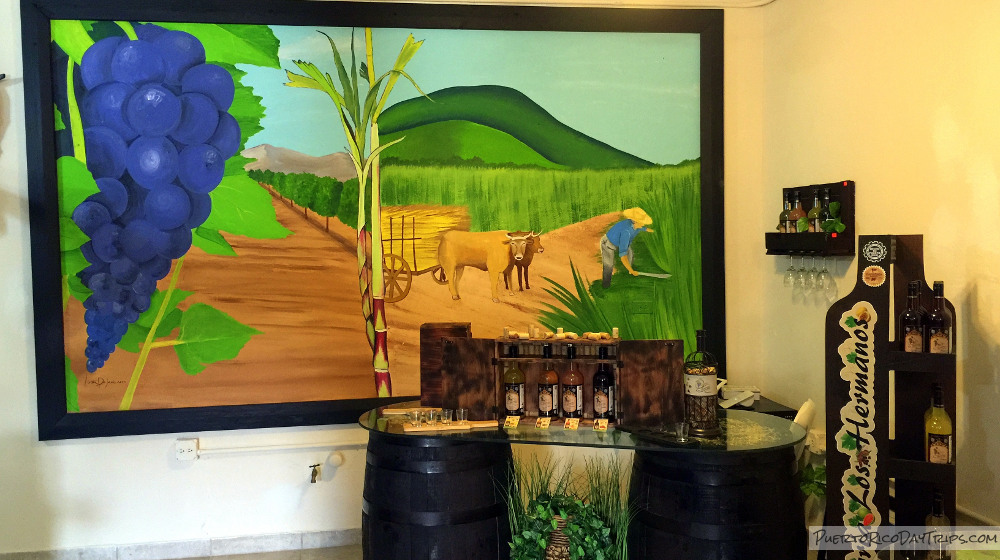 Details
The cost of the tasting that we did is $25 per person, and includes 4 sangría samples, local cheese, crackers, and bread. Bottles of the sangria (and other products) are available for purchase at additional cost (reasonable!)
They are open for tastings (only by reservation)Tuesday to Friday from 12noon to 5pm, and Saturday from 10am to 5pm. You can call ahead or stop in (knock on door) to purchase sangria during normal business hours. If you just stop in, they offer small samples of a few of their products, to help you decide which you might like to purchase..
Allow about 1 or 2 hours for the sangría tasting.
You can call Sangría Los Hermanos at 787-747-0000 for more information or to make a reservation.
You can visit the Sangría Los Hermanos web site, or Facebook page, for more information.
These tasting tours are usually only available for groups of 8 or more, by reservation. However, they do have a storefront at The Sangría Factory where you can purchase bottles of their sangría, and other "Hecho en Puerto Rico" merchandise. They have restroom onsite.
Sangría Los Hermanos is located in Caguas, just 40 minutes from San Juan. Take Route 52 to exit 19, then take Road 156 toward the mall. Turn left at the second light, and then a quick right into the parking lot (by Gatsby). The shop is the second store in from the corner of Road 33 and Calle Ramon Emeterio Batances.
We are in the process of updating the maps we use on our web site. While we're working on that, you can click on the GPS coordinates below to view the location on Google Maps ...
PuertoRicoDayTrips.com assumes no responsibility regarding your safety when participating in the activities described in this article. Please use common sense! If your mother or that little voice in your head tells you that you are about to do something stupid … then don't do it!