Santuario de la Virgen de la Providencia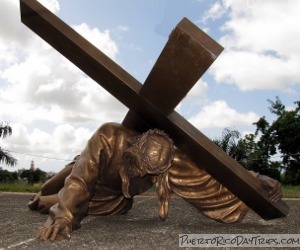 Every once in a while I get surprised by some of our explorations. The Santuario de la Virgen de la Providencia in Cupey is one of those surprises. This little-known place should be on every local Christians's must-visit list. Tourists that are "into" these kind of things to plan on making quick stop, too.
This land, owned and operated by the Archdiocese of San Juan, is the future site of a new church and new offices for the Archdiocese. While those projects are still in the planning phase, two wonderful and awe-inspiring displays are already in place — a life-sized Stations of the Cross and a large cross.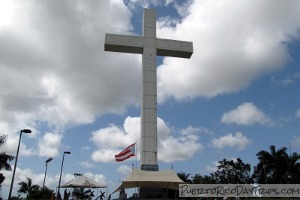 The cross looks to be about 150 feet tall, and it is situated at the highest point on the property so that it can be seen far and wide.
The the real show-stopper for me was the life-sized Stations of the Cross sculptures. Currently, they are located around the base of the cross, but the plan is to relocate them the garden area below.
The 14 stations are cast in bronze, and they depict the last days and hours of Christ's life. The sculptures are so large and lifelike … you can see the agony in the eyes and feel the pain in the muscles with each fall. I was really moved by this, and I am not a real churchy-type person.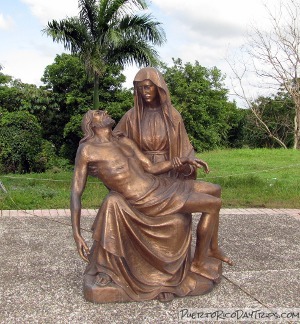 When we went, there was a temporary open air church set up under the cross, where they celebrate mass, and hold other activities, throughout the month. We were the only people visiting, but they have a security guard on duty all the time.
Details
There is no fee to access the park.
The park is open 5 days/week, Monday- Friday from 8:00am until 5pm. Sometimes Saturdays they may be open. Check their Facebook page for other events (Masses, Stations of the Cross etc).
It's a short stop. Allow about 30 minutes.
You can call the Archdiocese of San Juan at 787-646-9448 for more information or email info@santuariodelaprovidencia.org.
You can visit their Facebook page or web site for more information and to read about their plans for future developments.
The park is easy to get to. It's just off of Road 199 in Cupey. It is gated, but gate will be open if they are open. Look for the big cross.
Click on a placename below to view the location on Google Maps ...
PuertoRicoDayTrips.com assumes no responsibility regarding your safety when participating in the activities described in this article. Please use common sense! If your mother or that little voice in your head tells you that you are about to do something stupid … then don't do it!