Santuario Schoenstatt – A Little Bit of Germany in Cabo Rojo
Now Open without reservation!
.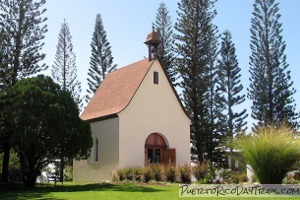 I know that when you see this cute, little church, you assume it is somewhere in Europe. But this lovely place is actually right here in Puerto Rico, in the town of Cabo Rojo! The church is a replica of the original Church of the Apostolic Movement of Schoenstatt in Germany.
The grounds here are very beautiful, and they welcome all visitors (religious or not) who want to come and enjoy this peaceful place.
While on a recent trip in the south-west part of Puerto Rico, I saw a picture of this cute church in Cabo Rojo, and I just had to find it. As it turns out, there are three of these churches in Puerto Rico! Besides the one in Cabo Rojo that we visited, there is one in Hatillo (actually maybe 2 in this town!), and another in Juana Díaz.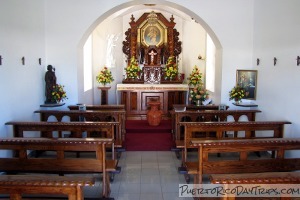 The church in Cabo Rojo is on the grounds of the Schoenstatt Sisters of Mary (Madre Tres Veces Admirable). This Roman Catholic movement is worldwide and emphasizes a strong devotion to Christian beliefs and the Blessed Virgin Mary.
They say the word "Schoenstatt" comes from the German word for "beautiful" (schön) and "place" (statt). And by looking at the locations they choose for their churches, I believe it.
The church is very small, maybe four small pews on either side. It has a nice carved wood altar, stained glass windows, and it is open, airy, and very peaceful. Located on a hilltop, it has a nice view of the ocean and nice breezes.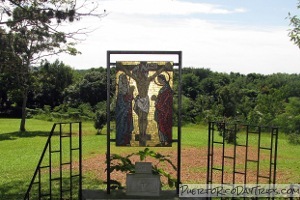 There is a lovely fountain behind the church, and there are gardens with beautiful mosaic Stations of the Cross. It is a quiet and peaceful place, to pray, meditate, or just take in the tranquil beauty of nature.
The other buildings on the grounds are the convent for the Sisters, a retirment house, a large building for group meetings and events, and a small museum & gift shop.
Details
There is no charge to walk around the grounds, but there are donation boxes in the church and in the museum. Donations are appreciated.
The grounds and church are open 6 day/week. M-W 8am-12n, Thurs 6p-8p, Fri 2pm-6pm, Sat 9am-3pm.
You can call them at 787-851-5368 for more information. for more info.
Mass is celebrated on Thursdays at 7pm and Sundays at 12 noon. They also have adoration and the Rosary a few times per week — call for the schedule. Everything will be in Spanish.
Santuario Schoenstatt is located just off of Carratera 100 at KM 5.3 in Cabo Rojo. You will see a sign that says "Schoenstatt" on Calle Padre Jose Kentenich. Follow that road until you get to the parking lot.
Click on a placename below to view the location on Google Maps ...
PuertoRicoDayTrips.com assumes no responsibility regarding your safety when participating in the activities described in this article. Please use common sense! If your mother or that little voice in your head tells you that you are about to do something stupid … then don't do it!