Taste Local Flavor at a Fruit and Vegetable Market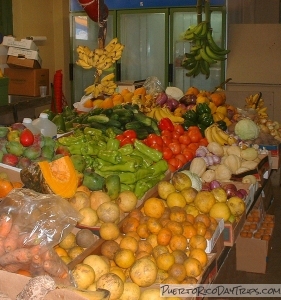 The towns in Puerto Rico are all centered around a Public Square. Around this little open space, you will usually find a church, some government buildings and a market area. This market area will probably have small food stores, clothing stores, and stores with assorted necessities. And usually there is a local fruit and vegetable market. That is our colorful and tasty topic for today.
It is in these markets that you can find all sorts of fresh, local fruits and veggies. We definitely make an effort to stop by these vendors to discover something new. The colors and fragrances alone make it worth the trip. I am not a veggie lover, but fruits are my thing. Tropical fruits are slowly disappearing from this island, so when I can find something exotic, I want to try it.
We made a quick visit to the Market in Santurce (Plaza del Mercado) . The market is located in a very pretty, old building. It has about 10-12 colorful booths, with vendors selling all sorts of fruits and veggies.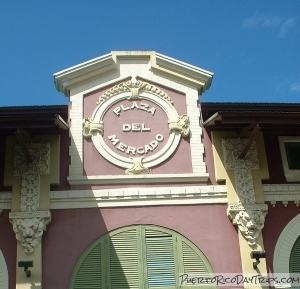 They had lots of local favorites, the usual fruit and veggies most of us see in the supermarkets, plus some unusual fruit such as caimito, starfruit, guanabana and mamey. And everything was much less expensive as compared to the the supermarket! This market also has a smoothie (batidas) place, where the vendor uses fresh tropical fruits (yummy)! There are also other booths with all sorts of spices and seasonings, meat, fresh fish, and medicinal (as well as other) plants and flowers. Check the stores just outside the market, you will find some interesting things! And to make this a really nice afternoon – all around the market are a number of bars and restaurants. In the evenings/nights (especially Thursday- Sunday), this is the place to hang out. Lots of fun- food, drinks, music, dancing and people watching .
You will also see fruit and veggie stands set up along the sides of many roads. They also have lots of great things. These markets and stands are usually run by very friendly locals, who will help you find a ripe item, or tell you about some unknown item. They will even tell you how to best cook it. If they don't speak English, never fear – try some of your Spanish skills, or if that doesn't work, there is usually always someone around that can help you with translations or at worst, use hand signals!
Details
The Santurce Market is open from 6:00am – 2:00pm most days, but only in the morning on Sundays (until 12 noon).
For some more info, you can check Facebook page.
The market in Santurce is on Calle Dos Hermanos at Calle Capitol, near the Museum of Art. Getting around and parking in the market area is difficult – lots of one way and tiny streets. We parked on a side-street where we found a spot and walked a few blocks.
The Santurce Market is about 15 minutes from the airport.
Click on a placename below to view the location on Google Maps ...
PuertoRicoDayTrips.com assumes no responsibility regarding your safety when participating in the activities described in this article. Please use common sense! If your mother or that little voice in your head tells you that you are about to do something stupid … then don't do it!