See a Riot of Color in the Murals in Santurce
Since 2010, Santurce (a neighborhood in San Juan) has transformed into a vibrant, colorful place of artistic expression. While many of the murals from Santurce es Ley adorn the walls, buildings, and hidden corners of Calle Cerra and surrounding streets, there are murals all around the neighborhood. We invite you on a journey to discover the captivating and colorful art that breathes life into the streets of Santurce.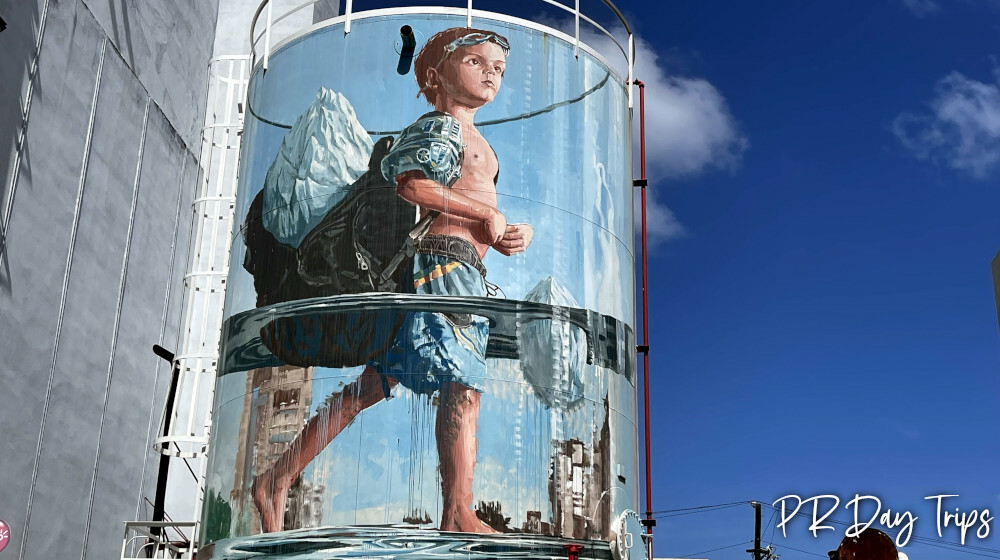 The Mural Trail: A Riot of Colors
The murals are everywhere around Santurce! Even if you just drive around the main roads, you will see many. But the best way is to park your car and walk. Walking around Santurce is like wandering through a living gallery of vibrant masterpieces. Events like Santurce es Ley and Los Muros Hablan invite local and international talent to come and leave their mark on the community. Here is a map of some of the murals.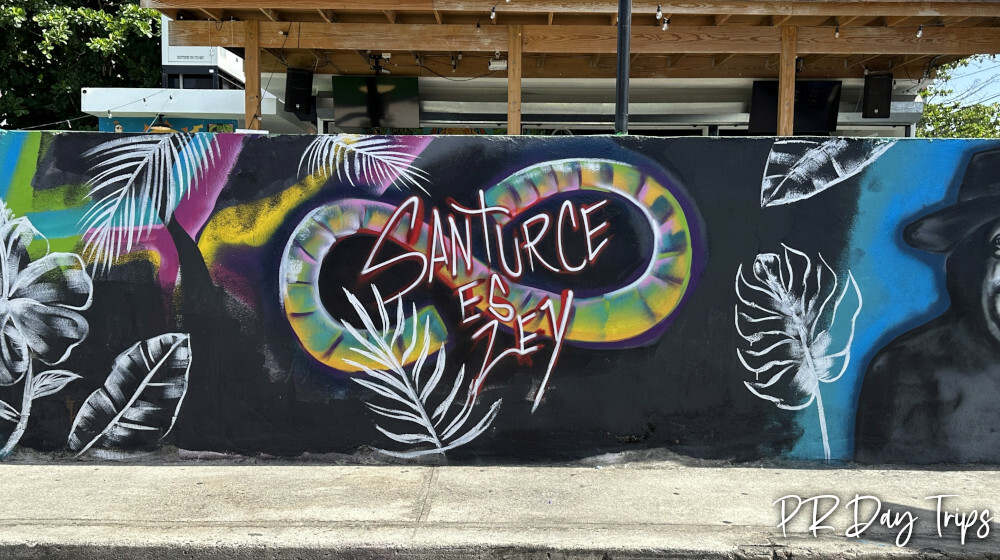 The Santurce es Ley event is held almost annually, adding more colorful artworks with each edition, so there are many murals to see. The murals of Santurce es Ley cover a wide range of themes. Some pay homage to local people, culture and history. Some are thought-provoking social and political commentaries. Some are just for fun. The artworks capture the spirit and struggles of the community.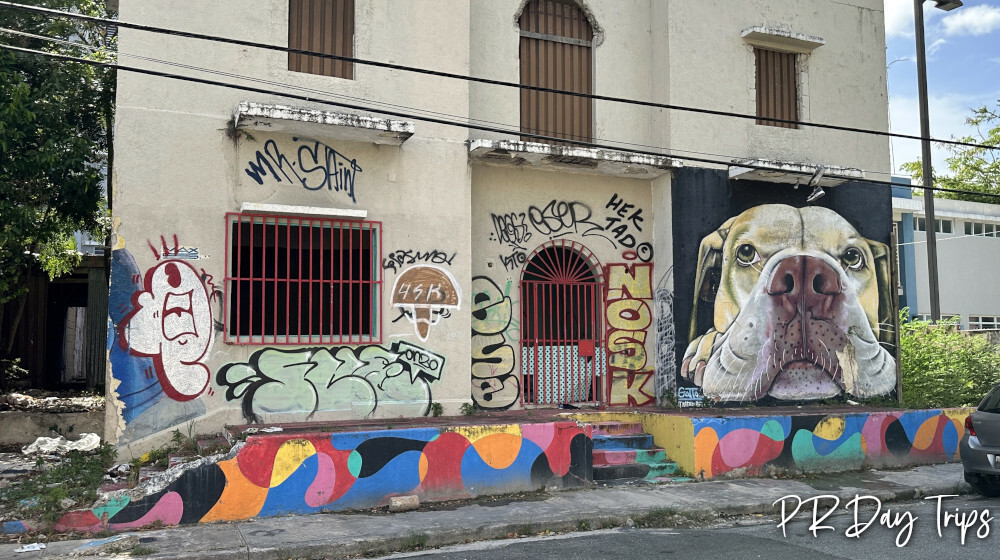 The styles vary as well, encompassing everything from hyper-realism and surrealism, to abstract and graffiti-inspired designs. Each mural tells a unique story and invites the viewer to engage with the artwork on multiple levels. The result is a mesmerizing mix of styles and colors that captivates all who see it.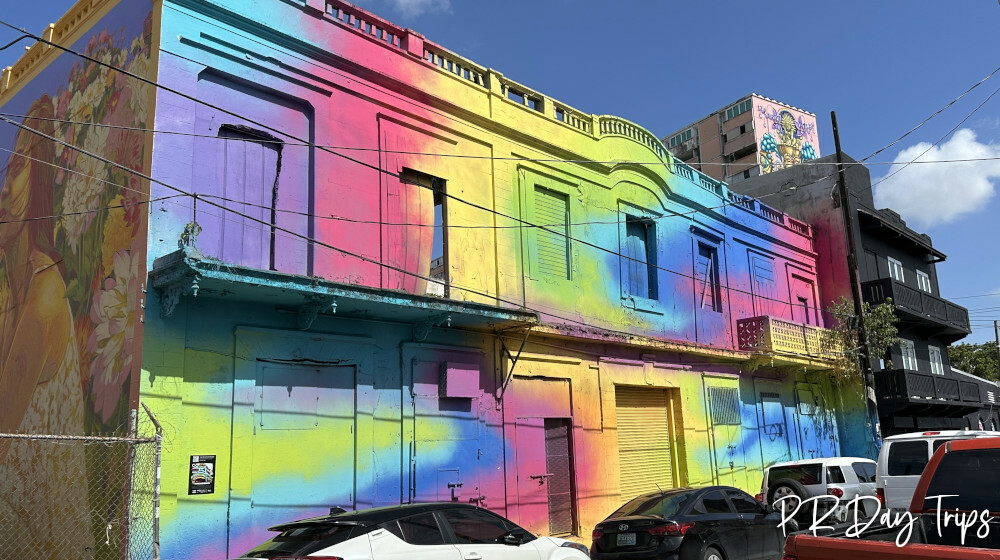 Calle Cerra: An Open-Air Art Museum
While the murals are all over town, Calle Cerra, is the heart of the open-air art museum. The walls of buildings, some abandoned or run-down, now serve as enormous canvases for local and international artists, each piece showcasing a unique palette of colors. From bold primary hues to soft pastels and neon tones, the murals breathe life into the urban landscape. Every turn reveals a new splash of color, telling stories, and sparking imagination.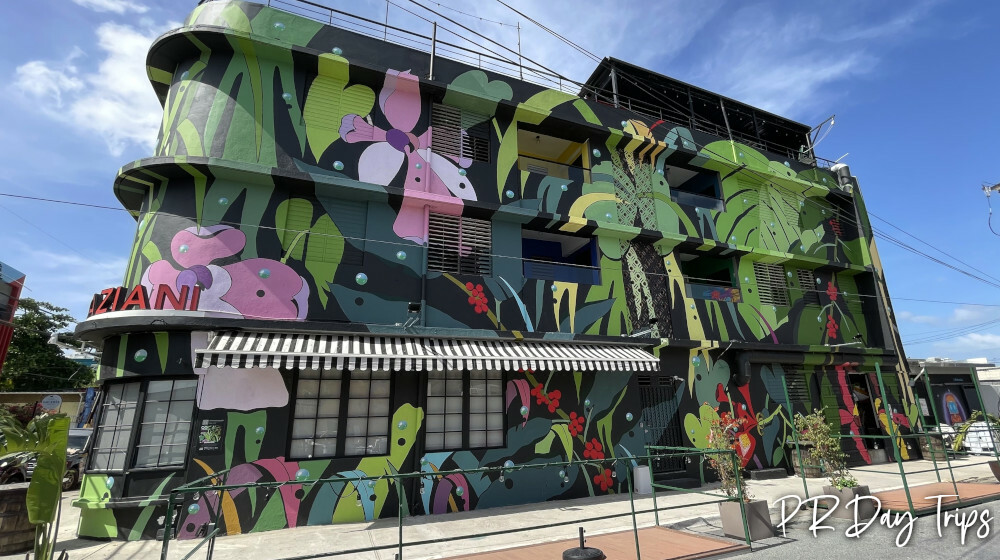 Community Effort: Artists & Residents Unite
The explosion of color in Santurce is not only the result of the artists' talents, but also the collaborative efforts of the local community. Residents, business owners, and artists have come together to embrace the transformation of their neighborhood, recognizing the positive impact that art has on the community's spirit and identity.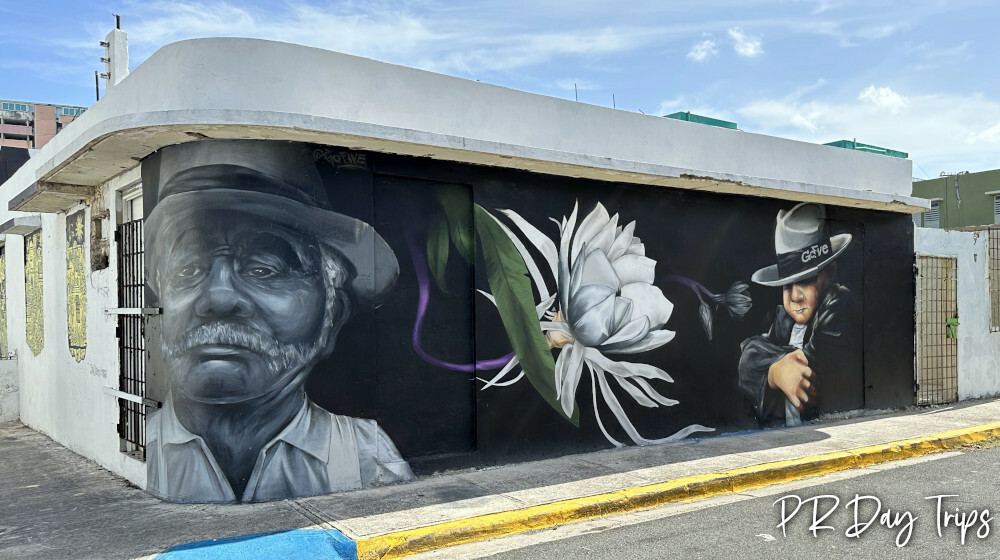 While you are in the area enjoying the murals, be part of the community growth and economic improvement — stop in at any of the local bars, restaurants, or stores you pass. Say hello to the residents sitting out on their porches. This once run-down and seemingly unsafe neighborhood has improved a great deal over the years. It is not perfect nor even slightly manicured, it is a raw and colorful real-life scene of people trying to make it in an off-the-beaten-path community.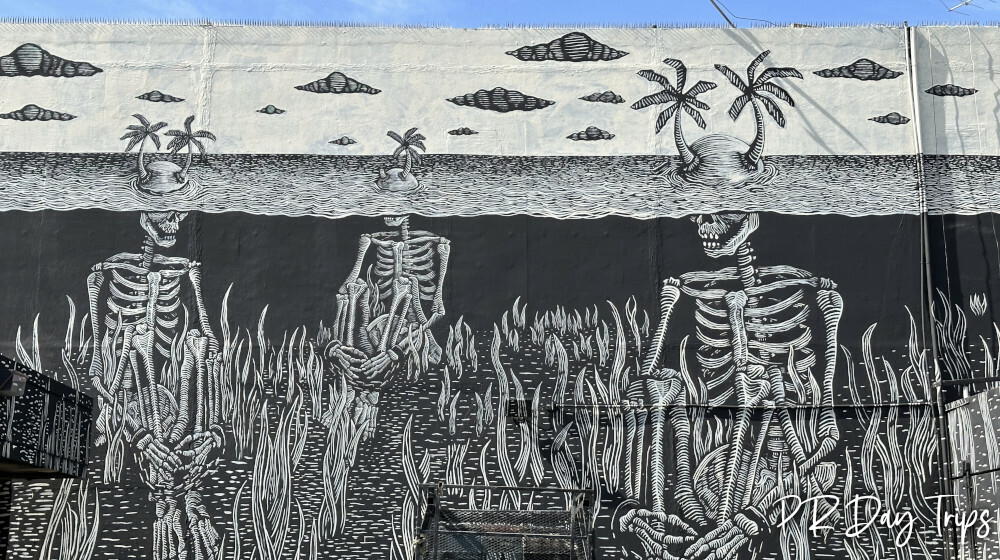 Of course, over the years, time is not always kind to street art. Some old favorite murals are gone, and some have been replaced with new ones! So even if you have been to this area before, you should come again and see the changes that have been made over the years. Some upscale restaurants have moved in, and Airbnbs are popping up throughout the area. The other side of this coin is the gentrification of a local neighborhood, which is hurting the locals. Things change, not always for the best, but always different!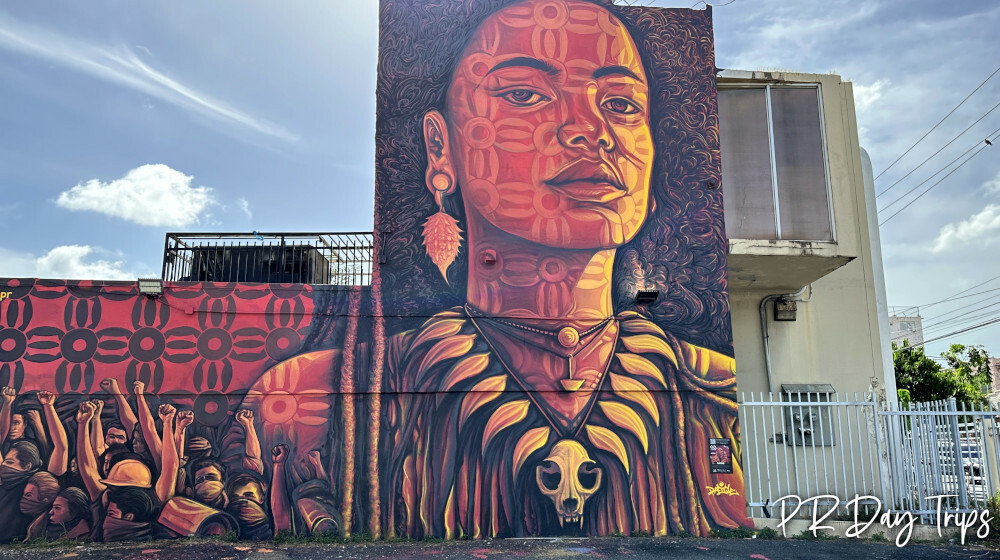 We generally visit this area during the weekday. We have no problem finding street parking on Calle Cerra. Weekends, and especially in the evenings, that might not be the case. But there is a parking garage at Marshalls, which is not far from Calle Cerra. But you really will see street art and murals all around the area, on almost every street. Find parking and walk.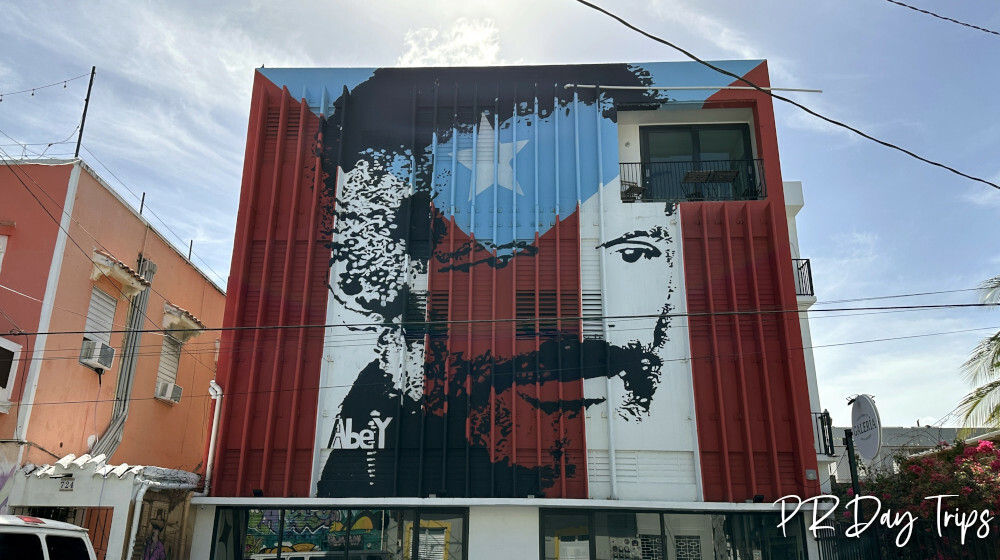 The area is not perfect, there is still some crime and drug users around. I probably would not walk around alone, or show off expensive jewelry or flash money around. But it has gotten better. We have never had any issue walking around talking photos. People have been friendly and seem to enjoy sharing their neighborhood with visitors. If you would feel more comfortable going on a tour, there are some companies that offer tours of the Santurce street art that can be booked through our site .
Details
Visit the area during daylight hours, as the murals are not necessarily lit up at night.
You can visit the Santurce es Ley Facebook page or the Calle Cerra Facebook Page for a little more information.
If you are interested in a guided tour through the area, you can Book a Santurce Street Art Tour now .
Click on a placename below to view the location on Google Maps ...
Activities booked through this page are booked directly with the activity operator. Other than referring you to the activity operator, PuertoRicoDayTrips.com is not involved in the transaction between you and the activity operator. The activity operator is responsible for all aspects of processing bookings for its activities, including cancellations, returns, and any related customer service. PuertoRicoDayTrips.com makes no representations regarding the level of service offered by an activity operator. PuertoRicoDayTrips.com will receive a small referral commission for any activities that you book through this page.
All trademarks, logos and brand names are the property of their respective owners. All company, product and service names used in this website are for identification purposes only. Use of these names, trademarks and brands does not imply endorsement. Photos used to promote tours are the property of the original copyright owners.
PuertoRicoDayTrips.com assumes no responsibility regarding your safety when participating in the activities described in this article. Please use common sense! If your mother or that little voice in your head tells you that you are about to do something stupid … then don't do it!