Help Out the Cats in Old San Juan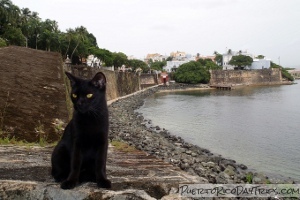 If you take a walk along the Paseo del Morro Recreation Trail (north of the San Juan Gate), you can't help but notice a colony of cats roaming the sidewalk, hiding in the bushes and sunning themselves on the rocks by the water. This is just one of the 4 colonies of cats around Old San Juan. These are not stray cats, per se, but animals who happily live in the rocks around the harbor.
The cats are a part of the Old San Juan experience, much like the cats and chickens that are a part of the Key West experience. Some of these cats are said to be descendants from the original cats that arrived on the ships when the first Spanish settlers came to the island. But the cats need help to stay healthy and alive. That is where the Save a Gato organization comes into play.
Save A Gato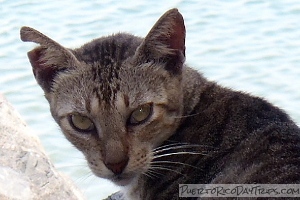 Save a Gato (gato is Spanish for cat) is a volunteer organization that manages the care and feeding of the colonial cats of Old San Juan. Most of the cats around the Paseo del Morro are feral cats, which means that they are not socialized to humans. They are cats that were either born outside and never had human care/contact, or cats that have become accustomed to living without human companionship.
Through an agreement with the National Park Service, Save a Gato provides food, water and medical assistance for these cats. They also control the number of cats in the colony. They do this by the practice of TNR — Trap, Neuter and Release.
They humanly trap the cats, neuter them (and clip the ear for easy recognition), give them their necessary vaccinations (rabies, etc), deworm them, attend to any other medical needs, and then return them to the colony. This practice provides a win/win situation for everyone — the cat population is controlled and so is the rodent population.
You Can Help By Making a Donation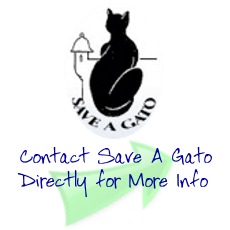 Save a Gato does what they can, as a completely volunteer organization, run on donations. But every TNR costs money. Luckily, a local animal hospital, a municipal animal shelter and a caring local vet do the procedures for Save a Gato for a reduced rate.
Ray and I met with some of the volunteers of Save a Gato. They are an impressive group of people who come in daily (working it around their own lives and jobs) to feed the colonies of cats, and care for the sick cats & adoptable kittens. These people volunteer their time, but the neutering, food, medicine and supplies all cost money.
So what can you donate? Of course they always will accept cash! But they also need dry and wet cat food, cleaning products (like bleach, floor cleaner, paper towels, dish soap, sponges, garbage bags and antibacterial spray), bath rugs/towels, cages, bowls and plates. If you can donate any of those things, contact Save a Gato to set up a time to drop off your donation. If you want to make a monetary donation, you can do that on the Save a Gato web site.
You Can Help By Adopting a Kitten
There is never enough money to neuter all of the cats, so unfortunately, there are always new kittens. Luckily, most kittens can be socialized and adopted out to good homes.
Over the last few years, Save a Gato has found homes for more than 200 kittens. There are always about 40 kittens or young cats available for adoption at any given time.
So, if you are interested in adopting a kitty, please contact Save a Gato on Facebook or via the Save a Gato web site to set up a time for you to come and meet the kittens … and hopefully find one to take home.
Other Ways That You Can Help
I know not everyone can adopt a cat, however you can still get an Old San Juan cat souvenir that helps the cats. There is always some cat related items for sale. Check out the Save a Gato web site store.
For more info about Save a Gato, donations, souvenirs or if you are local and can help by volunteering time, you can contact Save a Gato on Facebook, visit the Save a Gato web site or simply click the button up above.
PuertoRicoDayTrips.com assumes no responsibility regarding your safety when participating in the activities described in this article. Please use common sense! If your mother or that little voice in your head tells you that you are about to do something stupid … then don't do it!