Go Diving with Sea Ventures in Fajardo or Humacao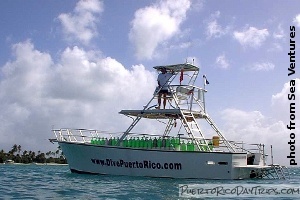 We had an extended family check into our rental home last weekend: husband, wife, 5-year old son, grandma and grandpa. During our initial "Nice to meet you. What are your plans for the week?" conversation, I discovered that the husband brought his SCUBA gear and wanted to fit in a couple dives during their stay with us.
As it turned out, he was the only SCUBA certified member of the family, and he would need a dive buddy. Hmmm … Gwenn was going out of town for the week. This sounded like a good opportunity for me to have a little fun while she was away!
So I made some calls, and was able to reserve a 2-tank dive mid-week with Sea Ventures out of Palmas del Mar in Humacao (they don't runs tours from there anymore). It turned out to be a nice morning of diving for both me and our guest.
Planning Our Trip
It is great if you have some flexibility in planning the dive trip to make sure the weather and marine forecasts are favorable.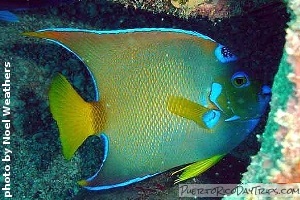 Sea Ventures, a PADI 5-star dive center, runs dive boats out — Puerto del Rey Marina in Fajardo. From what I'd heard about diving in those areas, the dives in Fajardo are usually less deep and the sea is calmer, while the dives in Humacao are generally deeper, with more stuff to see, but the sea is a little more rough. Culebra trips are lomger, but diving is great!
The Dive Boat & Crew
We arrived at the marina about 8:15am for a 9am departure. We easily found the 42-foot Coqui Diver dive boat at the marina. The crew consisted of the captain and two dive masters (Raymond and Tony).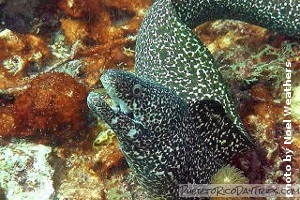 The captain gave the usual boat briefing about life jackets and the emergency radio. Tony gave a general dive briefing about donning our gear, giant stride water entry, descending and ascending.
After the briefings were complete, we departed for the first dive site.
There were 7 certified divers on the boat: 5 of us would be diving with Raymond, while the other 2 divers would be doing easier, refresher dives with Tony since they had not been diving in quite some time.
The ride to the first dive site was about 25 minutes. The weather forecast called for 3-5 foot seas — but it seemed much rougher than that. Being someone who is prone to seasickness, I was very happy that I had popped a Dramamine before we got onto the boat. Even with that, I couldn't wait to jump into the water!
Our Dives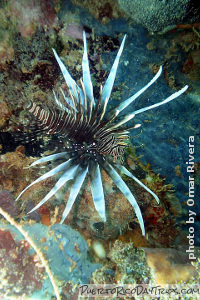 The first dive site was called Islands in the Sand. This was an appropriately named site — it consisted of many coral formations scattered across a flat, sandy seabed. Swimming between the coral formations was like swimming along a bunch of mini-walls. We reached a depth of 70 feet with a bottom time of about 42 minutes.
Our second dive was at a site called Retreat. It consisted of a lot of large crevices, swim-throughs and over-hanging ledges. There were plenty of places to look in and under — good hiding places for various types of critters. At this site, we reached a depth of 52 feet with a bottom time of about 50 minutes. My dive computer registered a water temperature of 82°F on both dives.
Both dive sites had an abundance of colorful and healthy soft corals and sponges, but not too much impressive sea life. Some of the things we did see included lobster, angel fish, a moray eel, barracuda, squirrel fish, a southern stingray and a lionfish.
The lionfish spotting was both a blessing and curse. They recently started showing up around Puerto Rico and have been spotted in the waters around the San Juan, Luquillo and Humacao areas.
Wrapping It Up
We both wore wetsuits, though we probably didn't need them given the water temperature was 82°F. But I always dress like I'm diving in the Arctic since I'm always cold under water!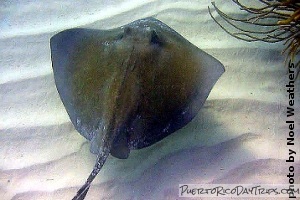 Both of us had our own dive gear, so I can't really comment on the quality or condition of the rental gear. From looking at the rental gear some of the other divers were using, it looked like your typical resort rental gear.
Sea Ventures provided water, soda and light snacks for between dives. There was no head on the boat, but there was a restroom at the marina for us to use (and, of course, there was the ocean — but you never pee in your wet suit, right?).
After the second dive, it was about a 30-minute ride back to the marina. By this time, the seas had calmed down a little bit and the ride back wasn't nearly as rough as the ride out.
We got back to the dock, unloaded our gear from the boat and got into the car for the drive home. It was about 12:45pm. All in all, not a bad way to spend the morning!
Normally, when we review an activity that is not free to the public, we pay the admission price out of our own pockets. However, we just want you to know that the guys at Sea Ventures were kind enough to offer me this trip for free. While we don't feel that this free ride influenced our review one way or the other, we felt that we should tell you, just as a matter of fact.


Details
The cost of a 2-tank dive is $109/person (just weights and tanks). they rent all gear.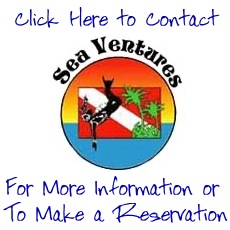 If you're happy, let them know it — Don't forget to tip your your bartender, tour guide or trip operator if you enjoyed yourself. Gratuities are appreciated and typically aren't included in the price they charge you.
They are located at the Puerto Del Rey Marina in Fajardo
Sea Ventures offers two 2-tank dives daily from each of their locations. In Fajardo, the dives depart at 8:00am and 1:00pm.
Allow about 5 hours total for a 2-tank dive, that includes arriving at least 30 minutes before the dive departure time.
Call (787) 863-3483 for more information or to make a reservation.
Visit the Sea Ventures web site for more information and to book the tour you want and driving directions.
In addition to the dives mentioned in this article, Sea Ventures also offers the PADI Discover SCUBA program, snorkeling trips, "just along for the ride", night dives, a Culebra dive trip, and a full range of PADI SCUBA certification courses.
Click on a placename below to view the location on Google Maps ...
PuertoRicoDayTrips.com assumes no responsibility regarding your safety when participating in the activities described in this article. Please use common sense! If your mother or that little voice in your head tells you that you are about to do something stupid … then don't do it!