Fun Times at Sector Sixty6 in the Outlet Mall
1/21- the Sector 66 rides and games are OPEN.
The Outlet @ Route 66 is changing … It is becoming less of a shopping mall and more of an activity destination. Hurricane Maria hit the mall hard, so they used the renovation period as an opportunity to change things up. Some of the retail stores left, and the remaining ones moved to new locations in the mall, making room for an entertainment complex like Puerto Rico has never seen!
There are still outlet and retail stores (Burlington is the anchor store), and a number of kiosks. But now there is a Fun Box rope course (Sky Trail), CXC Simulations (simulator rides), Arcade Mania (a large arcade) complete with bumper cars, K1 Speed (indoor racing cars), and a bowling alley. There are also new bars and restaurants, and the Caribbean Cinema movie theaters. There is fun for everyone for the whole day!
The Outlet @ Route 66 is located at the intersection of Route 3 and Route 66 in Canovanas. It's easy to get to from San Juan (about a 25-minute drive), and about a 15-minute drive from our house in Río Grande. We have been enjoying watching it grow into this fun place. And they are not done yet … soon, they will have drag race cars outside!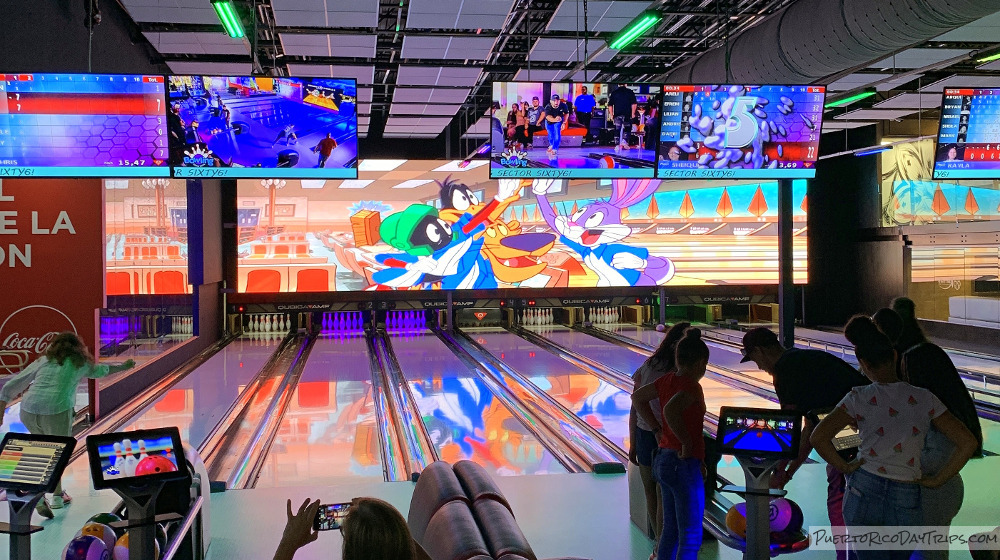 Our Experience
We went recently with a group of friends (all adults but kids at heart!). Our goal was bowling, but we enjoyed a few of the other attractions while we were there.
The bowling alley has 10 lanes, all computerized, with lots of lights and fun. You rent the lane in 1-hour increments. Of course, you need to rent the shoes (unless you happen to have your own bowling shoes) for $3/pair. If you forget to bring socks, they will sell you a pair for $3, or go shopping in the mall for your own. We had a great time … even though, as it turns out, I am a terrible bowler!
The bowling alley is open Sunday to Thursday from 10am to 10pm, Friday from 10am to midnight, and Saturday from 9am to midnight.
The price is per hour per lane, with up to 6 players per lane. There is a reduced rate of $25.99/lane/hour before 5pm during the week. After 5pm, and on weekends, the rate is $35.99/lane/hour.
You can call the bowling alley at 787.961.8716.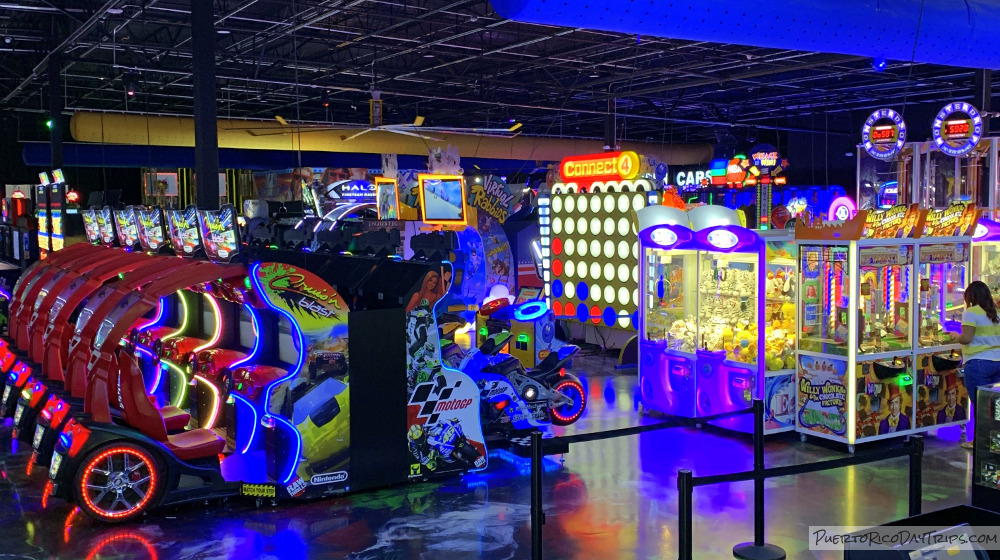 We spent a little time playing in Arcade Mania. This is a loud, fun, and exciting arcade. Loads of different machines and games to play, something for all ages. It has all the bells and whistles you could ask for! You get a reloadable card, and load it with any dollar amount you want. The whole system is based on "credits", and each credit is 20¢. Each game cost a certain number of credits, with most appearing to be from 6-12 credits. Some of the big ones (like the simulators) were more. But it seemed pretty reasonably to me. Many of the games let you earn tickets, which you can redeem for prizes (from candy to toys). The bumper cars were in the back corner.
All this playing made us thirsty, so we had a drink at one of the bars. Karma's hit the spot.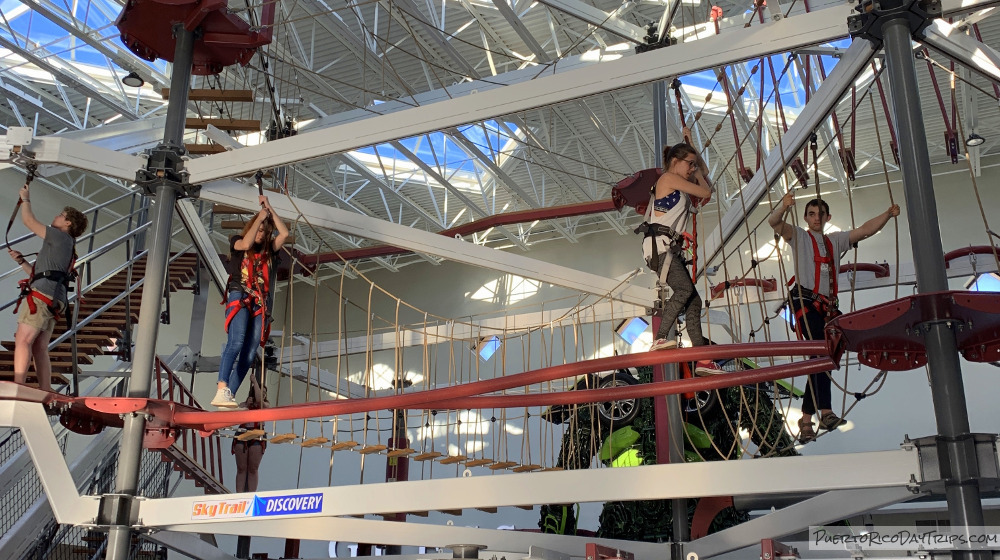 We couldn't pass up trying the rope course, called Sky Trail. The course is divided into a lower/easy level (called Sky Tykes for little kids under 48 inches tall, and a 2-story upper level for big kids and adults.
They had really nice system where your harness hooked into metal tracks overhead. It seemed very safe and secure. You need closed-toed shoes, preferable tie ones (like sneakers). We have done a lot of this sort of thing, and even this course had a few elements that were tricky and thrilled us! They had a little "zip line" that was a fun way to get from one side to another. Later, as we were leaving the mall, we saw one of the employees walking a guest through some of the elements on the upper level, and lending a helping, reassuring hand. That was nice to see, in case you get scared!
The rope course cost $11.50/person for 30 minutes, which was enough for us to to all the things on both of the upper levels a few times.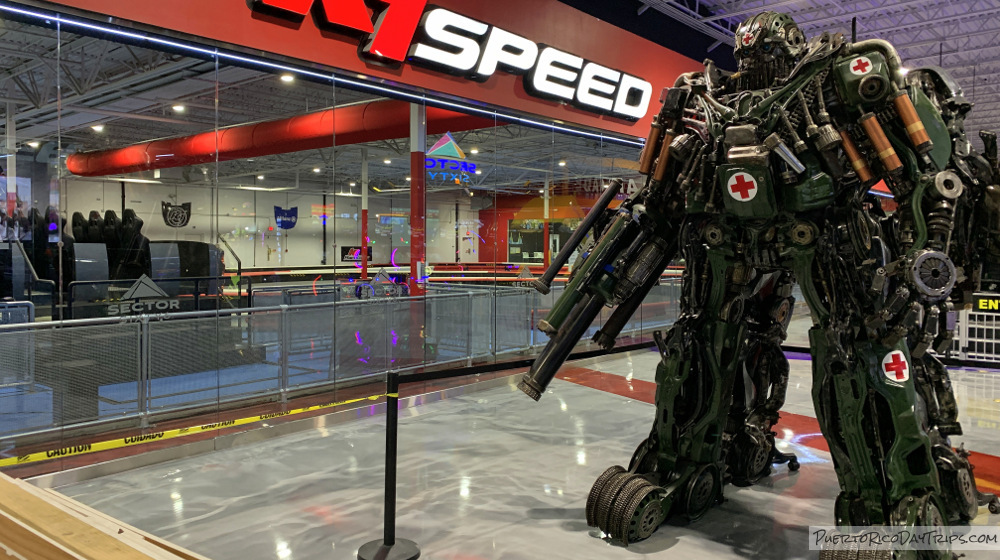 After playing, we walked the mall, checking out all the cool, unique art sculptures. They have a bunch of Transformers, aliens, action figures and other, all made out of metal pieces, car parts, and doo-dads. Really neat! Then we stopped and had a late lunch in the food court.
We did not do the race cars. We needed to leave something to try next time we go!
It was a great way to spend a few afternoon hours on a super hot day … having fun in the air-conditioned mall! Likewise, this would be great for a rainy day on vacation!
Details
The mall hours are Monday to Thurs 9am – 7pm, Friday & Saturday from 9am to 8pm, and Sunday from 11am to 7pm. Some of the Sector Sixty66 attractions are open outside of the mall hours 7 days a week, 11am – 9pm.
You can check the outlet mall's Facebook page or Facebook page for more info. Note that they sometimes rent out one or more of the attractions to private events.
From the San Juan area, take Route 26 east to Route 66 east (toward Rio Grande, El Yunque, Luquillo, and Fajardo). Continue on Route 66 to exit 14, which is the Loiza, Canovanas, and Rio Grande exit. The outlet mall will be on your right after as your approach the intersection with Route 3.
Click on a placename below to view the location on Google Maps ...
PuertoRicoDayTrips.com assumes no responsibility regarding your safety when participating in the activities described in this article. Please use common sense! If your mother or that little voice in your head tells you that you are about to do something stupid … then don't do it!