Seven Seas Beach in Fajardo – Fun in the Sun!
As of 5/23 Fajardo has taken management of this beach and is doing a great job maintanining it!
Seven Seas is a lovely, small, crescent-shaped beach, with soft sand and almond and palm trees that provide some protection from the sun. The views are fantastic, just beautiful to look out at the water and see the lighthouse in the distance. Water is blue and beautiful. There is a coral reef some distance from the beach, making a natural wave break. This makes for a nice protected beach, with calm waters that the whole family can enjoy. This beach occasionally is awarded the prestigious Blue Flag status, and since it has recently been taken into protection by the town of Fajardo, they are going to strive for that!.
There are lifeguards on duty, usually from 9:00am to 5:00pm , to help you have a safe, fun day at this beach. A couple issues with this beach- in some areas right at the waters edge, there is hard/compacted sandstone, so it is tricky to walk on and hard! Also, sometimes the sand is not raked clean of natural debris that falls from the trees and washes up from the ocean, so it may have seaweed and leaves you need to clear away to have a nice sandy area to set your towel out. But that comes and goes.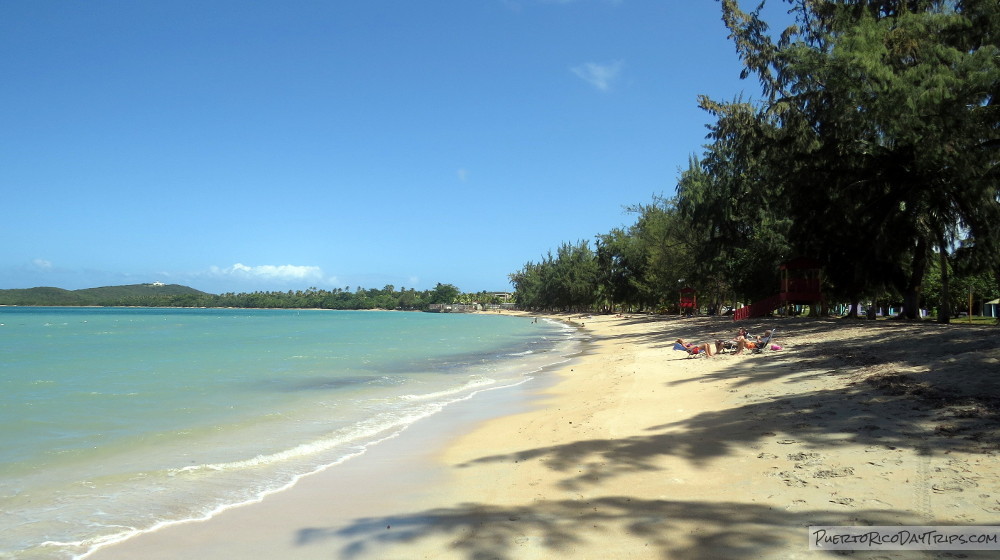 Seven Seas is a nice beach, and in the winter you may be one of the few people there. This is a real plus! It can get more crowded on weekends and definately in the summer months, as it is very popular with the locals. Currently, there are two food/drink kiosks available, and there are some restaurants open up the road a little by the Malecon.
Because the the water is usually calm here, I think this is a good spot to learn to snorkel. There's a tiny reef to the far right (facing the water) that supports a number of fishes to watch while snorkeling. Before the reef is a sea-grass area that you can see all sorts of creatures- like sea cucumbers and conch. Another good spot to snorkel is to go to the far left (facing the water), near the "end of beach" sign. Look for the rocks. It's shallow there and there are some coral formations. It is not great snorkeling, but it is something to look at while you are learning your technique. These areas are not in the lifeguarded area, so do so at your own risk. Snorkeling may be better out past the malecon, just up the road a bit.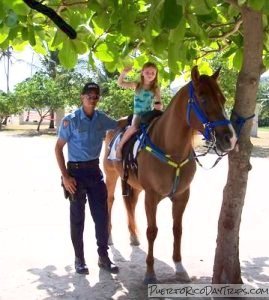 This beach has restrooms and shower facilities, – bathrooms are now operational and clean. There are also private shower stalls in the bathrooms. But it will cost $1/day.
This beach has picnic shelters, and camping is allowed (with a $10/d permit). Both of these need to be arranged prior to arrival. There is a small fee for both. But one nice benefit of having these facilities is that the beach is also guarded by the local police force, usually mounted or on ATV. We have not seen police patrols on recent trips, but the lifeguards and other beach workers were around.
The balneario is open certain days and times, but since all beaches in PR are public, you can use the beach (without facilities) any day by just parking along the road and walking in. Just park along the road and walk in through the opening in the fence.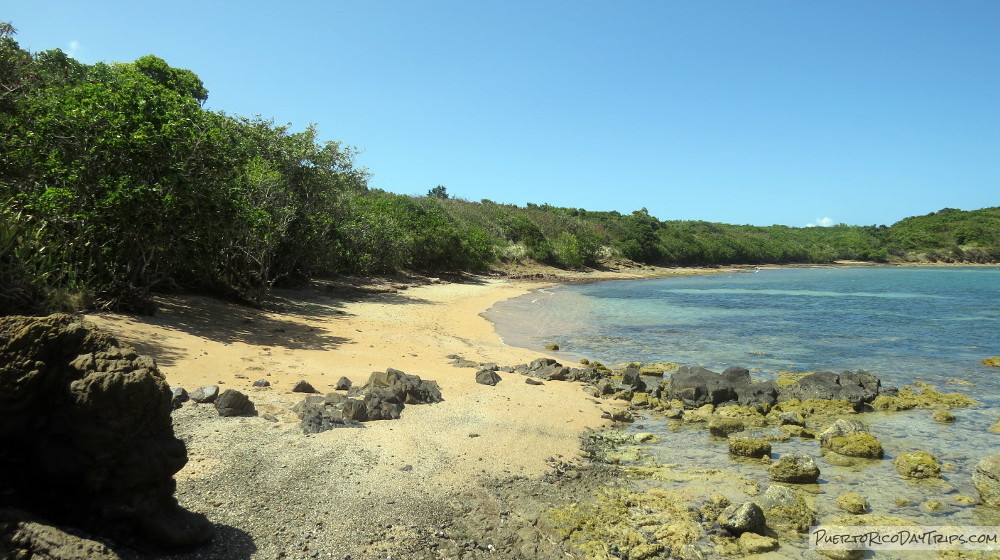 Details
Parking is $5.00 plus IVU (sales tax). Campsites are about $10 per night, Trailers are $25-40 per night. The gazebos are $20 and $30/day. Bathroom/showers cost $1/day per person to use (discounted rate per camper).
The balneario is officially open 7 days a week and are open 8:30am to 5pm .
for camping or other info: (787) 863-8180. office open 8am -4:30pm
From Route 3 in Fajardo, take Route 194. After you pass El Conquistidor Resort, 194 becomes Route 987. Continue on 987 until you see Seven Seas Beach on your left.
Click on a placename below to view the location on Google Maps ...
PuertoRicoDayTrips.com assumes no responsibility regarding your safety when participating in the activities described in this article. Please use common sense! If your mother or that little voice in your head tells you that you are about to do something stupid … then don't do it!