Shop 'til You Drop at Plaza Las Americas
Update 2/21- Mall is open with Covid restrictions-
Did you forget to pack something – sunglasses, bathing suits, shorts or sandals? Well, then you better go shopping!

Shopping might not be everyone's idea of vacation fun, but if you are into shopping, or if the weather is not cooperating, Plaza Las Americas Mall will supply everyone in your family with entertaining fun.
Plaza Las Americas is the largest mall in the Caribbean. People come from other Caribbean islands just to shop here! The mall is located in the Hato Rey district of San Juan. There are about 300 stores, including the anchor stores of JC Penney, Macy's, and Sears. There are many other stores, most of which you will find in any mall in the US (like Gap, Marianne, Cache, and Ann Taylor), and some specialty stores with unusual finds.
There is a large local artisan section on the third floor, where you will find all sorts of unusual, locally made art and crafts – perfect for a souvenir for yourself or others.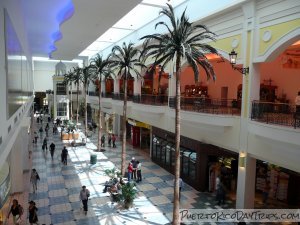 If shopping isn't your thing, you can still enjoy yourself . There is a large movie theater, with loads of screens, showing the latest releases, most in English with Spanish subtitles. There's even a video arcade.
If you are hungry, there are loads of restaurants and eateries in the mall, such as Sizzler's, Macaroni Grill, Chili's, and a large food court on the third floor near Sears. All in all, there are over 40 different places to eat. Anything you are craving to eat, can be found here. I love the little chocolate stores – I just look in the window at those gorgeous chocolate-covered delicacies and sniff the sweet fragrance (I have to watch my weight!).
This is a fairly large mall (it has three stories), and it is decorated with lots of fountains and sculptures. There is plenty of free parking both in parking decks, and a large lot around the outside.
Many times through out the year there are special "shows" going on – like flower shows, home design, etc., where you will see some pretty things that you never knew you "needed"!
One other great thing is the huge Farmer's Market and local Artisan Fair that happens here every weekend (Thursday – Sunday). Located on the 3rd floor, above the Grand Court, by the JC Penney entrance.
Great for a few hours or a whole day!
The mall is open on Monday – Saturday from 9:00am until 9:00pm, and Sunday from 11:00am until 7:00pm.
You can call the mall at 787-767-5202 for more information.
You can visit their website at www.plazalasamericas.com.
The mall is located at 525 FD Roosevelt Avenue in San Juan.
Depending on traffic and your starting point, it takes about 15 minutes to drive to the mall from the San Juan area.
Click on a placename below to view the location on Google Maps ...
PuertoRicoDayTrips.com assumes no responsibility regarding your safety when participating in the activities described in this article. Please use common sense! If your mother or that little voice in your head tells you that you are about to do something stupid … then don't do it!