FYI: Puerto Rico is Smoke Free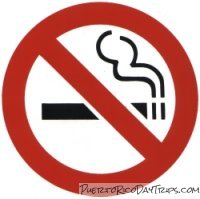 Smoking in all public places is a violation of Puerto Rico Law 66. That means that smoking is prohibited in virtually any enclosed space, including restaurants, clubs, discos, casinos, bars, buildings, shopping centers, businesses, elevators, public transportation, ambulances, hotel rooms designated as no-smoking rooms, and private cars when children are present as passengers. In effect, the only place that it is legal to smoke is outdoors (when it will not affect others), in hotel rooms designated as smoking rooms, in your own car when there are no children present, and in your own home. Fines begin at $250 for the first offense, and are applicable to both the smoker and the owner of the establishment where the violation takes place. Second offenses receive a $500 fine, and subsequent offenses are $2000 each. Police are authorized to issue citations on the spot. So do yourself (and your wallet) a favor, and think twice before you light-up.
PuertoRicoDayTrips.com assumes no responsibility regarding your safety when participating in the activities described in this article. Please use common sense! If your mother or that little voice in your head tells you that you are about to do something stupid … then don't do it!