Snorkel Boat Tours – A Day of Sun, Wind & Sea Life
Tours are operating! But there may be some changes (usually with lunch or snorkel equipment)- check each trip for exact details.
We have heard that some of the boats no longer offer or sell beer, or are limiting the supply. If having beer during the trip is important to you, please call and make the operator you choose will have it available.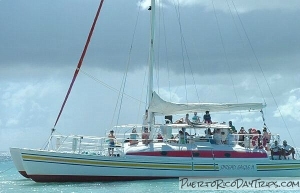 There are a number of snorkel boat tours that leave out of the Fajardo area and visit reefs and the out-islands. The boats are all very similar, follow a similar schedule, serve a similar lunch and beverages, go to the same snorkel spots, and are the same price – give or take a few bucks. Some of the boats are newer than others, some have water slides, some are larger (so there are more people per trip), etc. But rest assured, we have always had a fun time no matter which boat we chose.
Most of the operators have catamaran sailboats, but depending on the wind and water conditions, they may motor to the destinations. Some are high-speed catamaran motor boats that get you to and from the snorkel spots much quicker. Being that they are all catamarans, we found they rock less, so sea-sickness is usually not an issue.
These pictures are from one time when we went on the Spread Eagle II sailboat. It was Christmas day and we had a wonderful time. This is a run down of what we found on that and other trips on these boats : The drinks start (usually) as soon as they launched – pina coladas or rum punch (both with or without rum). Some boats do wait with the alcohol until after the snorkeling is done.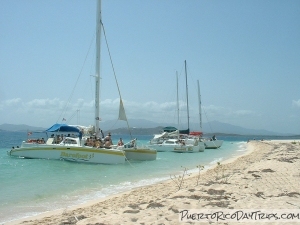 The sail over to the first snorkel site is lovely, and they pull right up to the beautiful white sand island of Icacos. The crew gives a quick lesson on snorkeling, and gets you set up with snorkel gear that will fit you, and lets you off. You can snorkel or beach comb or just hangout on the boat. Ask the crew where the best/safest snorkeling is – we like to go a bit further out, away from where all the people are standing on, and damaging, the coral. The other snorkel boats all show up about the same time, so there are lots of people trying out the snorkeling all at once. We found that if we waited a little bit before going snorkeling, most people get tired quickly and return to the boat, so we get fewer people around. Or we just go early and quickly swim past the others.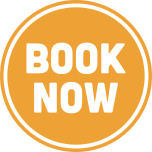 Lunch is served on the boats – usually a nice lunchmeat buffet with lots of fresh fruit. The boats all leave this first stop after lunch and make a quick move to another snorkel spot. This second spot is usually in open water – it was kind-of deep water, but they supply floaties to help you float if you are not confident of swimming.
You are at the first site for about 2 hours, the second site for about 45 minutes, and then you have to head for home. We find it a nice relaxing day, enjoying the blue water and sealife of Puerto Rico.
Details
Reservations are required and the cost is about $80- $130 per person, children are usually less. Some operators also offer motorboats, to get you there faster, so check their webpages for other options! There is a $3 Department of Natural Resource fee and 11.5% taxes- check to see if they are included in the price quoted or are extra. Some operators can provide transportation from your hotel for an extra cost (usually about $20-30 per person round trip)- contact the tour operator directly.
If you're happy, let them know it — Don't forget to tip your your bartender, tour guide or trip operator if you enjoyed yourself. Gratuities are appreciated and typically aren't included in the price they charge you.
Most leave at 9:00am ( so you need to be at the dock earlier) and get back to the marinas at about 2:30pm. They usually want you at the dock for check in at about 9:15-9:30am
Spread Eagle II, , www.snorkelpr.com, 49 people max, leaves from Villa Marina. Free snorkel and less expensive!
Getaway,, smaller boat, so fewer people. www.sailgetaway.com, leaves from Villa Marina
Salty Dog, www.saltydogcatamaranpr.com/, leaves from Villa Marina
Traveler, www.travelerpr.com, 48 people max, leaves from Villa Marina. One of the less expensive options. Book Now
East Island Excursions, www.eastwindcats.com, 78 people max, leaves from Puerto del Rey Marina
Barefoot IV from Castillo Tours, www.castillotours.com/boat-tours/45 people max, leaves from Villa Marina
Kayaking Puerto Rico "Innovation" is a motor boat, not a sail Snorkel Boat Innovation, leaves from Puerto Chico Marina
All of these boats go out of 1 of 2 marinas – either Villa Marina or Puerto del Rey. Double check which one, because these marinas are in different locations in Fajardo.
For Villa Marina – Highway 3 to Fajardo. Pass the Kmart and once past the overpass, turn left at the Route 194 gas station . Follow this road an few miles – continue straight through the light and a few miles more . Turn right at Villa Marina Shopping Center. Turn left on the street after the shopping center. Park on the street by the gated marina entrance (they may let you park inside) .
For the Puerto Del Rey Marina – Highway 3 to Fajardo. Stay on 3 until the road becomes Route 53. Take the first exit (it is marked Puerto Del Rey). Go under the highway. Go through 2 traffic lights and the marina entrance is on the left. Park inside the marina – there's plenty of parking.
Click on a placename below to view the location on Google Maps ...
Activities booked through this page are booked directly with the activity operator. Other than referring you to the activity operator, PuertoRicoDayTrips.com is not involved in the transaction between you and the activity operator. The activity operator is responsible for all aspects of processing bookings for its activities, including cancellations, returns, and any related customer service. PuertoRicoDayTrips.com makes no representations regarding the level of service offered by an activity operator. PuertoRicoDayTrips.com will receive a small referral commission for any activities that you book through this page.
All trademarks, logos and brand names are the property of their respective owners. All company, product and service names used in this website are for identification purposes only. Use of these names, trademarks and brands does not imply endorsement. Photos used to promote tours are the property of the original copyright owners.
PuertoRicoDayTrips.com assumes no responsibility regarding your safety when participating in the activities described in this article. Please use common sense! If your mother or that little voice in your head tells you that you are about to do something stupid … then don't do it!