Hike to Survival Beach
Are you looking for a fun, adventurous hike to a really pretty beach? Then this one is what you are looking for! Survival Beach is a long stretch of sand in Aguadilla, with some really neat rock formations along the shoreline. It is only a 15 to 20-minute walk along a path through the trees and over rocks at the beach. It is not super easy, but most people should be able to make the trek to enjoy this place.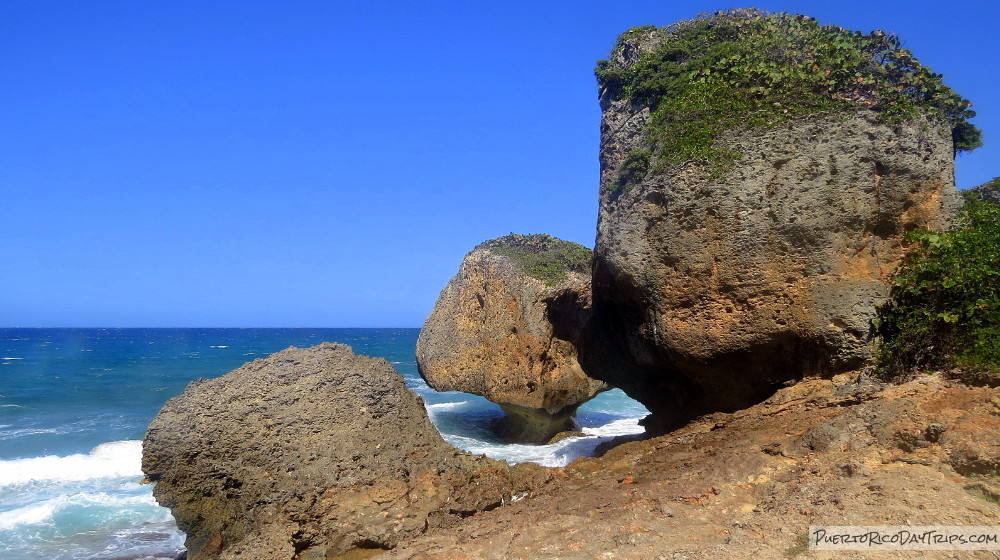 Aguadilla is on the north-west coast of Puerto Rico, about two hours from San Juan. There are many lovely beaches in this town, but they are noted for their waves, and for being a surfers' paradise — not so much for swimming. Because of it is not so easy to get to, Survival Beach is not very crowded … in fact you may be the only ones there at times!
There are two ways of getting to Survival Beach — either heading west from the Isabela/Shacks Beach area (which is a couple mile walk through the sand) or a relatively short walk east from Surfers' Beach. Guess which way we're going to recommend?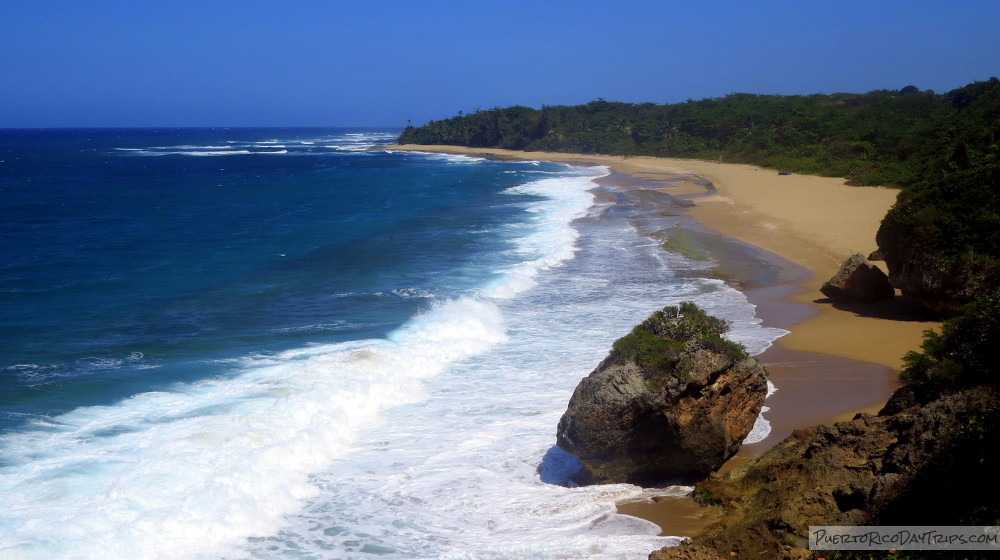 Our Trip
We had been to Survival Beach years ago, on horseback from Isabela, and I remember it was a long walk. So until I found this "short cut", we had not been back. While some people may say this new shorter route will "ruin" this "hidden treasure", I think it is great. More people can enjoy Puerto Rico's beauty, hopefully will respect it, and want to preserve it in its natural state.
For this trek, you need to start at the Surfers' Beach area. The road to Surfers' Beach is paved. It has a long parking lot, so park at the far (eastern) end.
From the parking area, you need to look for trails that lead through the woods (you can start by going over a bridge at the parking lot, or start out heading east on the beach and then up through the large rocks). You will need to look for it — it is just a small , un-marked marked path (there are now signs!). It winds through the woods over lots of roots and some rocks. It takes about 10 minutes to get to Table Top Beach. The name is self explanatory once you see the flat topped rock formations in the water. Take time to look around here, snap some photos. There is a rock grinding stone on this beach … that was an odd find!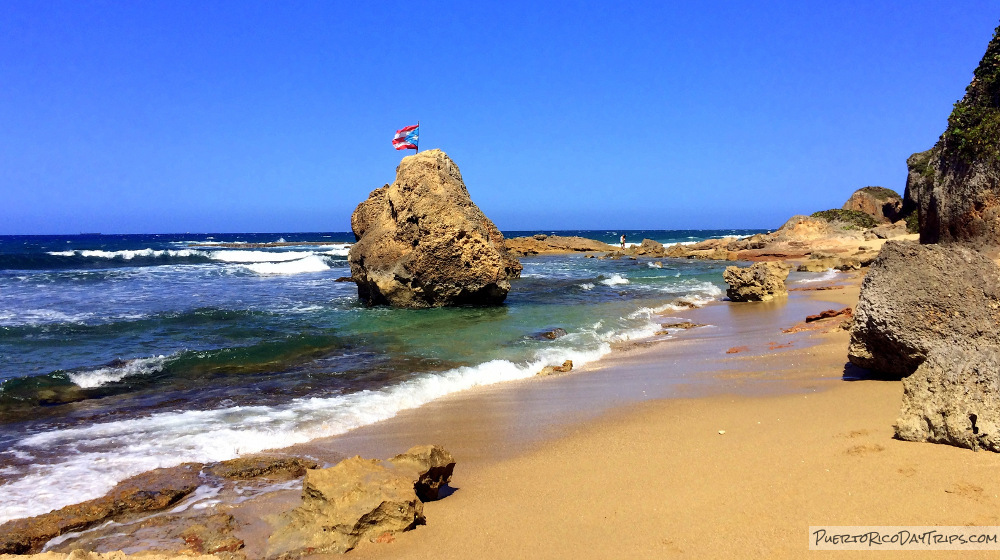 Once you are done here, continue eastward — depending on the tide and surf conditions, I hear you can go either of two ways. At low tide, supposedly you can walk in the water/water edge to get to Survival Beach. For high tide (that's when we went) or rough seas, just take the high route — up and around the rocks, and then down to the beach. It was high tide when we went, so we did up and over. The rocks are sharp and might be loose, so take your time and be careful. Maybe this will take another 10 minutes.
The payoff is certainly worth the effort. The views will lead you down to the beach. It is a stunning beach with clear blue water, and white-capped waves. The beach goes on for miles, but it is the cool rock formations that really make it extra special.
Mushroom caps, caves, and monoliths. Really pretty. At low tide you can get some really neat pictures walking between the rocks. There are also some stairs that lead up to the top of the bluff. Really great views.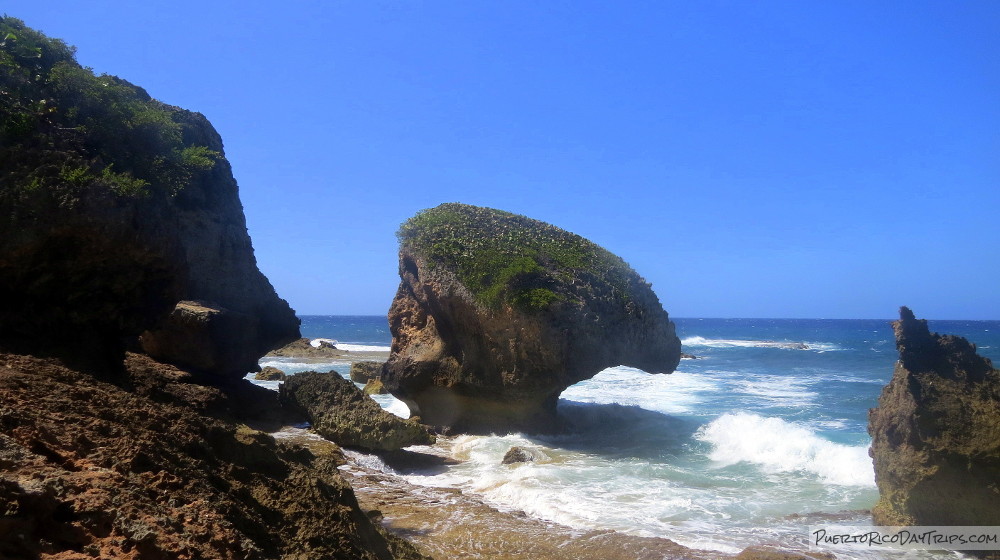 We went mid-day, mid-week, and this beach is certainly not a secret anymore. However, we never felt crowded. We passed people coming and going, everyone really enjoying the experience. Only one family was set up at the beach. We stayed about an hour exploring, taking pictures and hunting "treasure" on the beach. We found some nice shells and sea glass.
I guess at times people swim here, but I hear there are strong currents, so I would not recommend it. This is really just a place to enjoy the view, and take a walk on the beach.
There are no facilities at Surfers' Beach, Tabletop Beach or Survival Beach. You must bring everything you need, and pack-out all of your trash. You will need water, good hard-sole shoes (no flip flops nor bare feet), hat, and sunscreen. Use a backpack instead of cooler, and bring just what you can easily carry, since you'll be going over tree roots and sharp rocks. This hike to the beach is probably not good for the very young kids, or older people with mobility problems.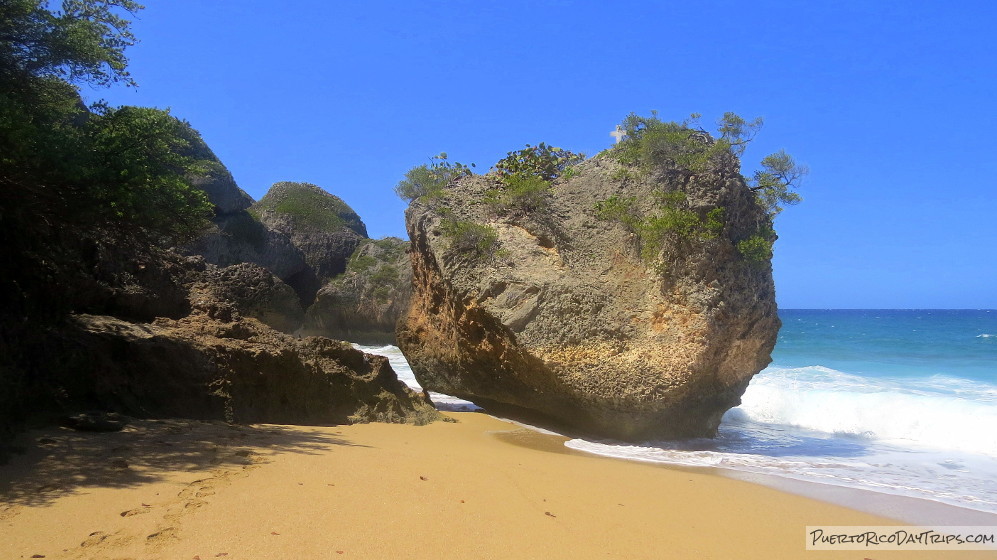 Details
Be smart. Don't try to get into the water at Survival Beach if the tide is high, or the surf is rough.
Allow 20 or so minutes to walk each way between Surfers' Beach and Survival Beach.
Surfers' Beach is located north of the old Ramsey Air Force Base in Aguadilla, which is now the Rafael Hernández Airport. From Route 2 in Aguadilla, take either Road 107 to Road 110 to Cliff Road, or Road 110 to Cliff Road, which is north of the airport. Follow signs for Surfers' Beach. Park at the far eastern end of Surfers' Beach, and follow the trail to Survival Beach.
Click on a placename below to view the location on Google Maps ...
PuertoRicoDayTrips.com assumes no responsibility regarding your safety when participating in the activities described in this article. Please use common sense! If your mother or that little voice in your head tells you that you are about to do something stupid … then don't do it!