El Yunque: From the North Side to the South Side & Back
Update- 7/2020 New rules- in order to visit this and the other trails and features along RT 191, you need to make a reservation on Recreation.gov webpage or via mobil app.
This is not an official trail way and these trails are officially "closed". We have not done this trail in 6+ years…after 6+ years and a hurricane, a non-maintained trail gets less and less user friendly. We really do not recommend anyone do this, it is too easy to get lost. If you try to follow this route, be aware it will take longer and be more difficult than we described. Also, the trail marker for the closed Rio Sabana trail has also overgrown and is hardly visible. Recent hikers noted it was closed off by orange plastic "fencing". People occasionally try the old rt 191 road way both ways, there might be a path.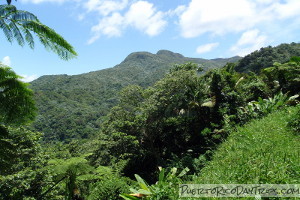 If you haven't figured it out by now, I'll let you in on a little secret — we enjoy hiking in El Yunque National Forest. Of course, since we live in Río Grande, we focus mainly on the trails off of Road 191 on the north side of the forest. We don't get to the south side of El Yunque too often, so that area is kind of new to us. We recently discovered a way (actually 2 ways) to hike between the north and south sides of El Yunque.
We have hiked all of the usual marked trails in El Yunque, so we are always looking for new and interesting trails/paths to explore. During a hike in early 2009, on Trade Winds Trail, we met some hikers that were coming up from South Road 191. They told us about an old, unmarked trail ( the old Río Sabana trail) that very few people know about. That little bit of information got us thinking … possibly a new trail to explore?
When we got home we did some research and then spent some time talking to the folks in the Catalina Service Center. What we found out is that there is an old trail that goes through the Toro Negro Wilderness Area that connects the Trade Winds Trail to South Road 191 in Naguabo. This trail officially opened in 2011. It is again officially named as the Rio Sabana Trail
5/13- this trail is closed and not maintained. This hike will not be for the average rain forest visitor. These trails require moderate to challenging hiking in a very remote area. Be prepared. These trails are not maintained like the marked trails lower in the forest. Some have land-slided areas, which require a side trip around. Hike at your own risk!
Getting to the Trail Head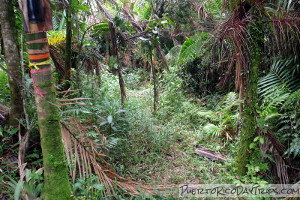 To reach this new trail, you need to hike about 2¼ miles in on Trade Winds Trail. To do that, one drives up Road 191 as far as you can. Park near the locked gate in the designated parking area. If that area is full, there is additional parking on Road 10.
But honestly, if you're not one of the first cars there it means you've probably gotten started too late in the day to make it back to your car before they lock the gates. So go sit on a beach and have a Piña Colada and come back another day early in the morning!
Note the Rio Sabana trail is not marked where it meets the Trade Winds Trail,so you need to be on the lookout for it. So how will you find it? The Trade Winds Trail is marked with mile markers, but they're not much help since they appear to be out of order. So here are some hints from our notes. In 2009, It took us about 1½ hours of hiking on Trade Winds to get to the junction with Rio Sabana, but recent hikers said it took about 3.5 hours. In that time, you'll cross 2 wooden bridges. You still have a ways to go after the second wooden bridge, but eventually, you'll come around a curve and you'll see a tree on the left that is "marked" with a number of ribbons (though in 2013, they were hardly visible- look for orange plastic fencing). That's it. You'll see what is left of the trail.
Since we knew we would be hiking alone in a remote wilderness area, we took the precaution of letting our friends know where we would be hiking and they were also on-call as a "backup ride" at the south Road 191 area in case we decided that we couldn't make it back to our car one the north side on foot. If you do this hike, it would be smart for you to have some sort of similar "backup plan" as people have gotten lost in these "wilderness areas".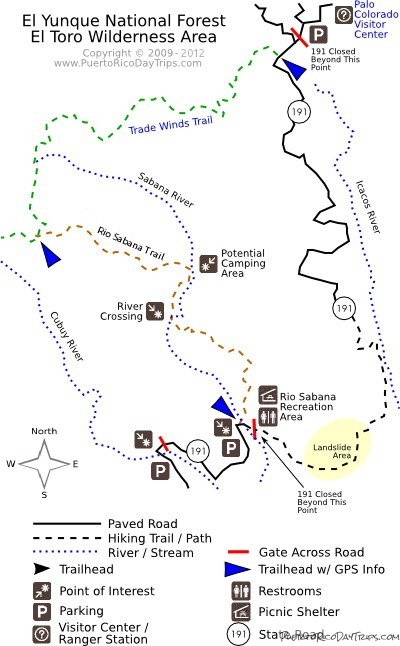 This map is our interpretation of the trails leading through the El Toro Wilderness Area. We used a variety of sources, as well as waypoints from our own GPS taken along the trails. We've marked the hiking trails with different colors. There's no significance to the colors. We just wanted to be able to make the different trails "stand out" on the map. Please note that you can click on the blue labels in the map for more information.
On the Trail, Heading South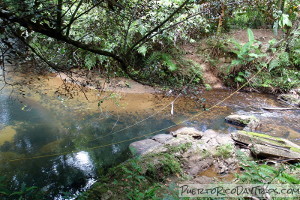 Once you get on this trail, be prepared for some effort filled hiking. The trail is about 2⅔ miles long. It is not maintained and it is rarely used, so there are many fallen trees you need to climb over or under. It has uncut grassy areas (with "razor grass"), wooded areas and muddy areas. All in all, it was a difficult trail. The trail is primarily packed earth and stone/rock. Kind of uneven and slippery in spots. It does cross the Río Sabana, where you will get your shoes wet. So you might as well them off and cool off in the river while you are at it!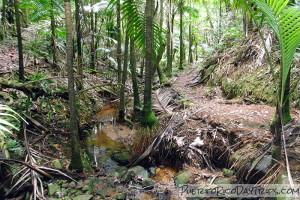 The trail officially opened in Spring 2011, and it already has a few landslides that have devoured the trail in spots, but people have made new paths that go around the slide areas. Look for ribbons of prior hikers (we added some orange ones) to help guide the way.
Just like Trade Winds, it is a pretty trail. Full of flowers, wild orchids and interesting plants not usually seen on the more used trails. You do go along the side of the river and cross a few small streams along the way. You could jump in and enjoy the peaceful place and cool water if you wanted. As you descend in elevation on this trail, you'll move down through different types of forest — starting in the Sierra Palm Forest at the top down to the Palo Colorado Forest at the bottom. It's interesting to notice the change in vegetation as you move down the mountain.
The Southern End of the Trail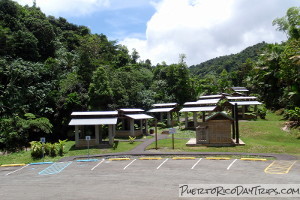 As we were walking down and down along this trail, I was really dreading the hike back up. We hiked from the junction with Trade Winds to the bottom of the trail on Road 191 South in about 1¾ hours (note- recent hikers said it took more than 2.5 hours). The trail ends (or starts for you 191 South people!) at the new Sabana Recreation Area (picnic pavilion). There are picnic shelters (with grills and picnic tables) and restrooms, but no water (other than the river). It is located right alongside the Río Sabana and it has a nice little pool where you can sit on the rocks and enjoy the river.
Which is exactly what we did — we took our shoes off, cooled our feet in the water and ate our lunch here. While relaxing, we met a local who was panning for gold in the river sand. He told us we could walk back to the north side along Road 191. He said he had never done it, but that there is a foot path that gets you over the huge landslide that ended up closing the road back in 1970. The road is a more direct route, and only about 3½ miles. After already walking almost 5 miles and knowing so much of the way back would be uphill, I voted for taking Road 191 on the way back to our car. Just to be on the safe side, we called our "back-up plan" friends and informed them of the change in our hiking plan.
Note-this road is official closed for foot traffic. We are not recommending people take this route, but this is what we did. Reality check- A number of people that use the closed trails or go off trail (like this route) have gotten lost in the forest overnight or longer and need to be rescued. Be safe.
Hiking North on Road 191
Upon leaving the cool shade of the river, we headed off toward Road 191 North. With the picnic pavilions behind us, we turned toward the left side of the parking lot and walked around the locked gate. Road 191 is an asphalt road (and in the full sun) for a short while, then it quickly deteriorates to a foot path. It is really just a tiny path made through the brush.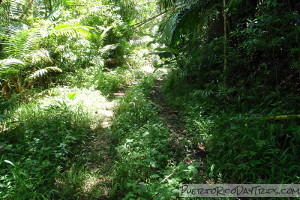 The trail (if you could call it that) is muddy, wet, and full of bushes with stickers. But don't give up hope. This tiny, rough path continues for less than a ½ mile, with a few places where you need to climb a little up and down little streams and washed-out areas. But once you get passed the slide area, you get back on the asphalt road and it is easy, almost flat, walking. What a breeze that was after the little path!
Walking up Road 191, there is a 600 foot gain in elevation, but it is gradual and along a long distance, so it is hardly noticeable. Well, until the last ¼ mile where there is a much more obvious rise. But it still was not bad. We made it back to our car in about 2 hours using this route. Much faster than re-tracing our steps on the trail through the forest.
At the end of the day, we were tired and muddy, but really happy with our adventure. And even happier to get into the air-conditioned car!
Notes & Details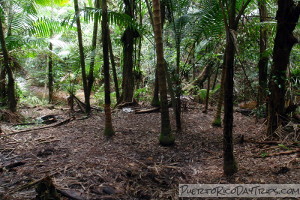 It is also possible to do this hike by starting at the south end. If you choose to do that, I would suggest starting up the old Road 191, turning left onto Trade Winds Trail and then picking up Rio Sabana Trail for the hike downhill to the Río Sabana area.
Bring LOTS of water (we had 2+ liters per person), lunch and snacks. Wear long pants and good hiking shoes since you will be walking on unmaintained trails. Make sure you tell someone where you will be hiking.
We stopped in the talk with the folks in the Catalina Service Center and they mentioned that Trade Winds Trail is technically "closed" due to the landslide you have to cross. They (and of course we also) don't recommend anyone hike it. But when we did it, there was no one to stop you from using the trail. In 2009, we found the trail is usable, and there was no sign saying the trail is closed, in 2013, it is much less usable and there is a large sign saying it is closed. You need to check in at the station to check current conditions.
Like the rest of El Yunque National Forest, there is no charge to hike on this trail.
Open daily 7:30am to 6:00pm (closed Christmas Day). Ranger stations are open 9:00am-5:00pm. The gates close at 6:00pm.
Remember to pack out all of your trash!
Drive as far up Road 191 on the north side of El Yunque as you can. Note- you need to park in designated areas only- so you will have to park on the Mt Britton road parking and walk to RT 191. Walk up hill beyond the gate for about ¼ kilometer. The trail head is marked with a sign on your right.
We are in the process of updating the maps we use on our web site. While we're working on that, you can click on the GPS coordinates below to view the location on Google Maps ...
PuertoRicoDayTrips.com assumes no responsibility regarding your safety when participating in the activities described in this article. Please use common sense! If your mother or that little voice in your head tells you that you are about to do something stupid … then don't do it!