Currently closed- Tour the Grounds of the Tropical Agriculture Research Center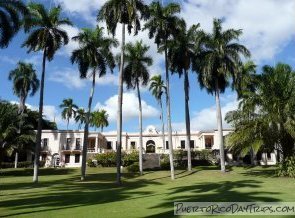 Currently not open to the public, but hopefully they will reopen in early 2024.
The Tropical Agricultural Research Station (TARS) in Mayaguez is the tropical research center of the US Department of Agriculture (USDA). Crops under study there include dry bean, sorghum, banana, plantain, cacao, papaya, and tropical exotic fruits such as rambutan, carambola, mamey sapote, lychee, longan, sapodilla and mangosteen. The goal of the TARS is "To introduce, preserve, evaluate, regenerate, distribute and develop cultural and management systems for tropical/subtropical crops that are of economic importance to the continental and insular US". The grounds are open to the public, so anyone can go in, walk around and enjoy these pretty grounds. But be forewarned — this is not a manicured garden, but more like an arboretum with lots of trees, most of which are labeled. Since it's a working research center, you'll also see offices, labs and greenhouses all supporting the research work that's on-going there.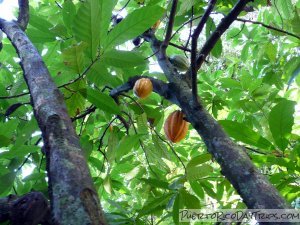 We have stopped by this facility on a few occasions because many of the trees and bushes they grow are tropical fruit trees (something I am "into" at the moment). Many of the trees are large, mature trees that are producing fruit. The people in the visitors' office have told me it is OK to pick up fallen seeds that are on the ground. We just shouldn't pick any fruit from the trees since some are part of various research projects. They may ask you to fill out a list of what seeds you took. When you drive into the facility, there is free parking on the left. The building that houses the offices is an old hacienda-style structure. Before you walk around, you need to stop in the visitors' office to get a visitors' pass. There is a sign in front of the building that tells you which office to go to. They will also give you a map of the grounds, which we've scanned and included below. The map is a little confusing (in my opinion), but it is not that large of a place – you will not get lost. There are paths and paved drives for you to walk on, and the trees are numbered and correspond to the number on the map. Many of these trees are mature- beautiful and old. Many are blooming or fruiting. It is interesting to see things like a 35 pound fruit hanging on a jackfruit tree, orange cacao fruit, red & "spiny" rambutan fruit, and all sorts of other odd and interesting fruit. These are definitely things that you don't see everyday. In addition to the fruit trees, there are plenty of exotic plants to be seen including camphor, teak, mahogany, cinnamon, nutmeg, rubber, coffee, vanilla, bay oil, manila hemp, black pepper, cacao, citronella, lemongrass, coconuts, all sorts of palms & bamboos, and even some orchids.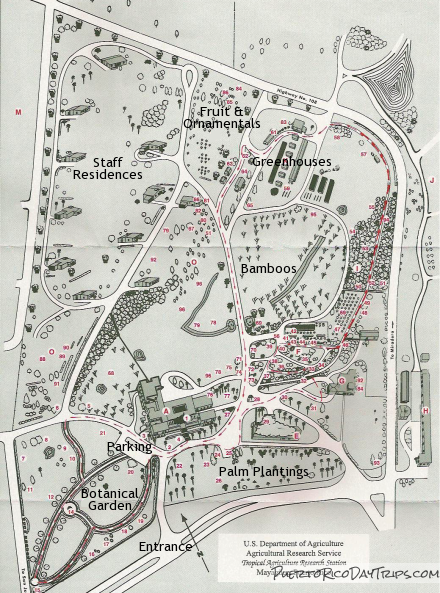 Admission to the Research Station is free.
They are open Monday to Friday, from 7:00am until 4:00pm.
Allow a minimum of one hour to enjoy this tropical setting.
Call 787-831-3435 for more information.
The offices and laboratories of the Tropical Agriculture Research Station are located just off of Route 2, at the corner of Roads 65 & 108 in Mayaguez, just east of the University of Puerto Rico Mayaguez campus (UPR-Mayaguez).
Driving time from the San Juan area is approximately 2.5 to 3 hours.
Click on a placename below to view the location on Google Maps ...
PuertoRicoDayTrips.com assumes no responsibility regarding your safety when participating in the activities described in this article. Please use common sense! If your mother or that little voice in your head tells you that you are about to do something stupid … then don't do it!