Sample the Tropical Fruit Available in Puerto Rico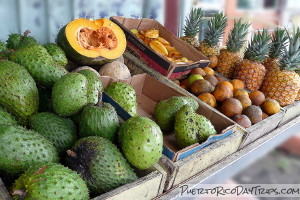 One of my favorite things about going on vacation is the opportunity to try food that is different than I can get at home. Tropical fruit has become somewhat of a passion of mine, and it's always something I seek out whenever we travel. Luckily for me, we can grow a bunch of different types of tropical fruit right in Puerto Rico.
Where Can I Get Some of this Fruit to Try?
You can find many of these fruits at street side fruit vendors or local markets. Also almost every town will have a "mercado" that should have fruit stands. The Mercado in Rio Piedras is especially fruitful! There is sometimes a decent fruit stands set up in cars or trucks along the roadside. I know close to us, Route 3 going east (Este), we find a number of stands that had a small variety of fruits. Even if you don't want to try the fruit, these fruit stands make beautiful pictures! You may even find some tropical fruit at the supermarkets, but you need to watch for freshness and ripeness. Also check out the weekend markets, like Urbano Market in Condado (first Sunday/month), Organic market in Old San Juan every Saturday and Plaza Las Americas Mall has a large Farmers Market every weekend from Thursday – Sunday on the third floor. In Cabo Rjo, Jardin Eneida's will have some really unusual tropical fruits like pulasan, rambutan and mangosteens. Many fruit growers are out west, so check out there for some good locally grown fruit too! The San Sebastian Mercado on Fridays usually has some neat stuff. And now, some of the supermarkets are offering a variety of local produce and some of the more unusual fruits!
But I Don't Speak Spanish
If you stop at a local stand and they don't speak English, here are a few words & phrases that will help with your fruit purchase
¿ Está maduro? = Is it ripe?
¿Para hoy? = For today? (as in Can I eat this today, or should I wait?)
¿Para mañana? = For tomorrow?
dulce = sweet
agridulce = sweet & sour
agrio = sour
What Kinds of Fruit Can I Expect to Find in Puerto Rico?
Here is a sampling of the fruits you'll be able to find (in season) across the island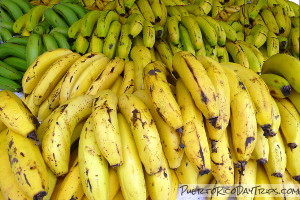 Banana (guineo in Spanish) — There are lots of different types of bananas, some taste like your standard supermarket bananas that you're used to from home, while others taste very different. Cavendish bananas are your standard bananas that have the typical banana flavor. Niño bananas are tiny and sweet. Manzana bananas are medium-sized and taste like apples when they're fully ripe. But a fresh banana picked ripe from the stalk tastes SO much better than those from the supermarket, which are picked green and have to ripen off the stalk.
Papaya (papaya) — There are also different variates of papaya. I like the ones that are darker orange inside (not yellow inside). A nice ripe orange papaya is sweet. They should be golden yellow outside when ripe and give slightly when pressed. Papayas have many round, black seeds inside that are easily scooped out. A papaya will ripen off the stalk if it's not fully ripe when you buy it at the store.

Mango (mango) — There are many different types of mangos, and they come in all colors and sizes too. The color when ripe depends on the variety, but when they're ripe, they will all give slightly when pressed. A good, ripe mango is sweet. The better varieties are fiberless. Mangos have one large pit inside.
Citrus — You'll be able to find all different kinds of "normal" fresh citrus fruit, depending on the time of year: grapefruit (toronjas), oranges (chinas), limes (limas), clementines (mandarins), lemons (limóns), etc. There are all sorts of varieties. Fresh from the tree — yum!
Chironja — This unusual citrus is a natural cross between an orange (china) and a grapefruit (toronja). That's where it gets it's name — chi-ronja. It is very juicy and tastes like a cross between a not-tart grapefruit and a not-sweet orange. They are very good!
Coconut (coco) — You can usually find coconuts being sold roadside as coco frio (chilled green coconut), with the top cut off and a straw stuck into it so you can drink the juice. Be forewarned — it does not taste like sweetened coconut. Try it, it is an acquired taste (personally I don't like it!). If the fruit is allowed to ripen, the husk gets hard and brown, and it's very difficult to open. If you buy one of those, ask if the vendor will open it for you! Ripe coconut meat tastes just coconuty, but don't expect it to taste like the sweetened, shredded stuff you buy in the bag!
Soursop (guaynabana) — This is an odd-looking fruit (one the bottom left of the first picture above). Kinda heart-shaped with soft spikes all over the outside. It should be dark green when ripe and give slightly when pressed. The flavor is sweet with a slightly sour taste. The fruit sometimes has a grainy texture. There are many brown seeds distributed throughout the fruit.

Pineapple (piña) — There are many varieties of pineapples. Some will be green, others are yellowish when ripe, but they should give just slightly when pressed. Eiher color, look for large rounded "eyes". Ripe pineapples are sweet. See if you can find small varieties — those are especially sweet and, depending on the variety, may not have a core (meaning you can just slice it and eat it).
Star Apple (caimito) — I have the green variety, but there is also a purple variety. They should give slightly when ripe. Serve them chilled. To eat them, cut them open quickly and scoop out the insides. The skin contains latex that will make your lips sticky! You'll find a few black seeds inside.

Avocado (aguacate) — There are many different varieties of avocados, and they can be found year-round here, but most locally grown ones are available only late summer or early fall (though I have a neighbor that has a delicious winter variety — he has a roadside stand when they are in season). Ripe avocados will give slightly when pressed. They have one large brown seed inside.
Star Fruit (carambola) — These are golden yellow when ripe. They are juicy and slightly sweet. They have a few yellow seeds inside. You can eat the skin. Cut on the horizontal (to show the star shape), they a make the nice decoration in salads. Fresh ones off the tree are way better than the small dry ones I remember getting in the supermarkets up in the States.
Other fruit to keep an eye out for include passion fruit (parcha), guava (guayaba), tamarind (tamarindo) — both the sour & sweet varieties, quenepa, corazon, mamey zapote, canistel, nispero, and acerola. And now, out west, you will find a few vendors selling more exotic things like rambutan, pulasan and mangosteen!
Where else can I try these fruits?
Like I mentioned earlier, I have become somewhat of a tropical fruit nut. After buying our vacation rental property — Coqui's Hideaway in Rio Grande — I started planting a number of different types of fruit trees and plants. Our guests get a fruit bowl filled with fresh fruit from our property and they can pick their own from the trees. I am more than happy to tour the property with our guests, showing them the odd and wonderful world of tropical fruits.
So go ahead, try some new and unusual tropical fruit!
PuertoRicoDayTrips.com assumes no responsibility regarding your safety when participating in the activities described in this article. Please use common sense! If your mother or that little voice in your head tells you that you are about to do something stupid … then don't do it!