Horseback Riding on the Beach in Isabela
10/2020- They are open and riding!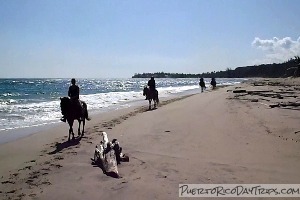 If you have always dreamed about riding a horse on a beach on a tropical island, then Tropical Trail Rides in Isabela is just what you are looking for. They have combined a few of my favorite things — beautiful horses, the amazing scenery of the rugged north coast of Puerto Rico, and plenty of sandy beach riding time — into a reasonably-priced, great riding experience.
Tropical Trail Rides in Isabela is located on the most northwestern tip of the island. Though it is a bit of a drive from San Juan, or even from Rincon, it is really a great experience. People come back to take this trip year after year — this was the fourth trip for one of the families on our tour. We have been trying to do this tour for about a year, and we finally made it out there for the morning trip. And we are glad we did. It was really enjoyable.
Our Trip
We were "vacationing" in Rincon in August, and we knew that we had to make time to finally take this tour. I would have loved to do their afternoon "sunset" tour, but in late summer/early fall, the west coast usually gets rain in the afternoons. Since we wanted to have the best time possible, we agreed to a morning ride.
After the usual paperwork, payments, and some quick questions about riding abilities, they (the owners Michelle and Craig) break you into groups with similar abilities, and they select horses that match your type of riding skills. That morning they had 3 groups going out, each with about 8 riders in it. They have 30 riding horses all together, so they have all sorts of horse "personalities".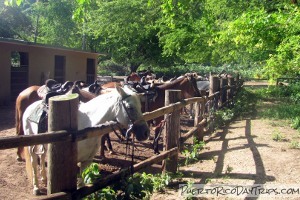 The horses were very well cared for — with baths before and after the rides, and lots of free time (in open areas). They were all Paso Fino mixed horses, so they had a bit of a gaited step, which makes a smoother moderate pace (like a trot) for most of the ride.
After mounting, we each got quick "riding" instructions (though we were in the "experienced" group, I assume that beginners get more thorough instructions than we did), and off we went.
Our guide, Kelda, knew the horses, so she had us line up in such a way that we were in single file (one horse behind another) and the horses were happiest. This did separate some groups by a horse or two, but I don't think that was a big deal, since there is not a ton of talking going on during these trips anyway. And I just talked with the people around me.
Kelda was at the front of the line, telling us about the scenery we were passing and safety instructions (which we passed down the line).
We started off through a community, then through an almond forest, and then we emerged onto the beach. We walked along the beach a really long time, probably about 20-30 mins. It was so beautiful — the blue water, the crashing waves, the rugged rock scenery, and miles of deserted beach. It was really neat to see how the horses would step right in the footprints of the horse in front of it to make walking in the soft sand easier. Really smart!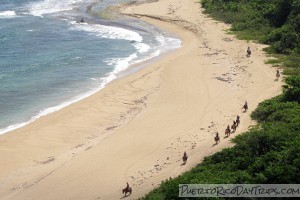 We eventually got to the end of the beach — literally at the most northwestern point of Puerto Rico. Called Survival Beach- beautiful rock formations. Here we dismounted and let the horses rest in the shade for about 20 minutes while we explored the caves and even made a quick trek up the hill for some great views. Bring your camera, it is really pretty there.
After our break, we saddled up again, and our trek was again along the beach. I thought we would take the same route back, but we wound our way back to ranch through a different route, seeing other things, including a pine forest. We also got a chance to do some cantering where the ground was not rocky. That was a a bit bouncy, but fun.
We really enjoyed this ride, it was definitely worth the trip. And now we will just have to go back some time and do the sunset trip — I bet it is amazingly beautiful!
Normally, when we review an activity that is not free to the public, we pay the admission price out of our own pockets. However, we just want you to know that the folks at Tropical Trail Rides were kind enough to offer us this tour for free. While we don't feel that this free ride influenced our review one way or the other, we felt that we should tell you, just as a matter of fact.


Details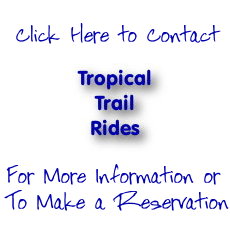 Adults and kids 6 years and up ride their own horses and are $65 each. Kids 2-5 years can double with an adult that weighs less than 160 pounds and they're $40 each. Private rides are available at extra cost.
If you're happy, let them know it — Don't forget to tip your your bartender, tour guide or trip operator if you enjoyed yourself. Gratuities are appreciated and typically aren't included in the price they charge you.
The offer two 2-hour rides daily. One at 9am, and the "sunset" ride at 3:30pm. Reservations are required (recommended to make them at least 2 days in advance).
They only take cash for payment (even though you need to hold your reservation with a credit card).
Weight limit is 250 pounds. Closed-toe shoes are required. Long pants are recommended, but if you want to wear shorts, bring a towel and they will put it on the saddle to protect your legs from chafing.
Though the ride is 2 hours, plan to get to the stable a little early to check-in, sign paperwork, etc.
You can call them at 787-872-9256 for more information or to make a reservation.
You can visit the Tropical Trail Rides web site for more information.
Even though the trip starts out early (9am) and the horse is doing all the work, it was hot. Bring water, a hat, sunglasses, and sun screen. You can carry a backpack or the guides can put your stuff in their saddlebags. I can't stress the water enough (I believe they have a machine that sold it at the stable if you forget to bring it). They have helmets available if people want to use them, but you need to request them (they are not required).
Travel time from the San Juan area is 1½ – 2 hours. It's less than 1 hour from Rincon.
Click on a placename below to view the location on Google Maps ...
PuertoRicoDayTrips.com assumes no responsibility regarding your safety when participating in the activities described in this article. Please use common sense! If your mother or that little voice in your head tells you that you are about to do something stupid … then don't do it!