Take a Hike on Vieques
While I love pretty beaches, and Vieques offers a lot of them, I can't sit on one all day every day of my vacation. If you are looking for something to do on Vieques other than go to beaches, the US Fish & Wildlife Service has made 3 new hiking trails. Called Vereda Cerro Playuela, they opened these trails in mid-2013. The trails offer the experience of going through a few different types of forests, great views, and remote beaches that are so beautiful you will be so happy for this diversion.
Vieques Island is a municipality of Puerto Rico and is located a little less than 8 miles off the eastern coast of the big island. You need to take either a ferry or a plane to get there, and once you do, you are in a beach-lover's dream.
Some of the best and most beautiful beaches on Vieques are located on the eastern side in the F&W National Wildlife Refuge, in the former Navy "Camp Garcia". And now, besides the beautiful beaches, there are some great hiking trail to enjoy!
Our Visit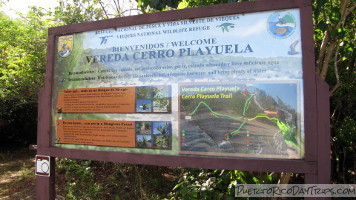 Finding this trail was easy since they have great signage in the F&W National Wildlife Refuge. Drive in the main gate and go straight until you see the sign to turn right for Playa Caracas. Take this road until another sign that says turn right for Playuela and Tres Palmitas boat ramp. This is a gravel road that is generally OK, but does have some bumpy areas.
The trail head is located between Playuela beach and the boat ramp, so pass the Playuela beach trail head and keep going until you see the Vereda Cerro Playuela trail head sign on the left (it is on a right curve). There are a few parking spots right there by the sign.
This is one main trail (that starts behind this sign) that divides into 3 trails, one leading to Playuela beach, one that ends on top of the cliffs, and one that ends at Playa Corcho. We did them all, had a great time, and took lots of photos!
From the trail head to where the trail divides it is about 0.4 miles. Make sure you have water and a hat since much of the trail does not have a canopy of leaves to keep the sun off, and there is not a lot of breeze on these trails.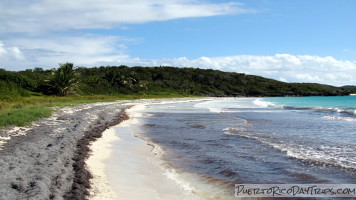 Your first choice (there is a big sign) is to go to the left to Playuela beach. It is only about 0.2 miles on this side trail, the first part leads up-hill and there is a "photo spot" at a point that offers a nice scenic overlook with views of some cliffs, the coves and both Playuela and Caracas beaches.
Then you go down-hill (a little steep but not too bad) to Playuela beach. You come out right on the beach at its westernmost corner (there is also a map of trails here).
Here you can cool off and enjoy the pretty white sand, cove beach. Since it requires a hike to get to this beach, there are usually just a handful of people here. On this western side there could be a lot of seaweed, so just walk the beach until you come to a nice sandy spot (or just move the seaweed out of the way).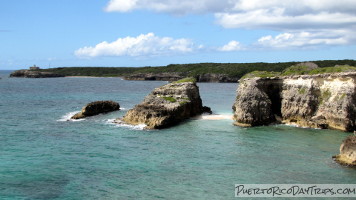 After cooling off, we turned around and went back up the trail, and continued on to the next trail on the route. This one is the longest trail (maybe ¼ mile). It goes through dry forest, and ends at a picture spot with panoramic views of the cliffs, the Caribbean Sea, and a nice view to Playa Caracas in the distance. Watch your step — don't get too close to the edge!
Not that we would ever suggest anyone go off-trail, but we found a small path just before the end of the trail (it was marked by a pile of stones). We followed it to the edge of the cliffs and there was an amazing view of the cliffs, the coves, and the old lighthouse. Much better than the "official" panoramic end-of-trail picture spot. Amazing!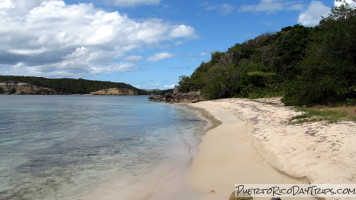 We then back-tracked and did the last trail. This one is short (less than 0.2 miles). It meanders down and ends up going through a mangrove forest (which can be wet/muddy) to Playa Corcho. It is a small cove beach, white sand, some rocks, and some fun "caves" (really more like over-hanging rocks) to explore. It looked like this might be a good spot for snorkeling, but we didn't opt to jump in. We had it all to ourselves!
When we finished exploring, we turned around and back-tracked all the way to the car. It took us 2 hours from start to finish, (which included some beach walks, exploring and lots of picture-taking) and we walked about 2 miles total.
Details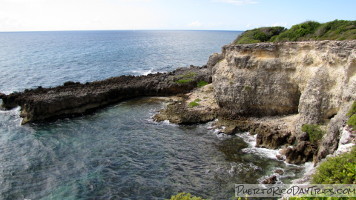 The F&W National Wildlife Refuge is open 7 days/week, from 7am until dark (7:30pm in summer, 6:30pm Oct-March (in Winter).
The trails here are packed dirt with lots of rocks, some lose, and some "trippers", so wear hard-sole shoes like sneakers or Tevas. Ray had soft-sole shoes and some acacia thorns got through. Ouch! You also need sun block, a hat, and at least one bottle of water per person. The trail goes through dry forest and mangrove forest — so insect repellent is helpful.
Take Road 997 and go into the F&W Nature Reserve at Camp Garcia. Go straight and turn right for Playa Caracas, then right again onto a gravel road toward Playuela, but keep going toward the "Tres Palmitas" boat ramp. Right at a curve, you will see the trail head and a small parking area on your left.
Click on a placename below to view the location on Google Maps ...
PuertoRicoDayTrips.com assumes no responsibility regarding your safety when participating in the activities described in this article. Please use common sense! If your mother or that little voice in your head tells you that you are about to do something stupid … then don't do it!