Renting a Car & Getting Around on Vieques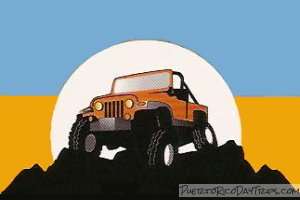 If you are planning a trip to Vieques, I really think you need to rent a car or jeep while you're there. This may seem odd because it is such a small island, but be forewarned — things you want to do can be spread out across the island. There are limited routes serviced by the local public transportation, and many things of interest to tourists are not on these routes.
What Kind of Car Should I Rent?
Not only do you need to rent a car, you need to rent a 4-wheel drive (4WD) vehicle or at least a 2WD with high clearance. The main roads on Vieques are paved and in decent repair. But most of the "best" beaches are down these horribly pot-holed dirt roads. You will be seriously bounced around getting to them, but the beaches are worth it. And you need to reserve your car/jeep rental as early as possible in your planning because there are simply not enough rental cars on the island to meet the demand, especially during heavy tourism seasons.
Don't bother getting a new vehicle. Most of the vehicles they rent on Vieques are not going to win any prizes for beauty. These things take a beating! And the tires are usually pretty bad (many people have mentioned getting flats!). The newer vehicles are more expensive to rent and you really have to worry about not messing them up. Older vehicles are less expensive to rent, and they usually have already gotten a little dented or scraped, so most places don't worry much about a little more wear & tear. Expect to pay $55 to $100/day (depending on the company you choose to rent from, and the make, model and year of the vehicle you choose). But realize, you get what you pay for — the cheaper the car …
It seems most car companies also have a 25 year old age minimum to rent. Avis will rent to people 21 and up, but they apply a steep "under age" charge to anyone 21-24 years. People under 25 can look into renting gold carts, which are street legal.
Our Experience
We rented from Maritza's Car Rental. We had no problems with reservations, tires or returning the car & everything was fast and painless. We did have to get from the ferry to the car rental agency upon arrival — our hotelier picked us up at the ferry and drove us to get our rental car.
The Jeep we rented was 4 years old and well-used, but adequate for our needs. We could have gotten a larger and/or newer vehicle, but I decided on a price point ($60 per day) and got what I could. I thought Maritza's service was fine and they even dropped us off at the ferry dock after we returned the car. We met some other people who rented from a different company and they got a cheaper rental price, but their SUV was even smaller and more beat up that ours! It didn't rain while we were on Vieques, but if it had, they would have gotten wet since their rag top roof was damaged.
Hints, Tips & Common Sense
One "mistake" we made when renting our vehicle was not planning for transport of our stuff. We got a 2-door Jeep Wrangler. It holds 4 people comfortably and a minimal amount of stuff. Unfortunately, we are SCUBA divers, so we had a LOT of stuff that we had to take with us — so that ended up in our laps. Luckily, it is a small island, so it was only for 20 minutes at a time. But also, we had to make 2 trips with all our luggage from the dock to and from the house since we and all our luggage did not fit! So don't forget to take that into account when booking your rental car.
Some people assume that they can just take their rental car that they have on the main island of Puerto Rico on the cargo ferry with them when they go to Vieques or Culebra. This is simply not an option, for many reasons. Most (if not all) of the car rental agencies "forbid" you to do it. If the car breaks down over there, you are responsible to get it fixed an back to them. Also, the cargo ferry is mainly for locals — for supplies and their daily necessities. It does not run every day, and even if you have a reservation, you can be bumped if a local needs the spot. So just plan on renting a car while on Vieques from a local car rental agency. One added "bonus" is these companies usually provide you with a free map of the island. Also, if your car insurance covers rental cars, bring a copy of the declarations page (that states coverage), so you don't need to get their insurance.
Don't leave ANYTHING in the car when you park at the beaches in Vieques. I is recommended to take everything out and then leave the doors unlocked. That way, if anyone wants to break in to check your stuff, they don't have to break anything to do it.
And one more thing worth mentioning … there are only 2 gas stations on the island (just a few hundred feet apart!) and they are not always open … so plan your trips accordingly.
Places that Rent Cars
Because Vieques is a small island, most of the car rental places don't have a web page, and even if they do, you still have to call to make a reservation. Here is a (alphabetical) list of some car rental companies on Vieques. In addition to these, some of the hotels, and other rentals, have cars that they rent exclusively to their guests. You can call your lodging to find out if a car is available for you to rent (which may turn out to be easier and less expensive than a car rental agency, but I don't know if it is "legal", so in the event of a problem, I don't know if your insurance would cover it).
PuertoRicoDayTrips.com assumes no responsibility regarding your safety when participating in the activities described in this article. Please use common sense! If your mother or that little voice in your head tells you that you are about to do something stupid … then don't do it!