Making Bubbles on Vieques – Dive In!
4/21- They are Diving!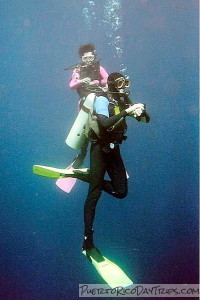 Puerto Rico is a very populated place and its north coast can be very rough and silty. So in order to get the best underwater diving experience, I have found you need to get away from the crowds. It also helps to get away from river mouths. Heading to an out-island like Vieques is a great idea. One of the first things you will notice when you get to Vieques is the amazingly water. And in this clean water lives an ocean of wonderful sea life, just waiting for you to dive in and explore.
Vieques is a small island about 7 miles to the east of the big island of Puerto Rico. Vieques is known for its clear water and great beaches, and there are reefs all around it.
The north side of the island usually is too rough for swimming, but you will find some nice scuba and snorkel sites on the south side of the island. Some are accessible by shore dives (like around the Esperanza pier or even Mosquito Pier on the north), but most require a boat trip.
Many of the sites are easy for everyone, and relatively shallow, though some are more deep or have some current. The water runs from about 75°F in winter months to 82°F in summer. Visability varies with weather, but it is usually pretty good — better in summer months, much more variable in winter months.
We dove a 2-tank dive here a few years ago in March. The seas were a bit rough, but not too bad. We dove on Patti's Reef and Anchor Reef. I can't say I thought it was the best diving I have done, but they were enjoyable dives.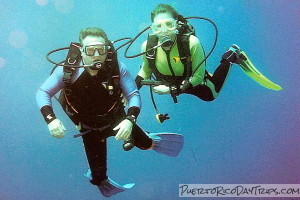 The coral reefs and limestone are not too colorful, but the sea life, such as rays, turtles, barracuda and lobsters and lots of different fishes, are usual sights. We had a turtle swim right up to us and hang out with us for a while on a safety stop at Patti's Reef. That was pretty cool.
Of course, being the ocean, if you are lucky you may see almost anything from sea horses to sharks. We noticed it was sandy bottoms with limestone and coral mounds all around. So take your time underwater and explore on, under and around these formations nooks and crannies for some amazing things.
Something to point out … Diving in Puerto Rico is not cheap , especially boat dives. Shore dives are a little less.
Note: the operator we used has since changed hands, so we can't comment specifically about any operator now. However, they all get great reviews, so pick one and DIVE IN!
No matter which operator you choose for your day of diving, don't forget to bring your C-card!
Black Beard Sports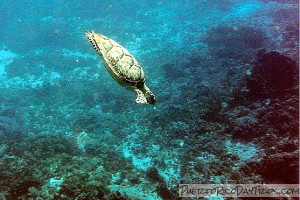 This is a sport and activity store, and a PADI dive center, located in Isabel Segundo. They offer sales and rentals of snorkeling & diving gear. They also have both guided shore dive and boat trips. They have a small boat, they take out a maximum of 6 divers at a time.
You can call (787) 741-1892 for more information or to make a reservation.
You can visit the Black Beard Sports Facebook page for more information.
They can repair SCUBA equipment. They offer PADI certification classes. Also available: open-water check-out dive referrals, resort courses (for non-certified divers). Note: SCUBA equipment rental is extra (not included in the price). They also have snorkel trips. The store also offers rental of mountain bikes,camping equipment,beach stuff (like chairs/coolers) and sales of beach clothing. They no longer take credit cards.
Isla Nena Scuba
This is a small PADI dive company. They offer both guided shore dive and boat trips and dive training and refresher courses. They have a small boat, they take out a maximum of 6 divers at a time.
You can call (787) 718-7605 for more information or to make a reservation. Or email info@islanenescuba.com
You can visit the Isla Nena Scuba web site for more information.
Vieques Dive Company
Vieques Dive Company has closed.
Nan-Sea Charters
has closed.
PuertoRicoDayTrips.com assumes no responsibility regarding your safety when participating in the activities described in this article. Please use common sense! If your mother or that little voice in your head tells you that you are about to do something stupid … then don't do it!