Fun for the Little Ones at Villa Campestre
2/22- they are open but you need to reservation.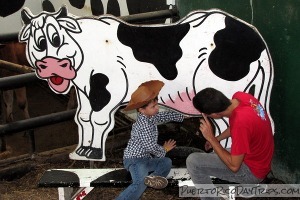 Once they get tired of the beach or the pool, finding fun things for littler kids to do can be a challenge. But there is a small park called Villa Campestre located in Guaynabo, about 15 minutes from San Juan, that offers something different to do for little kids. They have animals to feed and pet, pony rides, small amusement rides and slides, and "ice" skating just to name a few activities.
It is mainly set up to handle local groups (for birthday parties and similar gatherings) during the week, but everyone is welcome on weekends. We made a quick stop to check it out, and the kids seemed to be having a ball!
In doing preliminary research, I was surprised that there really isn't much information about this facility on the internet, other than their website. So we went to check it out. Funny thing … we don't have kids and being this is a kiddie park, they were a little confused about why we wanted to go in and take photos! But once we convinced them that we aren't pedophiles, they let us in to check it out.
Our Visit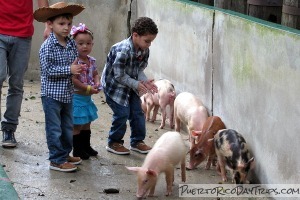 It is a small, local place but there were many activities to do. It is mainly designed to handle groups and parties. If you go without a group, I think they set you up with others to form a group of about 4 to 10 kids. Each group gets assigned a guide who takes you around to each of the different areas. They promote themselves as an educative farm.
They had a pig race area, pony rides, stables with horses, goats and a miniature bull, bunnies and chickens in cages, a cow and calf for the milk exhibit, and a baby goat and sheep feeding/petting area. There were ducks, chickens, and even a turkey running around.
At each animal area, the guide collects all the kids and talks with them about the animals. We kind of tagged along with this one group and thought the guide was really good with the kids. He allowed the kids to touch, pet and hold the animals if they wanted, but no one was forced to do anything. The last stop after the animals was a hand-washing station. Nice touch!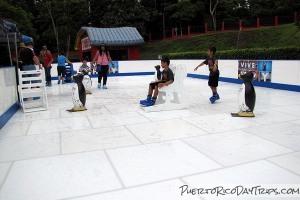 After the animals, the guide moved the group to the "active" side of the park. There was a tree house with slide, 3 mechanical amusement rides, and bouncy houses and a "canopy" zipline, and another slide.
At the time, their new thing was an "ice" skating rink, with a plastic slippery material instead of ice. It was pretty neat, and sort of gives you the ice skating experience without the cold! They have things you can lean on for balance, and even chairs so little kids can get pushed around. If you don't want to wear skates (which do allow you to slide easier) you can wear booties over your shoes as you slide on the "ice". I think this feature changes from time to time. Lazer Tag is new 2014.
All in all, it looked like the kids were having fun and parents seemed to be pleased with the experience.
Other notes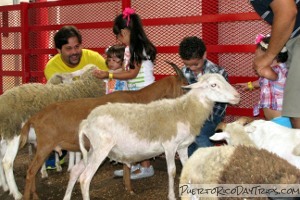 It seemed like if you come without a group, they put you in with a group or get grouped up with others. You don't generally just walk around on your own and do things. Each group has a guide, and the guide will set up the activity. Once that group is finished an activity, that area that area is left empty until the next guided group comes along.
We did see people walking around on their own, and I didn't see any guide stopping kids from other groups from going on a ride or participating in an activity. While I think technically (for the parties/groups) they want you to go through once, I guess after your initial tour, you can go back and do something again. But don't quote me on that!
They do have other activities set up and mentioned on their website that we didn't see in use — like the "train", water tag, and sack slides. They had a climbing wall/rope course overhead that some kids were eyeing longingly, but those seem only to be used during the summer camp programs maybe?? There was also a hydroponic demo area, but there was nothing growing there. They have a swimming pool, but that is neither open to the public, nor is it included in most packages.
Due to the liability, you didn't get to milk a real cow, but she was there in a pen, and the guide did squirt the kids with her milk. They have a wooden cow that they show the kids how to "milk". But you could pet the cow and calf.
One big note — this is local — meaning they may not have a bi-lingual guide available. If you need an English-speaking guide, call ahead and make sure they can accommodate you.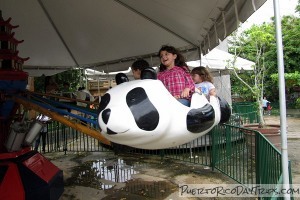 Their website says this park is for kids up to 12 years old. I think any kid older than 8 or 9 years may find it "lame". But for babies, as long as they can stand on their own, they were allowed to do things. We saw kids maybe 1½ or 2 years old participating in all the activities (with mom or dad helping), and having a ball! There are a few activities the adults of the group can participate in — I fed the goats and went "ice" skating. They also opened a large area just for toddlers 0-5 years old-TODDLER ZONE PARK.
They also have a snack bar and small "gift shop". There is a pool and a disco available for rent for parties.
details
You can visit the Villa Campestre web site for current fees and hours. Some activities require an extra charge. Usually open weekends only (Fri-Sun during the day)
Call them to make reservations and also yo reserve for groups/parties on the weekend or during the week. You pick the activities you want to do when you plan your party — there are 12 activities to choose from.
Allow 2 or 3 hours
You can call 787-731-6799 for more information or to make a reservation.
Free parking. Clean restrooms. Clean park. Nice guides.
To get to Villa Campestre from the San Juan area … Take Route 22 west to Route 20 south to Route 199 west. Follow Route 199 to the end, then turn right. The park is located on the left. There were signs along the way once you got close.
Villa Campestre is located in Guaynabo, about 15 or 20 minutes from San Juan.
Click on a placename below to view the location on Google Maps ...
PuertoRicoDayTrips.com assumes no responsibility regarding your safety when participating in the activities described in this article. Please use common sense! If your mother or that little voice in your head tells you that you are about to do something stupid … then don't do it!