Puerto Rico's 2022-2023 Winter Baseball League
New season dates are posted! The games start on 04 November 2022!
Though you may not be able to buy "peanuts and cracker jack", a baseball game in Puerto Rico is an economical and fun evening out. Every winter (from November through January), baseball heats up on the island. Not only do we have local players on the teams, but some of the US league players come down to keep in shape and play in their off-season.
So, if you are having baseball withdrawal, catch a game while you're here — I don't think you'll be disappointed.
Local League & Teams
For over 70 years, Puerto Rico has had its own baseball league. A number of the local athletes that have played in our league have gone onto bigger things, like the Major and Minor leagues in the States, and other divisions and leagues around the world.
The main professional baseball league in Puerto Rico is the Liga Beisbol Profesional Roberto Clemente (Roberto Clemente Professional Baseball League) — @LBPRC on Twitter and LBPRC on Facebook. Previously, the league was called Puerto Rico Baseball League. Before that, the league was called La Liga de Béisbol Profesional de Puerto Rico (Professional Baseball League of Puerto Rico). If you search the internet for info on this league, you're likely to find it under any/all of those names.
The winners of this league go on to participate in the Caribbean World Series.

2022-2023 Schedule, Teams and Venues
The 2022-2023 baseball season starts on November 4th. This season, there will be 6 teams from around the island playing in the league.
The teams in the league this year are:
There will be 50 games played throughout the season. Last regualerly scheduled season game is Jan 4th. Then there will be Semi-finals games will be played a few days after that and then the Series Finals will between the 2 winning teams. Then the winning team will go on to Serie del Caribe (Caribbean Series), in February 2/2/23-2/10/23 in Gran Caracas, Venezuela.
The Roberto Clemente Baseball League schedule (as found on Facebook on June 6, 2022) is posted below. Games will be played on Tuesdays, Wednesdays, Thursdays, Fridays, Saturdays and Sundays. A rare game on Monday, usually for rain dates. Note- on the schedule, the first team listed is the visitor and the second team listed is the home team (at their home stadium). For example, the first game on Nov 4th is Mayaguez vs Caguas. This means Mayagues will be playing Caguas team in Caguas home stadium .
Los Criollos of Caguas will use both Estadio Yidefondo Sola Morales in Caguas and Estadio Pedro Montañez Stadium in Cayey
The Indios de Mayaguez will use Estadio Isidoro "El Cholo" García in Mayaguez
Gigantes will use the Estadio Roberto Clemnte Walker in Carolina
RA12 will use both the estadio Hiram Bithorn Stadium in San Juan
The Santurce Cangrejeros will use Estadio Hiram Bithorn Stadium in San Juan
The Ponce Leones will use Estadio Francisco 'Paquito' Montaner in Ponce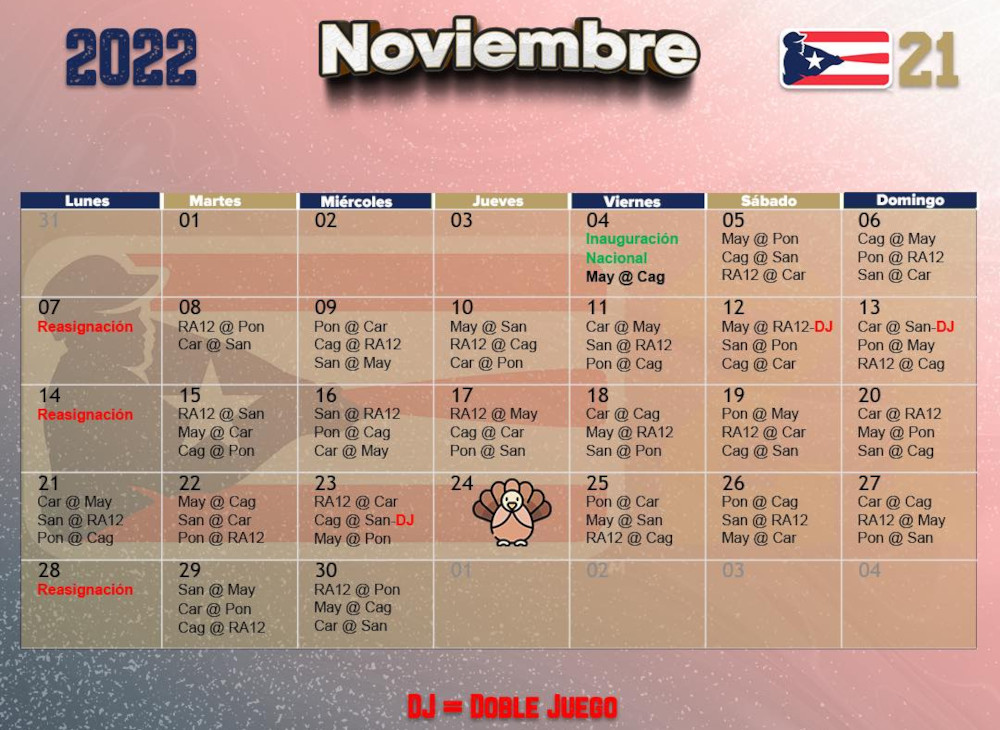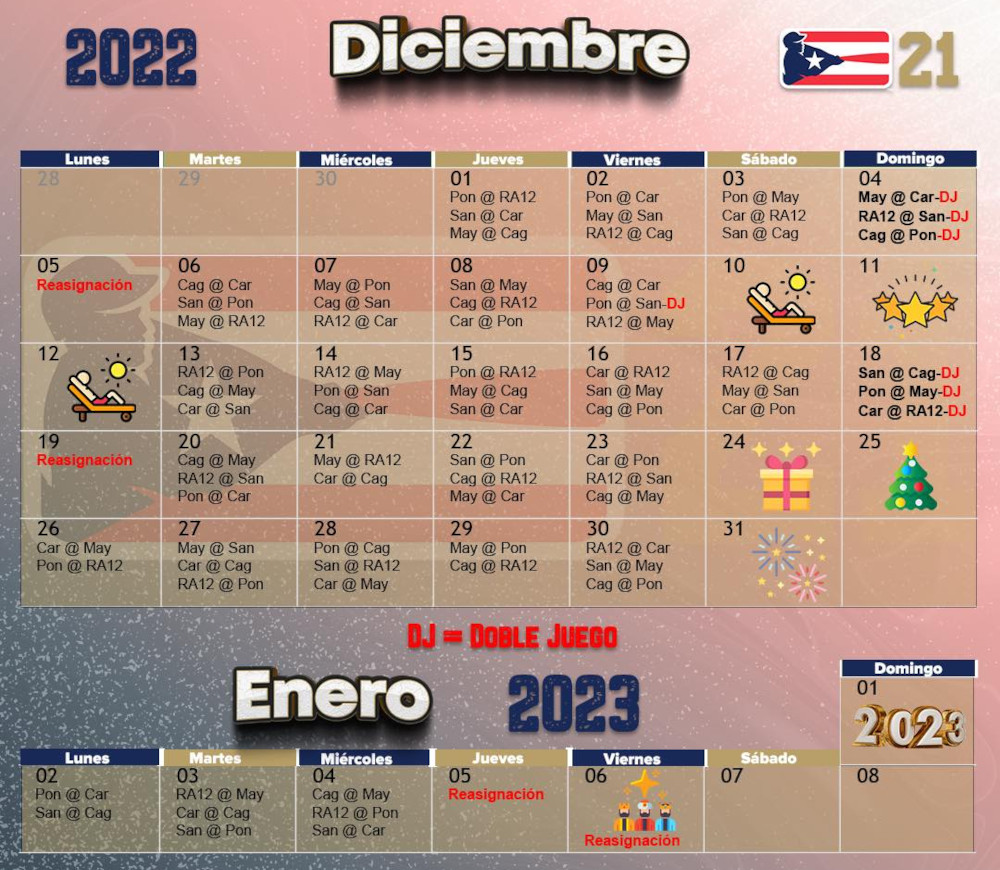 The game start times:
Check schedule- times vary! All teams local games start at 7:10 pm Monday – Saturday. Sunday games start at 4:10 pm everywhere except Sunday in Carolina games start 5:10pm. Days with double headers- games start Monday- Saturday 4:10pm, Sunday 3:10pm except Carolina, where Sunday double header games start at 4:10pm.Check schedule to exact times as they are variable.
The games prices vary, but they are not too expensive. Get ticket info here. Games will be televised on WAPA Deportes and live on the teams' Facebook pages.
Check schedule to exact times as they are variable. Game times vary by day of week and stadium, so make sure to check the schedule at the top of the page for start times.
Click on a placename below to view the location on Google Maps ...
PuertoRicoDayTrips.com assumes no responsibility regarding your safety when participating in the activities described in this article. Please use common sense! If your mother or that little voice in your head tells you that you are about to do something stupid … then don't do it!