Enjoy Some Time Walking Around Yauco Urban Park
Nestled just blocks from the highway and downtown Yauco, Yauco Urban Park (Parque Urbano Enrique "Quique" Lucca) stands as a serene oasis, offering a respite from the bustling urban life, and a chance to connect with nature's beauty. This hidden gem is a testament to the power of green spaces in enriching our lives and sense of community. This beautiful park has something for the whole family — it really is the nicest town park I have seen in Puerto Rico.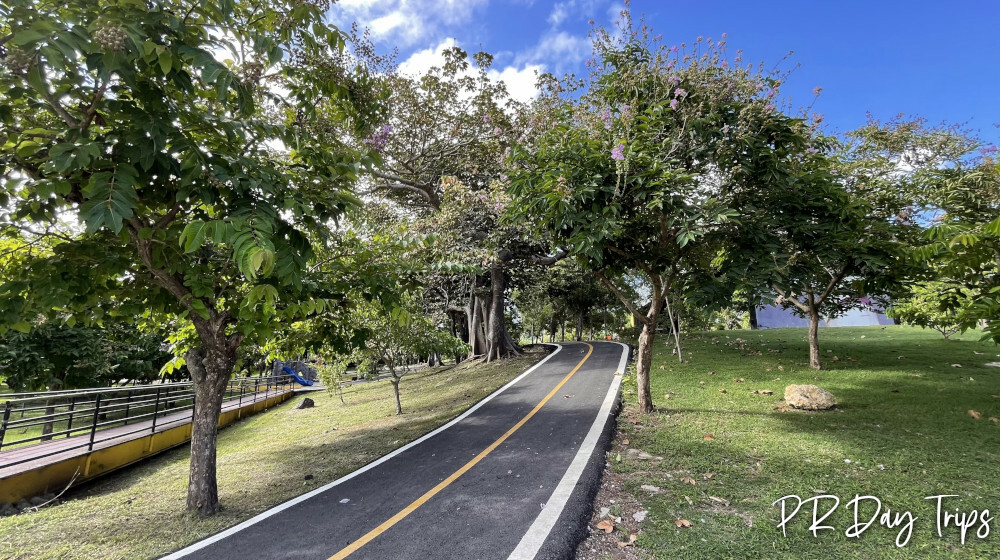 Yauco is a town in the south-southwest of Puerto Rico, just about 2 hours from San Juan. The town offers many really nice things to see, like the colorful Yaucromatic murals and the Santa Clara Waterfall. Now, the Yauco Urban Park has been added to the list of attractions in this town.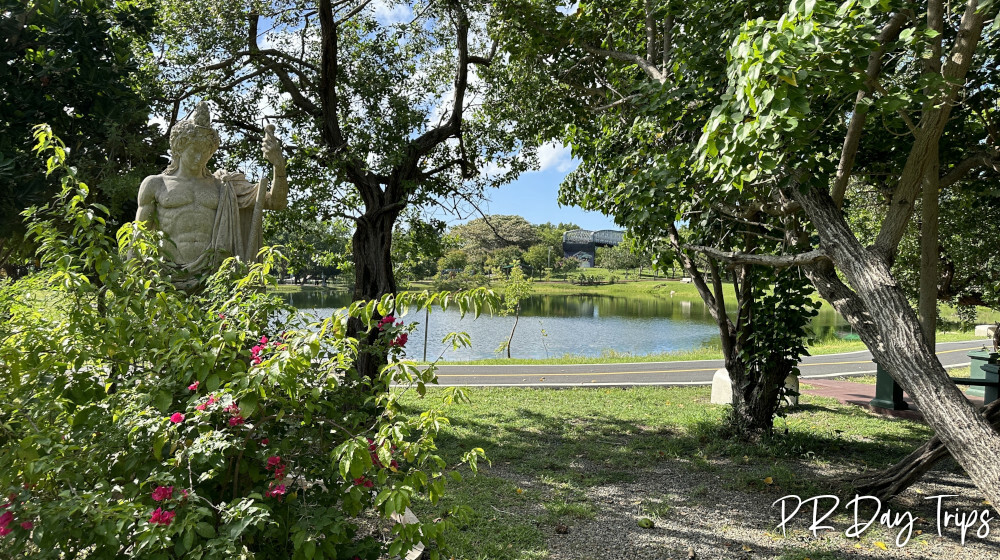 This beautiful park has something for the whole family including walking and biking paths, work-out areas and outdoor exercise equipment, playground equipment, a skateboard park, a raised boardwalk and fun suspension bridge, and – in the center of it all – a beautiful pond. The whole park is planted with loads of trees and bushes, with statuary and art works around, so whether you go to exercise or just relax, they have created a shaded, picturesque environment.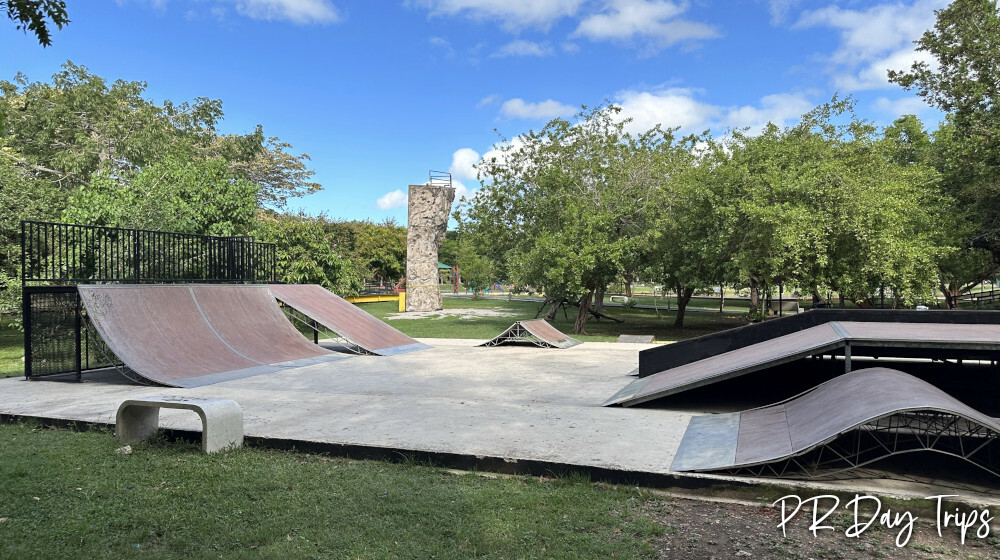 The park boasts a network of well-maintained walking and biking trails (the main loop is about ½ mile, but there are connector paths that you can use to make a longer walk) that wind through its green expanse, offering visitors the chance to indulge in a variety of activities. In fact, everything about this park is well-maintained — from the grounds to the restrooms! They have rules posted, so everyone can enjoy the area peacefully, though it can get a bit busy and loud on weekends especially in summer!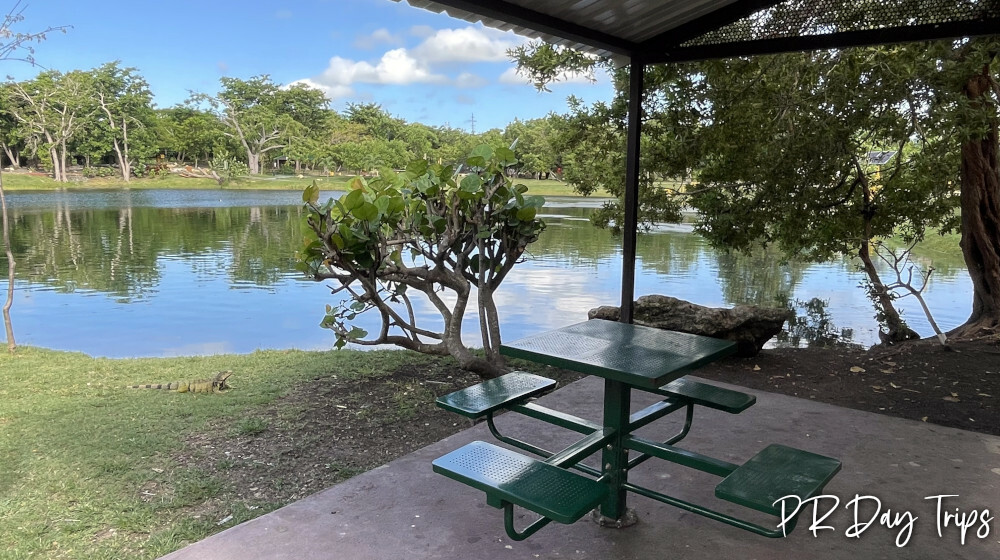 They have gazebos that you can reserve for parties or your picnic, or you can just set down a blanket and enjoy. Dogs are allowed on leash, too! Children can explore the multiple playgrounds and other areas. You can bring your own bikes or skates, or rent a scooter at the entrance!
The pond in the middle is lovely, and home to many birds and ducks, fish, turtles for the kids to see. The park is accessible (there is even a swing for wheelchair-bound people). It's a perfect opportunity for quality family-time and creating lasting memories.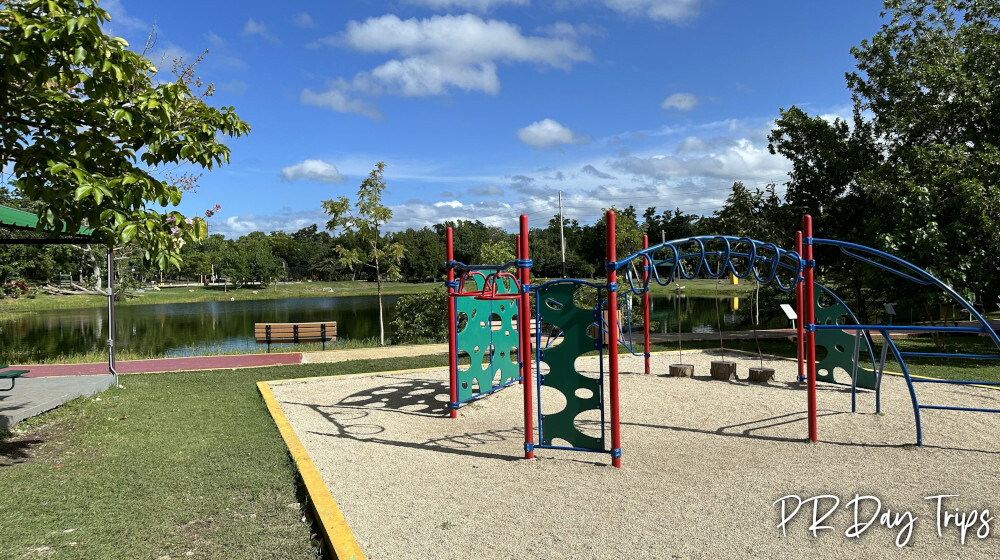 In addition all that, there are beach volleyball courts, basketball courts, snack machines inside the park, and even a Take a Book/Leave a Book library, by the restrooms. And there is a piece of an old bridge, which they have repurposed for swings! There are lots of benches to relax in the shade all around this park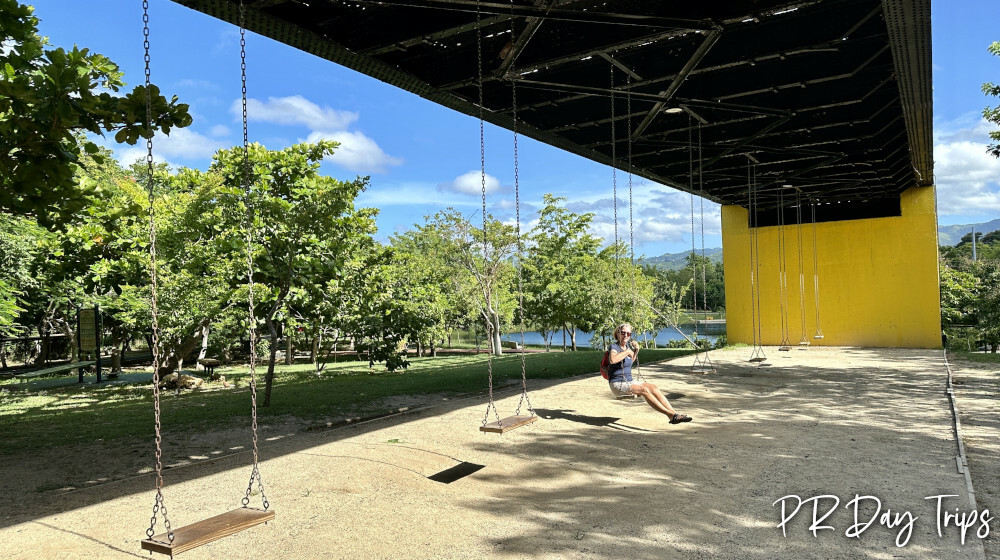 There are a few things that we saw that weren't open in the early morning when we went, that I assume require a worker to help or possibly an additional charge to use, such as the climbing wall and kayaks. There is even a private barbershop in there, in case you need a trim!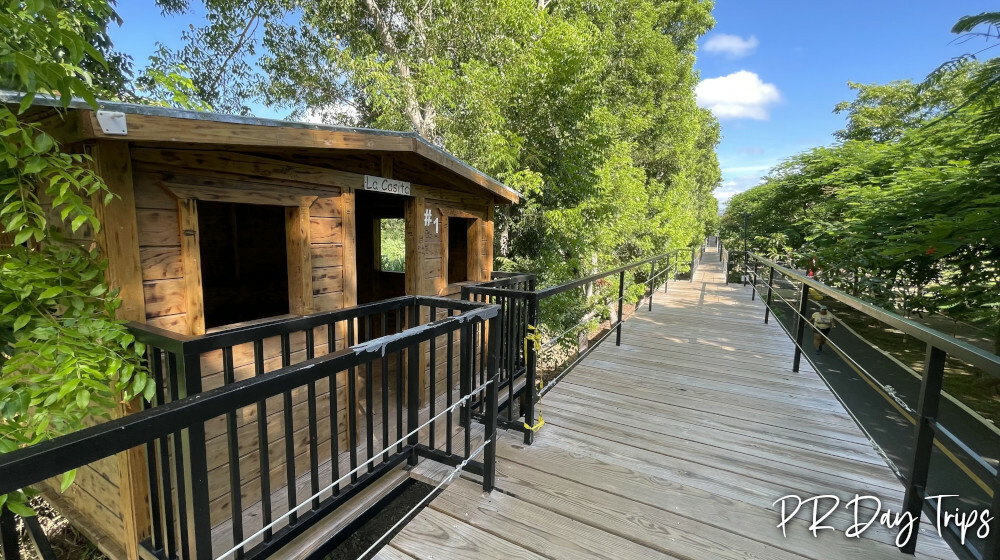 In the parking lot, there is a scooter rental place, plus a number of food trucks (and ice cream!). I am not sure what their hours are. Supposedly, they even have free Wi-Fi
We really enjoyed this park. It was really nice to see a town park that is well-maintained and that people actually use. It is open early and stays open in the evening, so people can exercise before or after work. There is even security.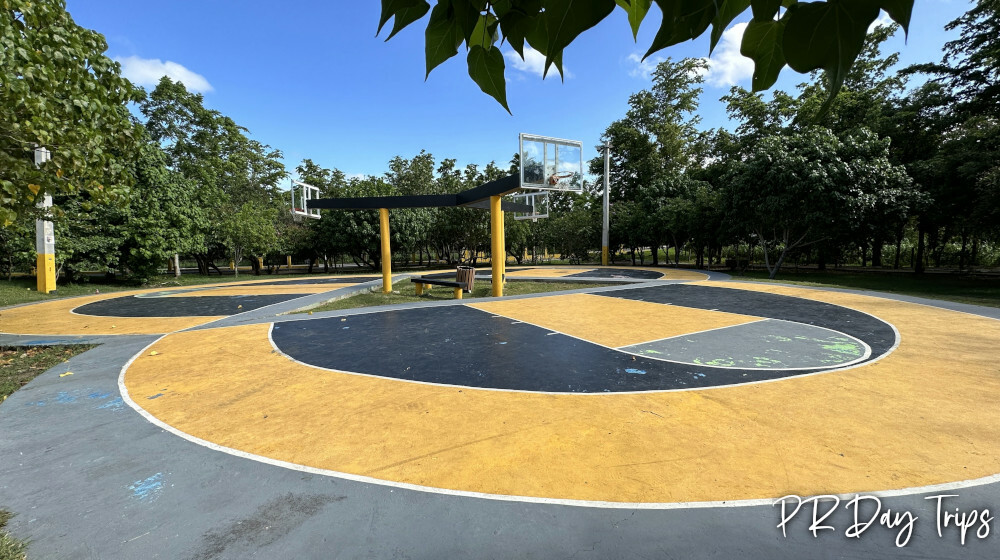 The park is located just a few blocks from the beautiful town plaza and all the lovely murals and artwork. It has super easy access from the highway. You could occasionally hear the hum of the highway, but with all the trees and green areas, that seemed a world away. If you are in the area, I recommend a visit to this park —it just made me smile!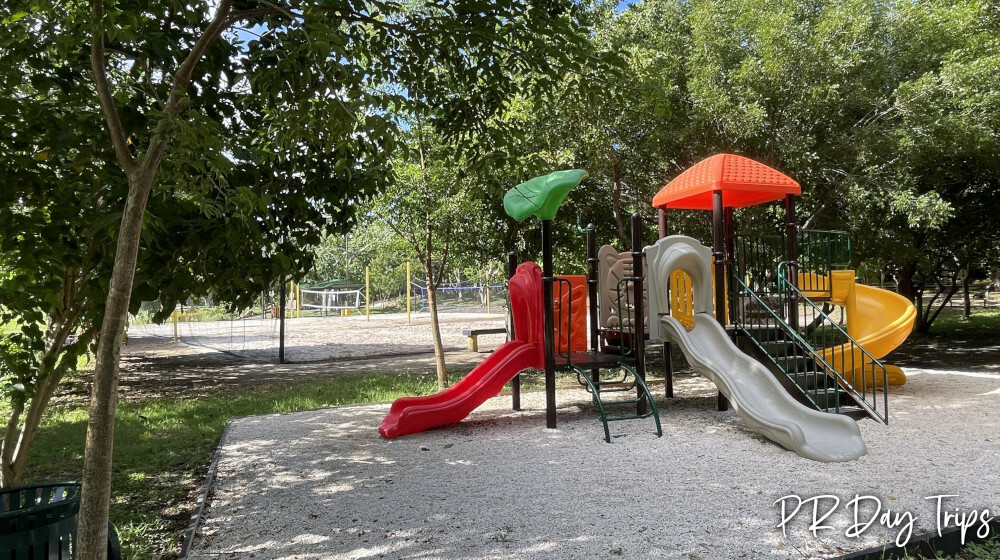 Details
There is no cost to use the park, though some activities (like the climbing wall, kayak rentals, scooter rentals) have a fee. Even the parking lot is free.
The park is open 7 days/week from 5:30am until 8pm.
You can call 787-967-3502 or 787-856-1340, ext 1074 for more information.
The park is located on Avenida 25 de Julio in Yauco.
Click on a placename below to view the location on Google Maps ...
PuertoRicoDayTrips.com assumes no responsibility regarding your safety when participating in the activities described in this article. Please use common sense! If your mother or that little voice in your head tells you that you are about to do something stupid … then don't do it!