Zanja Fria – A Natural Spring in Arecibo
6/22 There is now a gate at the "entrance". There may even be a guard there. Just ask if you can walk in and use pond. They are trying to stop people from driving in and dumping garbage, but still let some people walk in.
Puerto Rico is blessed with warm weather all year round. So people are always looking for places to cool off. Natural springs are "cool". So cool in fact the water is down right "fria", meaning cold! Zanja Fria in Arecibo is one of the newest "must see" swimming holes around.
When we went looking for this manantial (spring with fresh water), we knew the general area where it was, but we didn't know the details. We found the path on the side of the road sort of by accident (in 2020, someone made a small "bridge" at the path entrance so it is easier to find). You used to be able to drive the dirt path, but someone has "fixed" it so cars can't drive in. You must walk it. That's just as well. It is not far … maybe a 6-8 minute walk, on flat ground. It is mostly in full sun, so wear a hat! It is pretty neat when you get there … a leafy green oasis hidden in a field!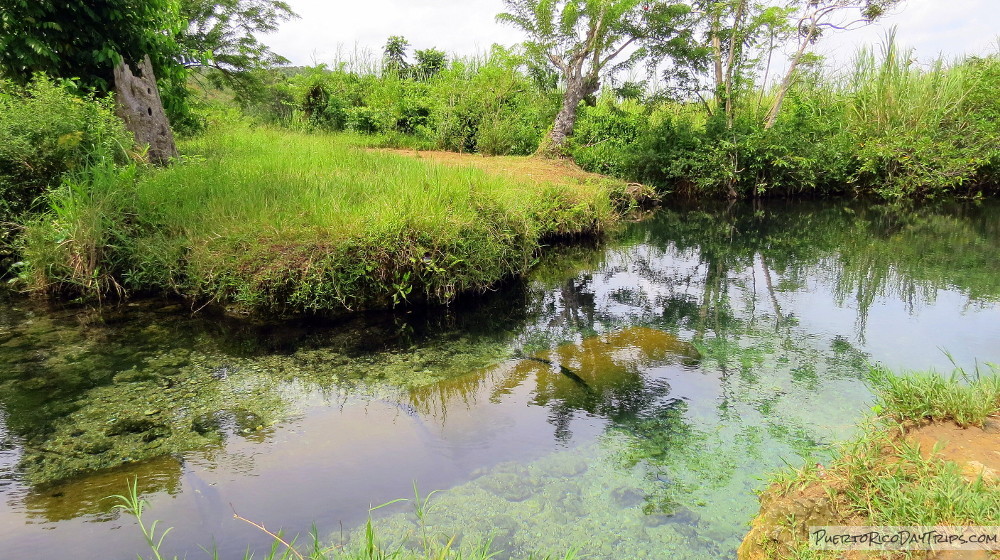 The natural pool is formed from springs, and this spring water is clear and cold. The pool is not huge, but you can easily swim, play, and cool off no problem! It is about 4-5 feet deep. There is a big pipe in the water on one end, supposedly from a bridge or something in the past. But now it is just a place for the fish to hide. And yes, there are lots of fish, so bring a snorkel and mask if you want to see them up close!
On the less cool side, it is not far from the dump, so there is a lot of debris around the parking area, and the beginning of the path. But, luckily, the path and swimming hole are relatively clean (please keep it that way!). Of course, when you could drive in, someone dumped an old couch there. It's broken, and not of any use to sit on. So remember to carry out any trash you make, plus some extra if you see any. Let's keep this natural spring natural!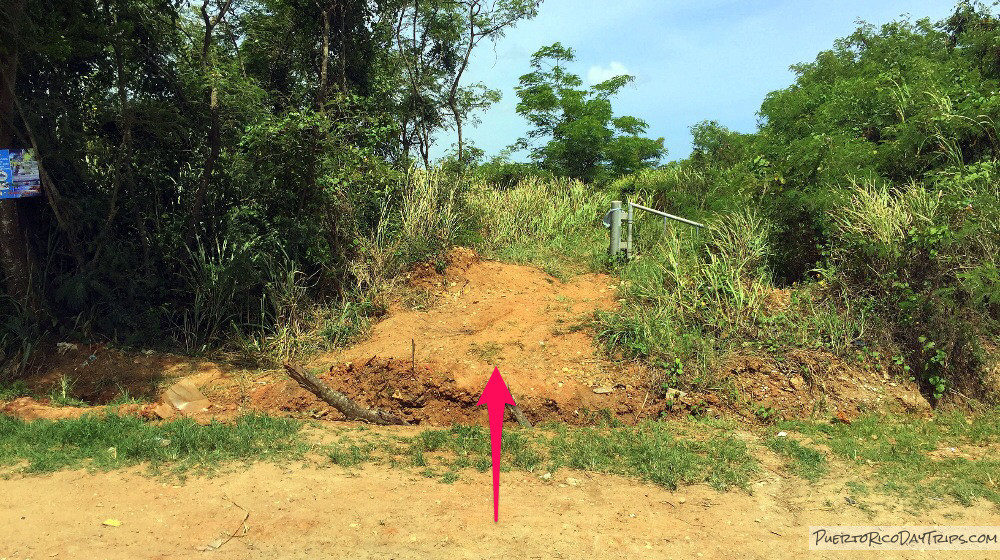 Details
From Route 2 in Arecibo, take Route 682 (Calle Municipo) north, and make a left onto Calle Vertadero. Continue to the end of the road and park (careful not to block the driveway there). The walking path is on the left (west) side of Calle Vertadero. See the photo above.
Click on a placename below to view the location on Google Maps ...
PuertoRicoDayTrips.com assumes no responsibility regarding your safety when participating in the activities described in this article. Please use common sense! If your mother or that little voice in your head tells you that you are about to do something stupid … then don't do it!