SCUBA or Snorkel on Culebra with Taz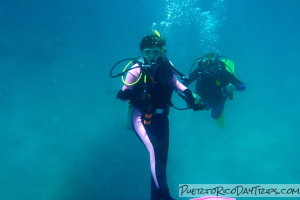 If you are a SCUBA diver or avid snorkeler and you come to Puerto Rico, you will probably want to check out the underwater world during your visit.
If you are are staying in the San Juan area or the north-east of Puerto Rico, you can head to some of the eastern "out islands" like Culebra, Icacos or Vieques for the nearest and best underwater experience. Some wonderful reefs and marine life await you!
We recently took a day trip to Culebra to dive with Aquatic Adventures to just see, first hand, if this type of dive trip from the "big island" was reasonable for a visitor (with limited time) to do.
A Little Background
When we first moved to Puerto Rico, we used to go SCUBA diving off the north-east quite often. We used to go with a local dive shop that departed from a marina in Fajardo. We did a number of dives near Culebra and Vieques. In my opinion, it wasn't the best diving in the world, but we always had nice dives and enjoyed ourselves.
Due to work and our rental schedule, we stopped diving for a few years. We recently started diving again and wanted to check out the diving at Culebra to see if it is still as nice as I remembered. Culebra is a small island located 17 miles of of north-east of Puerto Rico. The main island and its many cays are surrounded by lush coral reefs. Over the years, we have snorkeled around Culebra and thought that the snorkeling was pretty good and of course, the beaches and water are so beautiful, we keep going back.
Getting Started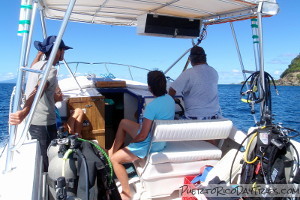 From what I could find, there seem to be just a few dive operators on Culebra. After reading reviews and recommendations, we chose to go diving with Taz Hamrick from Aquatic Adventures. We originally contacted him via email and he was quick to respond. When called him to confirm it everything, Taz was very nice and laid back.
On the day of our trip, we took the first ferry from Ceiba to Culebra. Our non-SCUBA friends came with us to snorkel while we were diving. Taz met us right at the ferry dock in his boat as soon as the ferry arrived and away we went. Very easy! The boat was a nice size, with some shade and some sun areas. It had room for about 8 divers, but Taz limits the boat to 6 people. It was a short 10-minute ride to our first dive site.
The Diving
For the first dive, we moored off of Luis Peña Reserve. After the usual paperwork, Taz gave us a briefing about the dive site. The site is called Lana's Reef and it was lovely. The day we went, the water was a bit turbid, but we visibility was still about 50 feet. It was a great, relaxed, shallow dive. Our maximum depth was about 50 feet. Really enjoyable — hard and soft corals of all shapes and sizes, fans and sponges and loads of brightly colored fish. We swam through a huge school of silver fish (sorry , I forget the name!). We saw some turtles on this dive.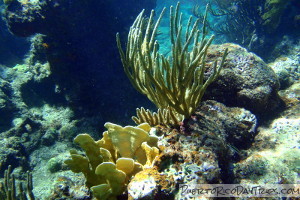 One great thing about shallow, slow dives is that you can take your time and look at the small stuff, too — like little shrimps working at a cleaning station, brittle stars and other things that typically go unnoticed.
Our dive lasted about an hour, though we could have stayed down longer since we all still had plenty of air. But we decided to surface join our snorkeler friends on the boat to find out what they saw.
After our lunch (sandwiches, chips, and cookies — yum!) and surface interval snorkel stop, we got ready to dive a second site near Carlos Rosario Beach.
At this spot, Taz explained that we had 2 options to choose from — the inner reef or the outer reef. We discussed them both, and Taz pointed out that the outer reef is where you have a better chance to see more of the large sea life in this area, like turtles, sharks and stingrays. However, he warned us that the outer reef required a decent amount of effort due to a surface swim out to the reef and currents. We were sold on the outer reef, so we all jumped in and started swimming, then got underwater to explore. As Taz mentioned, it was a little bit of an effort, but it was worth it.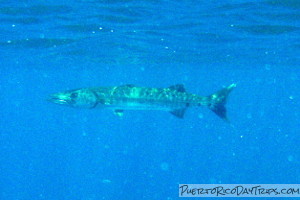 Besides the forest of healthy corals, fans and sponges, we saw 4 turtles, a stingray and even a lobster condo with about 7 lobsters all peeking out from their hiding spots. We also "met" a large, fat barracuda who seemed to like swimming with us. At one point, I looked over and noticed we were all swimming in a row — Taz, "Barry-cuda", Ray and me.
The shallow swim back to the boat served as our safety stop. We were underwater for a total of about 45 minutes at a maximum depth of about 40 feet.
The Snorkeling
Our non-SCUBA friends Keishya and Bob brought their own snorkel masks, and Taz supplied the fins. But there's no need to worry if you don't have your own gear — Taz has masks and fins of various sizes. Normally Taz's wife, Ann, is on the boat also and will go snorkeling with you and/or give you some "lessons" if you're a beginner. The day that we went, Ann wasn't feeling well, so she didn't join us. Luckily, our friends are experienced swimmers and snorkelers, so they happily went off on their own.
Of course, there are life vests on board you can use if you wanted to "be sure" to float, since as soon as you jump in you'll be in water well over your head. Visibility in this area is generally very good, so there's a lot for snorkelers to see, even in the deeper water.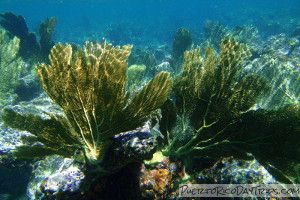 Our first dive took about an hour, so our friends snorkeled around, headed to shore, enjoyed sunbathing on the beach and then snorkeled back to the boat. When we returned from our first dive, we swapped stories about what we saw. While were were telling fish tales, Taz moved the boat to our second dive site and hooked up to a mooring ball.
At this second site, we were free to hang out on the boat, swim or snorkel while Taz prepared our lunch. It was a neat spot- there were huge rocks right up toward shore. When lunch was ready, Taz called us in and as we were coming back, there were 2 stingrays right by the boat — a spotted stingray and a southern stingray. After lunch, while we did our second dive, Keishya and Bob did some more snorkeling and had some beach time. Bob and Keishya were our photographers that day, and they got some great pictures. They saw lots of sponges and corals, and many different types of fishes.
Wrapping Up the Day
We got back to the dock at about 2:30pm, so we had time to explore Culebra's one small town, Dewey. We didn't get too far once we hit Mamacita's. We had a snack and a few drinks (the Bushwacker is yummy!) as we sat watching the boats go through the canal. Then we walked down to the ferry and enjoyed the sunset ride back to Ceiba. It's hard to beat a day like that!
Details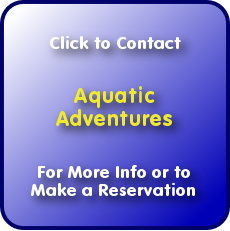 The cost is $110 for a 2-tank dive per diver with a C-card (all gear included). The snorkel trip is $60 per person. Both include all necessary equipment, lunch and refreshments.
If you're happy, let them know it — Don't forget to tip your your bartender, tour guide or trip operator if you enjoyed yourself. Gratuities are appreciated and typically aren't included in the price they charge you.
Taz has the potential to run 2 SCUBA/snorkel trips every day, one in the morning and another in the afternoon. He can also do other boat trips, beach BBQ trips and sunset cruises. Contact him for reservations.
The dive/snorkel sites are chosen depending on the weather/sea conditions, your skill level and overall safety considerations. For advanced/experienced divers, he goes with you, but leaves you mostly on your own. If you are less experienced, tell him that you'll want a little more hand-holding and he will be a little more there for you!
Allow a half to a full day depending on the type of trip you book, if you're staying on Culebra, if your day will include a ferry ride from/to Fajardo, etc.
You can call 515-290-2310 for more information.
You can visit the Aquatic Adventures web site for more information.
If you're looking to get certified or to do your check-out dives as a referral, Taz is also a PADI instructor.
They opened a dive shop/store just a few blocks from the ferry dock- on street level by the Dinghy Dock restaurant. Open 9:30am-4pm.
Culebra Divers is another dive operator that you can try contacting.
PuertoRicoDayTrips.com assumes no responsibility regarding your safety when participating in the activities described in this article. Please use common sense! If your mother or that little voice in your head tells you that you are about to do something stupid … then don't do it!