Catch the Ferry from Ceiba to Culebra or Vieques
Update- 2/23 : Tickets will be available online ahead of time (usually only 1 month at a time, but may only be released the last week of the month before). It is highly recommended you buy tickets ahead of time- It is highly recommended to use the APP, since the webpage is not alway accurate. You can buy tickets either online or at the ticket window days before your trip. Day of trip tickets are occasionally available, but not always available (especially during high season =winter)! Check their https://www.puertoricoferry.com page for more info .. If they say "advanced tickets sold out online", there MAY still be some tickets available at the ticket window at the dock, but not always. Go early and try…seriously, it is best if you can go in person to the wndow, a few days ahead of the trip, you may be able to get some…always get round trip tickets! Small island locals will have priority over any other people visiting. ALL ITINERARIES AND RULES (like tourists being allowed to travel) ARE SUBJECT TO CHANGE.
There are three types of ferries that run between Ceiba/Culebra and Ceiba/Vieques — passenger ferries and cargo and cargo-passenger ferries. The passenger ferries carry passengers only — no cargo, so it is a faster trip!. The cargo-passenger ferries carry both passengers and cargo (including cars). There is also a "cargo" only cargo ship…no passengers. So as a passenger, you can also use the cargo/passenger ferries to travel to the out islands!
The crossing on the passenger ferries from Ceiba to Culebra should take about 45 minutes, while the crossing from Ceiba to Vieques should take about 30 minutes. The cargo/cargo-passenger ferries will take a longer- about 45 mins to Vieques and about 1.5 hrs for Culebra. For now, the Vieques route will be to Isabel Segunda/Town pier (some time in the future, they might be using the Mosquito Pier) and Dewey in Culebra.
To buy tickets, see the current schedule and availablity, you can go to the ferry ticket page and/or download their APP. The web page and the APP (City Experiences) are in English and Spanish and explains everything!
Starting October 2018, all ferries will be operating out of the new ferry terminal in Ceiba. (No longer in Fajardo).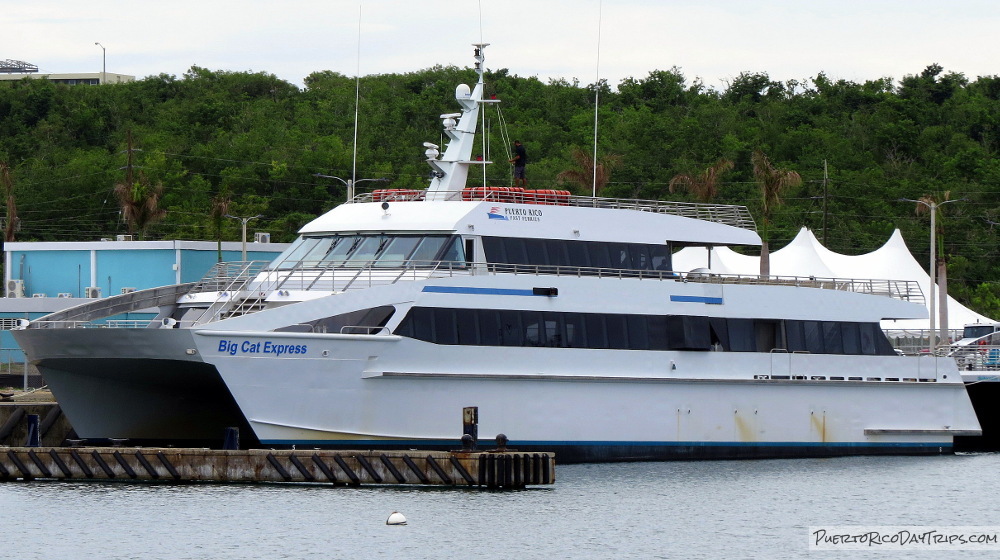 The Ferries
The ferries will be operated by Puerto Rico Ferries, under contract to the Puerto Rico Maritime Transportation Authority (MTA). They also have some cargo/cargo-passenger ferries and and the PR ATM will have some ferries in use when needed. Note- there are fewer seats available for passengers than we had with the ATM run ferries, so there may not be room for everyone that wants to use them.
At the moment, PR ATM will still be "in charge" of the operations (ticket sales, schedules etc). They may also be using their boats when needed. This process should change over to HMS (PuertoRico Ferries) in 2023. .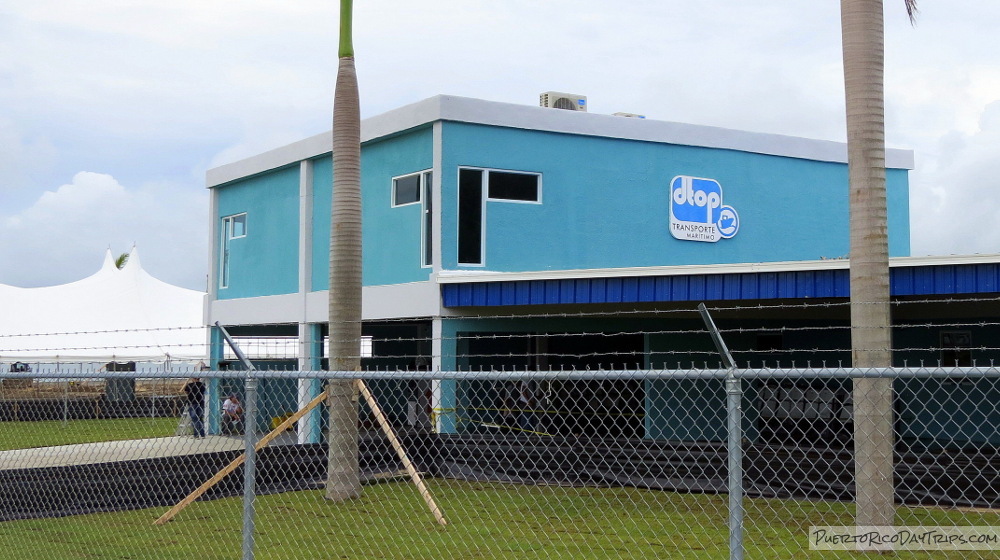 The Ferry Terminal
The terminal building and parking lot are located on Marina Drive in the old Roosevelt Roads Naval Base.
Ticket windows are located on the outside wall, waiting room for 400 people, still there are only portable toilets for bathrooms, but there is a concession stand for snacks/drinks (and one bathroom) are inside.
Passenger Ferry Schedule
For reasons I can't figure out, the ferry schedule changes often (sometimes every day…due to weather, holidays, maintenance, break downs, someone's whim…who knows why etc). We are hoping things improve. Please check the official ferry page for the daily itinerary.
Buy Tickets for a Passenger to Culebra or Vieques online at PRFERRY
For now, ticket prices are the same for everyone (locals and tourists)
A one-way ticket to Culebra costs $2.50 per person. A one-way ticket to Vieques costs $2.00 per person. . Kids 4-12 years old and seniors 60-74 years old cost $1.00 per person, seniors 75 years and older and kids 3 and under are free. You are allowed one small carry-on baggage free included in your ticket price. Extra luggage or things (coolers, tents, chairs, bikes, cases or beverages etc) have an extra fee. Remember to add them on while buying tickets. There is also a service charge when buying tickets online. Purchasing tickets ahead of time can be done, online at the ferry ticket page. You can still buy tickets in person, at the ferry terminal ticket window ahead of your trip. Only part of the tickets are sold online, so if the website says "sold out", there should be tickets available in person. You can try going a few days early to buy tickets for your chosen travel day, or get there early on your chosen travel day and hope you get a ticket.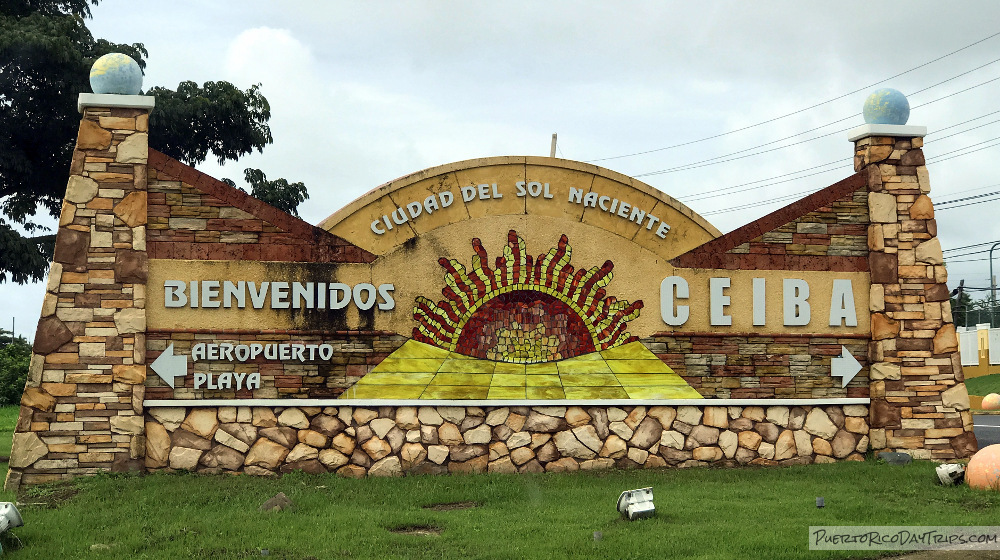 Can I Take My Rental Car to Culebra or Vieques?
At this time, vehicle spots on the cargo ferry is limited to residets of Vieques and Cuelbra and approved supply vehicles. According to the PRFerry page, They say you cannot take a rental car on because you need the vehicle registration to buy the ticket. In the past, I have heard of people doing it. So the real answer is "it is really not a feasible or ethical option". Only residents of the small islands should use the cargo ferries for their vehicles. There is limited room that locals need for transportation and supplies. Your non-resident reservation may be bumped by a cargo truck that needs the spot. Or if there is a problem with the ferry, you may be stranded for hours or even days.
Directions to the Ceiba Ferry Terminal from the San Juan Area
The Ceiba ferry Terminal, as well as the Ceiba Airport, is located in the old Roosevelt Roads Naval Base in Ceiba. If you already know where the Ceiba Airport is, then finding the Ceiba Ferry Terminal will be easy for you.
Drive-time from the San Juan (SJU) Airport to the Ceiba Ferry Terminal is about 75-90 minutes.
If traveling to the ferry terminal from the San Juan area, you'll want to take Route 26 east to Route 66 east to Route 3 east (toward Fajardo). Route 66 ends on Route 3 in Río Grande, so you're taking Route 66 to the end. Note that Route 66 is a toll road, and an AutoExpreso transponder is required for the tolls.
Continue east on Route 3 toward Fajardo. Once in the Fajardo area, Route 3 becomes Route 53. Once you're on Route 53, you'll want to take Exit 2 at KM 1.4 (which is before the first toll booth). This is the exit for the Puerto del Rey Marina and the Ceiba Airport. At the end of the exit ramp, turn left under Route 53, then continue straight. This will put you back on Route 3 heading south. Then, really all you need to do is follow the signs for the Puerto del Rey Marina and the Ceiba Airport. Continue on Route 3 past the Puerto del Rey Marina on your left.
You'll continue on Route 3 to KM 52.4, where you'll turn left onto Tarawa Drive. Landmarks here include a solar farm on the right, and the "Bienvenidos Ceiba" sign in the photo above. Continue straight on Tarawa Drive until you arrive at the guardhouse at the entrance to the naval base. If there is a guard, just tell them that you are going to the ferry.
Once through the gate, follow the brown "Ferry" signs — At the first V, you'll go left onto Forrestal Drive. At the second V, you'll follow the road as it curves to the left. At the third V, go right. Then, finally, turn left onto Marina Drive. Continue on Marina Drive until you come to the parking area and blue DTOP ATM building on your right.
There is a large parking lot further down the road from the ferry terminal that will provide transportation to the ferry in a van. They charge $15 per 24 hr. I suggest you do not park on the side of the road, they do give out parking tickets.
If you don't want to drive, do not assume a taxi will be there to take you where you want to go (and forget about Uber or Lyft!!). There MAY be one there, just waiting, but very possibly not. You really need to schedule a car services ahead of time to take you to and from the ferry terminal to wherever you want to go. Look into Luquillo Taxi as an option.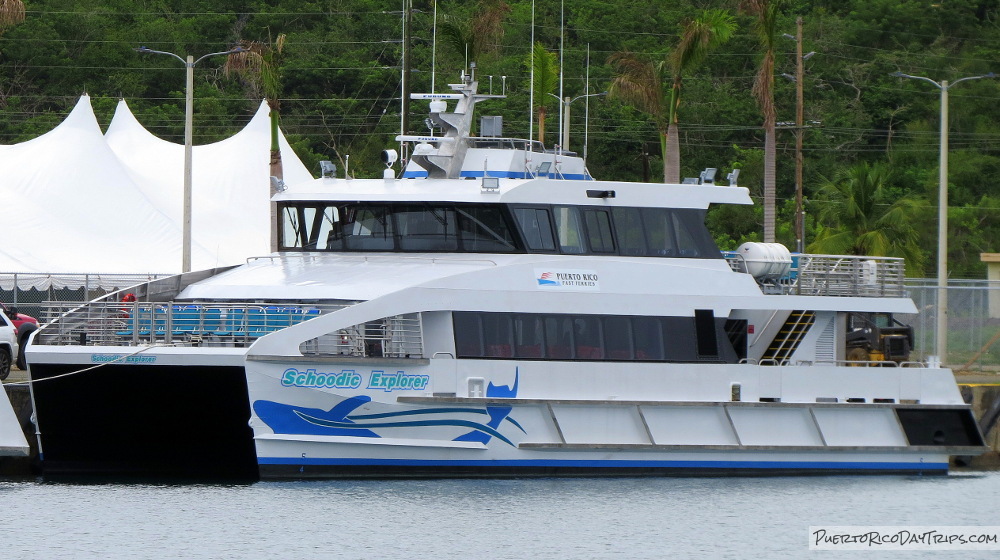 Other Info
You can bring coolers, beach chairs, beach umbrellas, snorkel gear, etc. with you. *=(make sure to pay the fee when you buy your ticket). The coolers and large things will be stored away from the seating areas — usually outside and/or in the front or the back of the boat — the crew will tell you where to put the items, and you have to go pick it up on the way off the ferry. Bikes are only allowed on the cargo ferry.
The trip over can be a little rough (especially in winter months!). Sea sickness bags are available on-board. If you are prone to motion sickness, take sea sickness medicine at least one hour before boarding the ferry so that is ready to work when you need it. Sometimes the seas are flat, and sometimes they're not. I find the westbound trip back from Culebra/Vieques to be less rough than the eastbound trip to the islands.
Click on a placename below to view the location on Google Maps ...
PuertoRicoDayTrips.com assumes no responsibility regarding your safety when participating in the activities described in this article. Please use common sense! If your mother or that little voice in your head tells you that you are about to do something stupid … then don't do it!