Catch a Flight at the Ceiba International Airport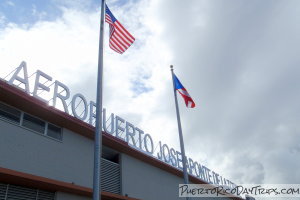 If you are traveling to Culebra or Vieques, your choices are to take the ferry out of Ceiba or to fly. If you choose to fly, you can depart from the Luis Munoz Marin International Airport (SJU) in Carolina (commonly called the San Juan Airport), the Fernando Luis Ribas Dominicci Airport (SIG) in San Juan (commonly called the Isla Grande Airport), or the new Ceiba International Airport (RVR) in Ceiba (formerly called the José Aponte de la Torre Airport).
The Ceiba International Airport (RVR) opened at the end of November 2008. Located at the old Roosevelt Roads Naval Base in Ceiba, this airport replaces the recently closed Diego Jiménez Torres Airport (FAJ) in Fajardo. For people who want to fly to Culebra, Vieques or even some of the other nearby islands (like the US Virgin Islands), flights from this smaller airport on the east coast are much more economical than flights from the airports in the San Juan area.
Getting to the Airport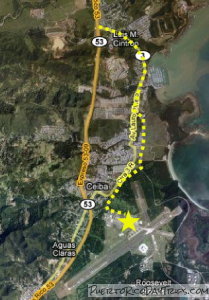 If you're driving from the San Juan area, you'll want to take Route 66 east to Route 3 east toward Fajardo. In the Fajardo area, Route 3 becomes Route 53. Once you're on Route 53, you'll want to take Exit 2 (which is before the first toll booth), which is for Puerto del Rey marina. This will put you back on Route 3 heading south. Then, really all you need to do is follow the signs for the airport. You'll continue on Route 3, and eventually you'll turn left onto Tarawa Drive. Again, just follow the signs.
Since Ceiba International Airport is located on the old Roosevelt Roads Naval Base, you'll come to a small guard house at the gate to the base. When we went, the guard just waved us past. Just continue to follow the road. It seems a bit tricky as they are doing construction. They've blocked all the side roads so there's no choice as to what to do. Eventually, you'll get to the airport terminal building.
If you need to park, there is hourly parking to the left near the building.
At the Airport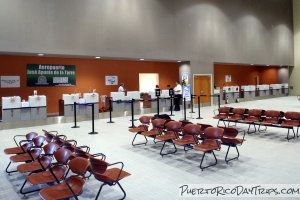 Inside the building, there are counters for the airlines: Air Flamenco, and Vieques Air Link. The airlines run planes back and forth to the Culebra Airport (CPX) and to the Antonio Rivera Rodríguez Airport (VQS) in Vieques (commonly called the Vieques Airport) as either charter or at scheduled times during daylight hours (roughly 6:00am to 6:00pm). Typical round-trip fares are about $100 per person to Vieques ($90 RT for Culebra). They generally run on schedule :-).
If you end up waiting, you'll be happy that the airport has clean bathrooms. There may be a snack bar open, but it looked closed recently.
The other option to get to the out-islands is to charter a plane Areotaxipr They run a 4 passenger plane with charter flights for 4 people to either island, but also will go from one out island to the other!
There is a parking lot that is open 7 days a week 6:00am to 7:00pm. The parking fee is $1.00 for the first hour and 50¢ for each additional hour. It is about $9 for 24 hour parking. Add IVU (sales tax) on all the prices. The parking attendant accepts cash and credit.
Car Rentals
If you plan to return to the out-islands and need a rental car just while on the main island. Carlos Jeep Rental is also at the airport and they offer a shuttle to/from the ferry. 787-742-3514 or check their web site .
Avis car rental- They provide a shuttle from the Ceiba Airport to their office, just outside of the airport gate. If you plan to return your rental car to the San Juan International Airport (SJU), you can check if Avis will allow this one-way drop-off. They don't offer this one way rental all the time, so call to check. They also close early on the weekend. web site You can call them directly at 787-885-0505 or 787-605-0166 for more information.
There is also a Allied Car rental — 787-455-7350 in Puerto Del Rey marina. And a Thrifty Car Rental at the Fajardo Inn. They also have a shuttle that will pick you up at the Ceiba Airport and they also sometimes have a one-way rental with return at San Juan International Airport (SJU). There is a fee for this. You can call them directly at 787-860-2030 for more information. I would suggest calling but also trying to book on-line.
For more information about the services at the Ceiba Airport call (787) 729-8715 or 787-534-4101.
For more information on Air Flamenco's services to Culebra, you can call 787-534-4220 , or check their web site.
For more information on Vieques Air Link's services to Vieques or Culebra, you can call 787-534-4222, or check their web site.
If these 2 larger airlines are booked, you can always look into chartering a flight.
For more information on Taxi Aero (they do charters to both out islands), check their web site or you can call (787) 602-7605.
We estimate the driving time from the San Juan area to the Ceiba Airport to be about 75 – 90 minutes.
Click on a placename below to view the location on Google Maps ...
PuertoRicoDayTrips.com assumes no responsibility regarding your safety when participating in the activities described in this article. Please use common sense! If your mother or that little voice in your head tells you that you are about to do something stupid … then don't do it!