Cave Tubing, Hiking and Petroglyphs Around the Tanama River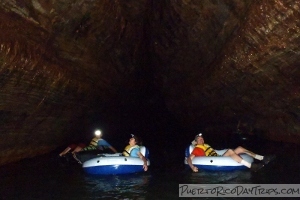 Though Puerto Rico is full of all sorts of neat things to do, one of the few things we don't have here is river rapids for tubing or rafting. We did find an adventure that offers "lazy river" tubing through a cave, along with some hiking and Taino cave exploration. Those are some of my favorite things all rolled into one day, and all in beautiful Utuado. So, when some family members came to visit, we decided to check it out.
Utuado and the karst region are really beautiful areas. Located about 1½ hours from San Juan, they are full of breath-taking views, nature, caves, and a rich history dating back hundreds of years before Columbus "discovered" Puerto Rico. Remnants of that pre-Columbian civilization can be found throughout the Utuado valley. The tour is on a property that contains many caves (both in and out of the water) and Taino artifacts.
Our Tour
We used a company that no longer is in business. But there are now a lot of companies that offer tours of the area. We decided to do a tour which had hiking, petroglyphs, and (most importantly) cave tubing. The catch here is, no matter what company you go with, if you want to go tubing in the cave, they require you to get there early, to hopefully avoid the typical afternoon rains (though there is no guarantee). Despite having to get up early, the drive up Route 10 in the early morning is breathtaking — through karst country, with the clouds rising from the valley. Really pretty.
We met our guide and followed them to the property. The drive to the starting point is along one hairy road — I was glad to be following another car! We parked along the road and off we went.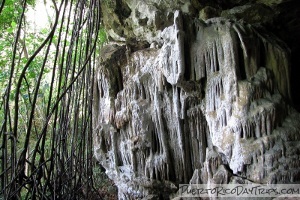 The trail starts down a steep dirt/rocky road. (some of the groups drive you down to the river). We then did a hike through the woods, along the rivers, and through the rivers. There is a neat suspension bridge that some tours use. Then we continued up and up to the petroglyph cave.
You need to take your time hiking up to the caves. Stopping occasionally for rest and water breaks. Note that this is not an easy hike — lots of up and down hills and valleys. If it rains a bit, the trail can be a little muddy and a bit slippery.
The petroglyph cave was a nice place, with a number of petroglyphs around on the walls. There was also a place were they had found a Taino Indian burial site and other Taino artifacts, like pottery. But nothing was left but the petroglyphs carved into the walls. There are other caves in the area that some tours visit. Or you can continue hiking up some more to the top of a mountain. At the mountaintop, there is a great breeze and pretty views. You will be able to see the Arecibo radiotelescope from the top of that mountain.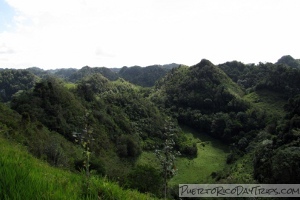 We then started hiking down and down — for about 30 minutes — back to the river. Hiking down the mountain was a little trickier on these slick trails, but we all made it without much incident.
Then we got to the best part of this tour — the water tubing. After putting on life jackets and headlamps, we sat in the tubes (some tours use a boat, some you just float on your back) and started our slow journey through the beautiful 500+ foot long underground tunnel/cave called El Portillo Cave. The cave has a large opening on one end, and it is really high. When you are inside of the cave, you can see why they don't allow tubing if it rains — large tree branches were stuck up toward the roof of the caves, easily 12 feet above our heads. It's obvious the water level can rise quickly during heavy rains and fill this cave to the top. But we had a sunny day so we had no worries.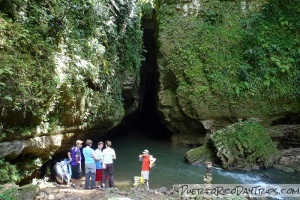 We floated slowly along, passing lots of pretty cave formations, like curtain stalactites. As you get farther into the cave, it gets darker and darker, and soon you are happy to have your headlamp. Then the walls look like chocolate. You can see a little light at the other end of the cave, where you eventually come out the other side. It is really pretty. The water is a bit cold, but it feels nice after the hot hike.
After that, we had a long walk back up the hill to where we started, where we could use the bathroom and change into our dry clothes. Lunch time!
Some Hints from Our Experience
For this tour, you will need sun glasses, sun screen, and water. You should wear fast-drying, long pants, hiking shoes and socks. You can carry water shoes and change into them if you don't want to get your hikers wet. If you don't want to go tubing in your hiking attire, wear a bathing suit under your long pants, and strip down before going into the water. Bring a dry bag for camera, wallet, and anything else that you need to keep dry while tubing.
You should bring a complete set of dry clothes to change into at the end of the tour. You can leave those in your car or in the bathroom area at the beginning of the tour.
Speaking of that … There is a bathroom right at the beginning of the tour. Use it. You won't see another one until the end of the tour.
When choosing the company to go with, make sure they speak the language you need. Also find out how much hiking you wil be doing and what the use in the caves. All these things may change the experience for you.
We recommend, Batey Zipline Adventure. They offer a wide selection of tours on the same property that include hiking, caves, a river trip through El Portillo Cave, and also a tour with ziplines on the owner's private property. We really like the personable guides that Batey uses, and we can highly recommend their tours as some of our favorite on the island.
Details
The hiking/tubing tour companies all have different prices for their varies takes on these tours. But the proces usually start at about $80 and go up. Reservations are required.
The tours usually start around 8am.
Trips into the river will be cancelled if there is rain, as the river rises quickly and can become dangerous.
The tours usually last about 3-4 hours.
Try one of the companies -contact information below. OR use Batey Zipline Adventures 787-484-3860 for their tours.
The tour companies will tell you specifically where to meet your guide when you make your reservations.
Allow about 1½ hours to drive to Utuado from the San Juan area.
We have no experience with them but now there are a bunch of other companies that do similar trips in the same area:Tanama Tours, Tanama River Adventures, Rancho Julio Rosaare other companies that run similar tours. Mountain Eco Tours, and another new one Aventureo PR .
Click on a placename below to view the location on Google Maps ...
PuertoRicoDayTrips.com assumes no responsibility regarding your safety when participating in the activities described in this article. Please use common sense! If your mother or that little voice in your head tells you that you are about to do something stupid … then don't do it!