Batey Zipline Eco Adventure is Serious Fun
They are open for business and running tours!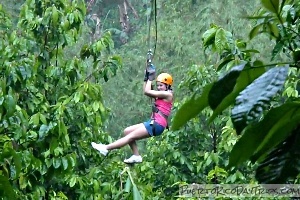 Ray and I enjoy adventure tours — those with ziplines, rappelling, hiking, and other fun things. We also enjoy going to special, off the beaten path places.
Batey Zipline Adventure, in beautiful Utuado, offers you all that and something extra — caves (both in water and on land) for your touring pleasure. And, believe me, this tour was a pleasure. It is a little tricky to get to, but it is well worth the trip.
Some Background
Jorge and his wife Denisse have been running Batey Zipline Adventure for more than 10 years now. They own 30 acres in the middle of the beautiful karst country, where they live off the land. They have an organic farm, solar power, and drinking water supplied by a nearby stream. A lot of the zipline course is set up around their farm and over the Tanama River.
Jorge and his guides are experts in safety procedures, and have many years working with cables and ropes. They also want guests to learn about why the area is so special — it was an important religious area for the pre-Columbian Taino indians.
We have been trying to take this tour for quite some time. But with scheduling and weather issues … it has taken us over a year to get around to nailing down a date that worked for us. We're glad we finally took this tour … and we're sorry that it took so long to get around to it!
Our Tour — The Classic
The Classic Tour has everything thing that I enjoy doing in one of my favorite areas of the island, and in only half a day. We had done some hiking in Tanama River area with another company, so we knew how amazing this area is.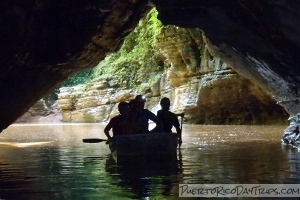 Batey has their office right on rt 111, at Km 48.6 (right across from the Caguana Indian Museum- you can't miss it!). From their, they will drive you to the place where the tour starts. You are greeted by your guides for the day. Our guides were Paul and Jorge. Both were so friendly and personable — we liked them right away. Our group that day included another couple (about our age) and 3 twenty-somethings from Wisconsin.
At the meeting spot, there is an office (with bathrooms) where we signed the usual insurance paperwork. After taking care of business and getting some gear (helmet & headlamp), we hopped into a 4-wheel drive truck, and went down a bumpy road to the Tanama River, where the adventure started. I'm so glad that we didn't have to walk up and down that steep hill to the river!
We started on a short walk and, while we were walking, Paul and Jorge told us about the Taino culture, what a batey is, and why cemis were important to the Tainos. After we crossed a suspension brige that Jorge built across the Tanama River, we arrived at Cueva Portillo. The Tanama River runs through this cave, so we hopped in boats and entered the 2000-foot long cave. It was amazingly beautiful, and filled with neat formations and some bats.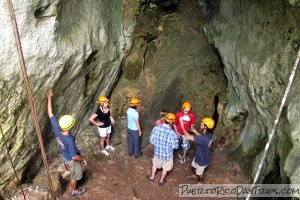 After paddling through Cueva Portillo, Jorge suggested that we add an "extra" cave to our tour. Getting there required a bit of an uphill hike, but it was so worth it. Along the way, Jorge and Paul were telling us all about the plants, landscape, and the history of the land we passed.
When we arrived at the cave (called Cerro Hueco), we had to enter through a small gap in the rock. Inside, the cave has a couple different chambers where we found lots of stalagmites, stalactites, columns, and (of course) some more bats. It was really beautiful. Some of the stalactites are hollow, and the different sized ones make different sounds when hit. Jorge and Paul gave us an impromptu drum concert by "playing" the walls of the cave.
After exiting from the cave, we took a short hike to Jorge's house and farm, where we met his family and picked up our gear for the ziplines.
At this point, Jorge gave us the instructions that we would need in order to safely enjoy the ziplines. He explained the mechanics of ziplining, along with the safety aspects of the double-cable system, the trolleys, carabiners, harnesses, and safety lines we would be using.
Ray and I were the only ones in the group that had any prior experience with ziplines, so Jorge explained stuff thoroughly to make sure everyone was comfortable with what we were going to be doing on the ziplines.
From Jorge's house, we took a short walk to the first of the ziplines. There are four ziplines that go around his farm, which is a mixture of trees and fields. Between the two guides, there was always someone at each end of the zipline, one to clip you onto the line, and the other to unclip you from the line.
This tour consisted of seven different ziplines. The shortest was 120 feet long, and the longest was 550 feet. The heights of the ziplines varied from 20 feet (above the ground) to 70 feet (above the river).
About half-way through the ziplines it started to rain, pretty hard at times. But that didn't stop us … it actually made the ziplines go faster!
After the fourth zipline, we arrived at the top of the rappelling station.
Since most of the people in our group had never been rappelling before, Jorge explained the use of the descender (to control our rate of descent), how to do a rappel, and the safety lines and braking system that we would be hooked to during the descent.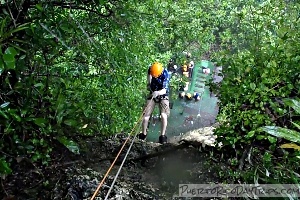 The rappel is down the face of a vertical rock wall, with an overhang. The total height of the rappel is about 70 feet. For about the first 35 feet of the rappel, your feet are in constant contact with the vertical rock face. The second half, once you get past the edge of the overhang, is more of a controlled descent in which you can go slow or fast, depending on how quickly you feed the rope through the descender.
This rappel was quite exciting for just about everyone. It was really fun and everyone did great, despite some understandable apprehension about "going over the edge".
After the rappel, there were more ziplines, this time above the Tanama River (which, due to the sudden downpour of rain, was extremely swollen and fast-moving).
Finally, we hopped back into the 4-wheel drive truck for a ride back up the hill to the office where we started the tour.
Everyone really enjoyed the day. Of course, it would have been even better without the rain. The folks at Batey Adventure Zipline suggest you aim for the morning tour, since afternoon rain storms are more frequent in their area. And nobody really wants to be doing this tour in the rain.
Random Notes
Jorge said that the actual activities in a given tour may change due to weather conditions and other factors. For example, if rains too much the Tanama River may be too swollen or fast-moving to access safely. Rain showers can be a problem in the afternoon. Depending on how wet our "rainy season" has been, the river may be totally off-limits.
They do offer other tours, including full-day, zipline only, or hiking/cave only tours.
For those people who may be nervous about the rappelling, it's good to know that you can opt-out of the rappel up until the very last minute. You can look over the edge of the rappelling station, and if you feel that you just can't do it, there is a path that leads down to the bottom.
The guides are completely Spanish/English bilingual.
There is some hiking required, depending on what activities (caves, etc.) are part of your tour. The paths are dirt (they can get slippery/muddy), and the paths are steep in some places. The hiking wasn't difficult for those in decent shape. They gave us rest stops along the way as needed.
Since this is a half-day tour, some other things to do in the general area (for the rest of the day) include Caguana Ceremonial Park, Lago Dos Bocas, Cueva Ventana, and Heladeria Lares.
Normally, when we review an activity that is not free to the public, we pay the admission price out of our own pockets. However, we just want you to know that the guys at Batey Zipline Adventure were kind enough to offer us this trip for free. While we don't feel that this free ride influenced our review one way or the other, we felt that we should tell you, just as a matter of fact.


Details
The cost of the Classic Tour is $109/adult and $75/kid (under 12). Prices do not include sales tax. They also offer a couple other different tours, some just hiking and caves, one with just the zip lines, one with more of everything.And now they also have horseback riding tours available! Contact them for info.
If you're happy, let them know it — Don't forget to tip your your bartender, tour guide or trip operator if you enjoyed yourself. Gratuities are appreciated and typically aren't included in the price they charge you.
Tours are offered 7 days/week. Reservations are required. Tour is about 5 hrs.
There is a minimum of 4 people required to run a tour, and a maximum of 15 people per tour. If you don't have enough people in your group, they will combine you with another group. They can also create a customized tour for your group.
Weight limit of 250 pounds for men and 210 pounds for women.
Wear closed-toe shoes (with good traction) and comfortable clothes. We always recommend "long shorts" or long pants for ziplining, to protect your thighs from the harness. There's a very good chance that your shoes and clothes will get wet, so choose accordingly. Have a change of clothes, dry shoes, and a towel in the car in case you get wet or go swimming in the river.
Bring a minimum of ½ liter water per person. Snacks are a good idea, too.
Allow 4 – 4½ hours for the Classic Tour
You can call 787-484-3860 for more information or to make a reservation.
You can visit the Batey Zipline Adventure web site for more information.
Driving directions from the San Juan area: Take Route 22 West to exit 75B for Route 10 (Arecibo exit). Take Route 10 south into Utuado. After about 20 minutes on Route 10, look for an intersection with Road 111 (there is a traffic light). You'll also see a sign for the Caguana Ceremonial Park. Turn right onto Road 111, and follow for about 20 minutes (it's a winding road). They have an 2 story building at Km 48.6. (Across from the Caguana Ceremonial Park).
Allow 1 hour 45 minutes to make the drive from the San Juan area. They can arrange transportation (for an extra fee) for groups of 8 or more people.
Click on a placename below to view the location on Google Maps ...
PuertoRicoDayTrips.com assumes no responsibility regarding your safety when participating in the activities described in this article. Please use common sense! If your mother or that little voice in your head tells you that you are about to do something stupid … then don't do it!