Take a Boat Ride to Lunch at Lago Dos Bocas
Since Hurricane Maria, this area had not been maintained well by the government. Lately, they have been cleaning it up. Seems like they may offer boat rides around lake sometimes during week, but on weekends they have that and the one for the couple of restaurants that are open (I think the restaurants are open only on weekends (Sat/Sun)).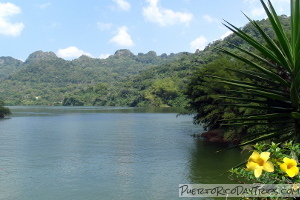 Looking for a nice off the beaten path way to spend a weekend afternoon? You can always hop in the car and head to Lago Dos Bocas toward the center of the island, where you can enjoy a boat ride around the lake or, to make a longer day out of it, go to one of the lakeside restaurants and enjoy drinks or a meal while admiring the views.
Lago Dos Bocas (Dos Bocas Lake) is a man-made lake (as are all of the lakes in Puerto Rico) located between Arecibo and Utuado. It was constructed in 1942 by what is now the Puerto Rico Electric Power Authority (PREPA) by blocking the Arecibo and Caonillas Rivers where they meet. There, they made a dam and installed a hydroelectric power plant. I am pretty sure the dam is still used to generate electricity, and the beautiful lake is used as a potable water reservoir and for public enjoyment (mainly on weekends).
We stopped here for lunch with my brother John and his wife Chris after our Cueva Ventana adventure on a Sunday in March. The lake is just about 15 minutes away from the cave and it was lunch time — so it was a perfect plan!
The route to the lake is easy to follow — there are large signs pointing the way to the embarcadero (pier) parking area. Here you will be helped by attendants into finding a spot to park. Parking was free when we went, though there was a booth (so maybe they charge sometimes?). From there, just walk to the left toward the water.
In the parking lot, representatives from the restaurant had sample menus and pictures of their place. They serve typical Puerto Rican cuisine, or comida criollo.
The Restaurants
-The restaurants are lakeside, though some higher up and some close to water level. They have their own boat that picks up customers at the boat dock and ferries them them to their restaurant. Once you decide which restaurant to go to, the rep will call the boat and they will meet you at the dock. The boats range in size, but most can hold 10 to 12 people.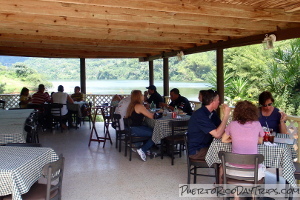 The lake was much larger than imagined it would be. The boat ride, going at a nice fast clip with a great breeze, took about 10 minutes each way. Along the way, there were great views of the mountains and water fowl. The restaurant have open-air, covered seating areas for meals. Some also have indoor seating.
Keep in mind that these restaurants are only open on the weekend, usually from 10 or 11am until 6 or 7pm. They are sometimes open on Monday holidays. The may be open mid-week in July. It's best to call ahead just to make sure.
All of the restaurants have similar prices — appetizers run about $3 to $7, main meals about $12 to $17. I believe all the restaurants take Visa, MasterCard, ATH (debit) and (obviously) cash. A few may take American Express. You may want to check with the representative before boarding the boat.
Paisaje Escondido open Saturday – Sunday 787-640-5179
La Marina de Rancho- open Fri- Sunday (787) 630-2750 or 787-618-2752
There are just a couple restaurants located at the lake that are open.
When we went there were 5 to choose from, we decided on a restaurant just because of we liked the name. We tried the mofongo (one with with rabbit & one with shrimp), the churrasco (skirt steak) and filete de chillo (snapper fillet). They were all very good!
Other Activities on the Lake
If you do not want to eat, you can hire a boat to take you on a little tour around the lake. It is about $5 per person, though sometimes they require 4 people to go, so it might cost $20 if you have fewer than 4 people. It is a nice trip, breezy and pretty and calm water. They have life jackets for kids.
They allow fishing at the lake, with a permit. I believe you can rent a boats and kayaks to enjoy on the lake, also.
Other Things to do Nearby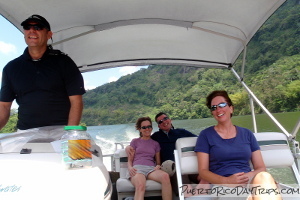 If you're going to make the drive to the Arecibo/Utuado area for Dos Bocas, you might as well visit one of the many nearby attractions and make a full day out of it. Some nearby attractions include
Details
Note that Lago Dos Bocas is popular with local people and gets VERY busy on summer weekends!
Driving directions: From the San Juan area, take Route 22 West to Route 10 South (exit 75B). At KM 69.7 on Route 10, turn left onto Road 621 (there are large signs for Dos Bocas) toward Road 123. Turn right onto Road 123, and stay on Road 123 (it turns to the right at one intersection) following the signs to El Embarcadero parking area. Be aware, Road 123 is a small and twisting/turning road.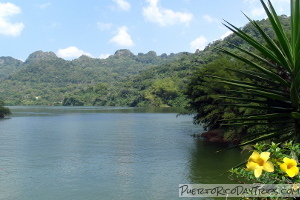 ¿Le gustaría hacer un paseo por un paraje algo remoto en una tarde de fin de semana? Pues móntese en su auto y diríjase al Lago Dos Bocas en el centro de la isla. Allí podrá disfrutar de un paseo gratuito en lancha alrededor del lago o si desea pasar un poco más tiempo, puede ir a comer a uno de los restaurantes del lago mientras admira el paisaje.
El Lago Dos Bocas es un lago hecho por el hombre (como todos los lagos de Puerto Rico). Está localizado entre los pueblos de Arecibo y Utuado. Fue construido en el año1942 por la Autoridad de Energia Eléctrica de Puerto Rico (PREPA). Ellos represaron el Río Grande de Arecibo y el Río Caonillas en lugar donde se entrelazan. En esta represa instalaron una planta hidroeléctrica. La represa aún se utiliza para generar electricidad y este precioso lago se usa como una reserva de agua y también para el disfrute del público en general, mayormente durante los fines de semana.
Recientemente nos detuvimos allí para almorzar junto a mi hermano John y su esposa Chris luego de nuestra aventura en la Cueva Ventana un domingo de marzo. El lago está sólo a 15 minutos de la cueva y ya era hora de almorzar así que el plan nos quedó perfecto.
La ruta al lago es fácil de encontrar – hay unos letreros grandes que dirigen al estacionamiento del embarcadero.  Los empleados le ayudarán a encontrar un lugar donde aparcar el carro. El estacionamiento salió gratuito en esa ocasión pero vi una casilla por lo que creo que quizás cobren en algunas ocasiones. De este punto en adelante sólo debe caminar en dirección al agua.
En el estacionamiento, los representantes de los diferentes restaurantes le mostrarán los menús de éstos. Todos sirven comida típica criolla. Todos los locales de comida lucen bien – muy difícil de escoger a cual de ellos ir.
LOS RESTAURANTES
Todos los restaurantes están junto al lago aunque algunos están un poco más arriba. Cada uno tiene su propia embarcación la cual recoge a los comensales en el muelle y los transportan en la lancha hasta su local. Una vez usted elija el restaurante de su predilección, el representante llamará la embarcación la cual lo recogerá en el muelle. Las lanchas por lo general tienen un cupo para 10 o 12 personas.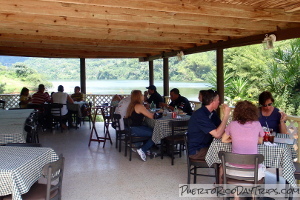 El lago es más grande de lo que imaginábamos. Si la embarcación va de prisa, se tomará cerca de 10 minutos en cada trayecto. La brisa, las aves del lago y el paisaje de las montañas se pueden apreciar durante el corto viaje. En todos los restaurantes se puede comer en áreas al aire libre o en áreas bajo techo. Algunos también tienen mesas en el interior.
Debe tomar en cuenta que estos restaurantes sólo abren durante los fines de semana, usualmente de 10–11 am hasta de 6–7:00 pm. A veces también abren los lunes feriados. Puede que abran los días de semana en el mes de julio. De todas maneras, es mejor llamar con anterioridad para cerciorarse.
Todos los restaurantes tienen precios similares – aperitivos de $3 a $7 y platos principales de $12 a $17. Creo que todos aceptan tarjetas de crédito o débito y aunque no estamos seguros si aceptan American Express. Puede verificar con el representante antes de abordar la lancha.
Hay 1 restaurantes en el lago pero sólo pudimos tomar información de cuatro de ellos. Si alguien puede proveer información sobre el quinto por favor déjenos saber en los comentarios al fondo. (9/10– ¡Gracias Francisco!)
Decidimos ir al Fogón de Abuela por lo peculiar de su nombre. Pedimos un mofongo relleno de conejo y otro de camarones, un churrasco y un filete de chillo. ¡Todos muy buenos!
OTRAS ACTIVIDADES QUE SE REALIZAN EN ESTE LAGO
Se permite la pesca en el lago, con un permiso especial. Creo que se pueden alquilar botes y kayaks para el disfrute del lago.
OTRAS COSAS QUE HACER EN LOS ALREDEDORES DEL AREA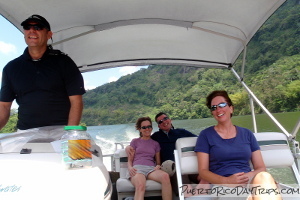 Si va a estar en el área de Arecibo/Utuado para ir al Lago Dos Bocas, quizás quisiera visitar una de las atracciones cercanas y quedarse el día entero en el área. Algunas de estas atracciones son:
DETALLES
¡Tome en cuenta que el Lago Dos Bocas es muy popular y se llena los fines de semana durante el verano!
Direcciones: Desde el Área Metropolitana, tome la autopista 22 hacia el oeste hasta la carretera 10 (Salida 75B). En el kilometro 69.7 de la carretera 10 doble a la izquierda hacia la carretera 123 (esta carretera gira a la derecha en una intersección) siga el letrero hacia el estacionamiento del embarcadero. Cuidado, ya que la carretera 123 es angosta y tiene curvas.
We are in the process of updating the maps we use on our web site. While we're working on that, you can click on the GPS coordinates below to view the location on Google Maps ...
PuertoRicoDayTrips.com assumes no responsibility regarding your safety when participating in the activities described in this article. Please use common sense! If your mother or that little voice in your head tells you that you are about to do something stupid … then don't do it!