Taste Exotic Ice Cream Flavors in Lares
Since June 2014, Heladería El Grito, a new ice cream shop opened in the town plaza of Lares offering similar styles of ice cream. Now you have two choices for yummy and unusual ice cream. We have been to both and enjoyed them both!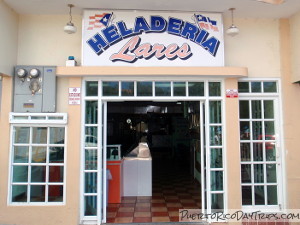 I scream, you scream, we all scream for ice cream! If you love ice cream (helado in Spanish) , or just want to taste some exotic flavors, I have a place for you to go.
Heladeria Lares is an ice cream shop in Lares that has 45-50 delicious flavors of ice creams daily — many very unusual.
This ice cream shop was featured in the Travel Channel's Bizarre Foods with Andrew Zimmern when they did a show about Puerto Rican food.
The Store
The ice cream shop (heladeria in Spanish) is located right on the town square in Lares, just across the street from the Church. This narrow shop was opened in 1968 by Salvador Barreto ("Yinyo").
Today, the shop is operated by the same family, and they still make the same delicious and unusual flavors using Yinyo's original recipes.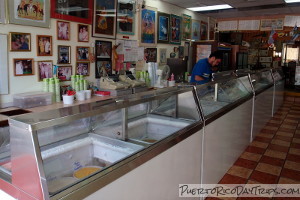 The store's walls are covered with photographs, historical newspapers and articles about the town, the store and news-worthy events around Puerto Rico. Supposedly, they have recipes for 500 flavors, but I think that may be an exaggeration. They have room in their freezers for about 60 flavors, but they do double up on many of the more popular flavors. So, on any given day, you'll have around 40 or 50 flavors to choose from. There are some tables where you can sit inside and eat your treat, and even an area for a DJ on weekends, when the place gets busy.
The Ice Cream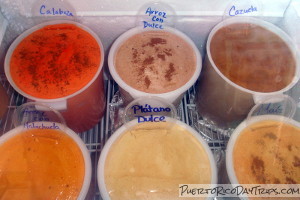 The ice cream is all home made. The flavors range from traditional ones you know and love (like cookies & cream, vanilla or chocolate) to "exotic" ones that you'd never have imagined (like cod fish, rice & beans or garlic) to some other in-between flavors (like carrot, sweet potato or corn). The names of the ice creams flavors are in Spanish, but the scooper will translate them for you.
They give out 2 free samples for you to try before making a decision. I think that choosing was the hardest part! I like ice cream, so I wanted something that would taste good, but be slightly unusual (but not too gross).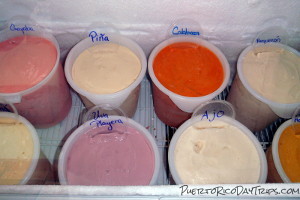 We each tried a couple different flavors before making our final decisions. Ray tasted the rice & beans — it wasn't sweet enough for his taste — and calabaza (pumpkin) — which he said was bland. He choose arroz con dulce (rice pudding flavor) and corn — both of which are their most popular flavors. I tasted the calabaza & batata (pumpkin/sweet potato) combination and ajonjoli (sesame seed) — which was good. I choose the calabaza & batada combination — which I liked — and almond cake. We each got 2 scoops in a dish. It was a yummy treat!
Details
Prices were reasonable. You can get your ice cream in a cup or cone. About $3.50 for 2 scoops.
Heladeria Lares (787) 378-4288. For Heladeria El Grito, call 787-608-0274.
Heladeria Lares Monday- Friday 10am- 5pm, Sat and Sun 10am-6pm. Heladeria Grito is open daily 12n- 6pm.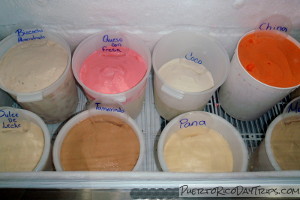 You can eat your ice cream inside the store or take it to go and enjoy your treat walking around or on a bench in the town square.
Pages: Heladería Lares and Heladería El Grito
Heladeria Lares/ El Grito are a little hard to find, you need to get to the town Plaza. Take Route 129 into Lares, then turn into the center of town. It is right on the main square (#2 Calle Vilella). Finding parking on the street was even more difficult, even on a Friday at noon when we went. I imagine that you'll end up parking farther away on weekends.
Allow about 1 hour to drive to Lares from the San Juan area. If you going to the Rio Camuy Caves Park or the Arecibo Radiotelescope you can easily make a side-trip for some ice cream — it's only about 20 minutes away from the caves.
Another Option
In Caguas, there is a shop called Jendy's that offers a nice selection of flavors (even of few really unusual ones).
We are in the process of updating the maps we use on our web site. While we're working on that, you can click on the GPS coordinates below to view the location on Google Maps ...
PuertoRicoDayTrips.com assumes no responsibility regarding your safety when participating in the activities described in this article. Please use common sense! If your mother or that little voice in your head tells you that you are about to do something stupid … then don't do it!