Bacardi Rum Factory Legacy Tour
5/22- Bacardi has restarted their tours by reservation only.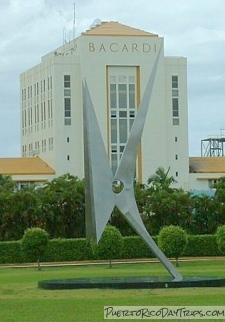 If you are a rum fan, you must a trip to Bacardi Rum Distillery to do the Legacy tour. This tour is more of a tour about Bacardi and how they make rum at the factory, but not a factory tour. But it is generally entertaining.
Two things before we start:
– it is freezing inside the tour building – I was happy to have a sweater with me!
– bring the e-mail addresses of friends so you can send them a video e-card from the tour.
Our Tour
This is a run down of the tour: When we got to the Bacardi gate, we said we wanted to take the tour and the guard gives you directions to the parking area.
After parking, we walked into an open-air pavilion — with the bar and chairs and tables set up. We stopped at the desk to the left and checked in for the tour we wanted. They gave us a Bacardi "coin" that you can keep or trade in at the bar to fill your glass with a welcome drink. (Cuba Libre, Daquari, or Bacardi Sunrise.) We got there early to have or drink before the tour, but no drinks are allowed on the tour, so drink fast — or wait and have the drinks after the tour.
Our tour was called ontime The tram driver talks a little about the company and the buildings and sculptures you see on the way to the tour building. It is not the actual factory, just a tour building. The tour is 45 mins of a glitzy, informative, entertaining and delicious commercial for Bacardi.
They start with some history of sugar cane in the Caribbean and the origins of rum making. Then there is a nice movie about the Bacardi family history, and the Bacardi rum making process. I love the music in that movie!
Next you go into a reproduction of the original factory and the guide tells you how the rum was made and shows you how it is stored in burned oak barrels. Then you can look at all sorts of old Bacardi family memorabilia – pictures, original bottles, documents and a section to smell the types of rums.
Then you go into a "bar" where they tell you how to make a few drinks, what Bacardi rums are available and how to use them. And then a sample of Casa BACARDÍ Special Reserve, a fine aged rum that is only available at the factory gift shop.
Then onto a neat section where they display all sorts of old Bacardi drink ads from magazines from the 1940's to today – kind of cool!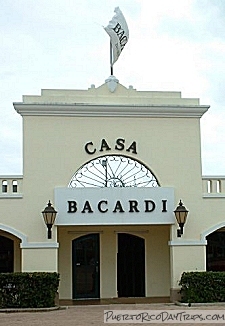 Then right into the gift shop, where they have lot of Bacardi merchandise and some rums that are not available elsewhere. They also have computers available so you can send out a video e-card to friends at home. We made complete fools of ourselves and sent it out so everyone could get a chuckle!. At the end, we walked back to the starting visitors center.
All in all the tour takes about 45 mins and then we chilled out with the drinks for about another half hour, so it is a nice way to spend a half day. No pictures are allowed in some of the inside portion of the tour, but one can have your picture in front of Casa Bacardi! And there is a lovely view of El Morro fort across the water from here.
The Legacy tour is available in English only. By reservation (online) only. Must be 18 years and up allowed. I believe the whole ting is handicapped accessible- contact Bacardi to make sure.
The Legacy tour, which includes the tour, a welcome drink and a taste of the Casa BACARDÍ Special Reserve costs $30. Other tours are available $75 Mixology , $75 Rum Tasting. You can buy tickets online. .
The tours are available 7 days a week. Closed on the Big holidays- 3 Kings Day (1/6), Good Friday, Easter Sunday, Mother's Day, Father's Day, Thanksgiving, Christmas Day and New Years Day
Allow 2 – 3 hours.
phone: 787-788-1500
website: www.casabacardi.org
Drink responsibly and Don't Drink and Drive. Uber is available!
Directions from San Juan – By car, get out of San Juan, go on Rt 18 until Highway 22 W, get off at the exit for Catano / Road 165. There is a little brown Bacardi sign. Take Road 165 until km 2.6 – follow the brown Bacardi signs. The Bacardi factory is visible on the right side just before the exit. You can also turn right at the light at Int 888 (it is in an industrial park area).
From Old San Juan – Take the ferry from Pier 2 to Catano, for $0.50 pp, each way. When you arrive in Catano, go to the right for a taxi to the factory for about $5.00 pp each way (or get an Uber).
It should be about 20 min drive from the San Juan area.
You may be able to get some of the rum cheaper at the Duty Free store in the airport.
Click on a placename below to view the location on Google Maps ...
PuertoRicoDayTrips.com assumes no responsibility regarding your safety when participating in the activities described in this article. Please use common sense! If your mother or that little voice in your head tells you that you are about to do something stupid … then don't do it!