Bahia Urbana – Waterfront Park in Old San Juan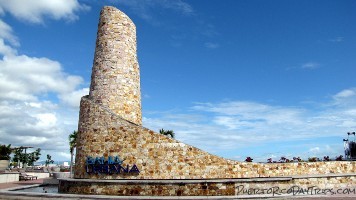 For being such a historic place, it's surprising that new things are always happening in Old San Juan. After years of planning and construction, the expanded waterfront area along San Juan Bay formally opened in Spring 2013. Called Bahia Urbana, this public space runs east along the waterfront, from the cruise ship area (Piers 1-4) to the Pier 7-8 area.
This space offers a great place to walk or sit and enjoy the cool breeze coming off of the bay. If you're not in the mood to sit and relax, it is also active with various tours, activities and programs.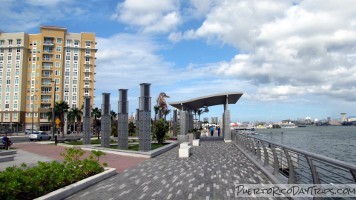 Bahia Urbana is a new area — with walkways and parks — along the San Juan Bay waterfront on the south side of Old San Juan. This area has been in the making since the 1980s, and it is finally being completed in sections.
The area by Pier 6 is a waterfront walkway, and the newest part is a large park area at Piers 7 & 8. Plans are to continue the area to the east past the Navy Frontier Pier and eventually to have a pedestrian bridge over to the Convention Center area on the other side of the bay.
What is there to do or see here?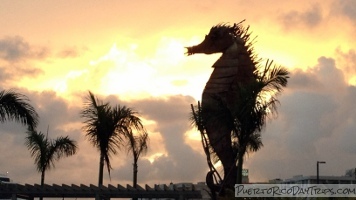 As you walk east along the waterfront from the cruise ship piers, you will find places to sit and relax. There are flower boxes and some sculptures. There is a beautiful Sea Horse sculpture, and at Pier 6 you will find the the docks that some watercraft tours use..
As you continue to the east, you will cross a pedestrian bridge that will take you to the park at Pier 7/8. That's where you will find a sandy play area for the kids, restrooms, an outdoor bar/restaurant (Cafe 8), areas to sit and relax, and an open-air amphitheater where many concerts and activities are planned (up to 200 events per year). There is a carousel for the kids (Fri-Sun ngihts) and a lovely fountain. Helicopter Tours also take off from this area!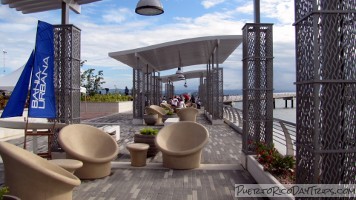 There are plans for an "urban beach", that will have water and sand for the kids to splash around in, and an area for an artisan craft market.
Across the street from Bahia Urbana, on the first floor of the big yellow condo building, you can find Rent the Bicycle, a couple of bars, restaurants and shops.
They have done a great job, with crews for cleaning and security, and lights for safe nighttime activities. It is open every day from 6am to 11pm.
Click on a placename below to view the location on Google Maps ...
PuertoRicoDayTrips.com assumes no responsibility regarding your safety when participating in the activities described in this article. Please use common sense! If your mother or that little voice in your head tells you that you are about to do something stupid … then don't do it!