Take a Bicycle Tour in Old San Juan
COVID Update They are open and running tours, but on a limited schedule and new health rules. You need reservations! .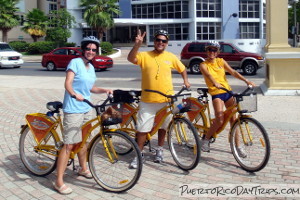 There are many options for touring around the Old San Juan and San Juan metro areas, but have you ever considered biking around and getting some exercise while sight-seeing on your vacation? You can do just that while getting a nice tour of Old San Juan or the surrounding area. Rent The Bicycle offers reasonably priced, eco-friendly bike tours of Old San Juan, Condado, or Piñones.
Pre-Ride Jitters
I will tell you, I didn't think I would like doing this tour. Biking in Old San Juan and Condado sounded difficult, hot and kind of dangerous. And it has been a while since I've been on a bike. But I was so wrong. I really enjoyed it!
Since you are riding, you get a breeze the whole time and you get to where you are going much faster than walking, so you can do & see so much more. You also get to enjoy the scenery, smell the food cooking at the restaurants and even interact with people along the way. You can actually experience the route, instead of just getting to a destination.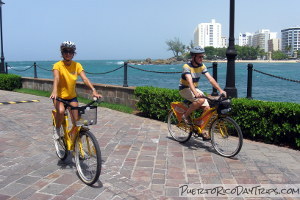 Rent The Bicycle offers many options, from guided tours to hourly bike rentals. Though you can just rent the bikes and go along a "suggested" route, for tourists or cruise ship visitors, I highly recommend going on a tour with a guide. They really take the stress out of the equation — you don't have to worry about directions, finding the handicap ramps on the corners, stopping the traffic to cross, etc.
If you go with a guide from Rent The Bicycle, they know the safest route to take. On our tour, when we had to ride in the streets, the guide signaled or stopped traffic, so we could just enjoy the ride. Riding in traffic was one of my concerns, but on our tour from Old San Juan to Ocean Park, we were mostly on sidewalks or bike paths. And when we did have to use the street, they were mainly suburban streets, where traffic was used to sharing the road with the bikes. It really turned out to be a safe and enjoyable tour.
Rent The Bicycle offers a few guided tours from the Old San Juan area (even one with a tour inside of El Morro and Fort San Cristobal) and a San Juan City and Beaches tour. Since we have been to Old San Juan and the forts many times, we decided to do the City and Beaches tour.
Our Tour
Since we had a car, we met them at their shop in Old San Juan (though they do offer transportation and bike delivery). After adjusting the bikes seats for our height, fitting us for the mandatory bike helmets, and signing the obligatory waivers, we set off.
On our tour, we enjoyed some beautiful ocean views, a ride through Escambron Beach, by the Normandie and Hilton Hotels and around the Condado lagoon. We stopped at the Fort San Geronimo ruins and a worker actually let us go in a look around — what a rare treat! We stopped at the Plaza Mercado in Santurce, where we had a banana batida (shake) and I took the opportunity to buy some fresh fruit!
Once we rested a bit, we took off toward Ocean Park, into the Parque del Indio and up to the Ultimo Trolley Beach. Then we turned around and came back, but going a different route so we could see other things like the Condado hotels, Parque Ventana al Mar, and the Condado bridge beach. We rode across the Condado bridge where the kids were jumping into the lagoon. All in all we covered about 10 miles and saw many neat things.
That was our tour — but every tour is different. It all depends on the people on the tour — how fast they can ride, how comfortable they are on a bike, etc. This tour sometimes winds through Parque Luis Munoz Rivera, sometimes on the beaches in Ocean Park (by Pamela's, etc.). It is variable but always interesting!
Other Options for Guided Tours
Rent The Bicycle offers a few different 2½–3 hour bikes tours. They have 2 tours of Old San Juan, which are similar except that on one of them you go inside the forts and they give you a guided tour of the forts, while the other one just stops at the outside of the forts. The Rent The Bicycle guides are certified US National Historic Site tour guides and Puerto Rico Tourism Company endorsed guides, so you will get accurate information. And they are bilingual (English and Spanish).
On these tours you can see the Capitol building, both forts, many beautiful statues (like La Rogativa and Raices), Paseo de Princesa, the Old City Gate, the Cathedral, they give you a little time to shop or sightsee on Cristo Street, and much more. They take you on routes with as few hills as possible and little traffic.
For people with stamina, they have a bike tour of Piñones nature board walk, where you ride past beautiful beach views and in mangrove forests. And they give you time to stop for a quick bite to eat at those tasty kiosks! They can also organize 4-hour tours for those who enjoy speed and extreme cycling. Or even totally custom tours.
All the tours are usually able to be semi-customized, so if you want to do something (like go swimming or grab something to eat/drink or shop along the way), let them know. They will try to fit it in during your tour.
One customization that they told us about is that they are able to organize birthday party bike rides, including all the arrangements for food, drink and cake!
The Bicycles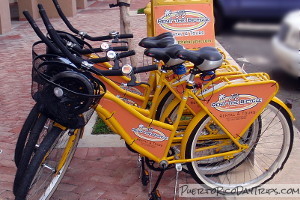 You can't miss these bikes — they are all school bus yellow! They are well-maintained, unisex, cruiser-type models that have a single speed and both hand and pedal brakes. They have a front basket and back rack for carrying any stuff you have with you or pick up on your trip. The bike seats are wide and well-padded, which I found to be very comfortable.
Rent The Bicycle has different height bicycles and they always adjust the seat height so almost anyone can ride comfortably. Before they take you out on the tour, they make sure the bikes are in good working order (tire and brake check) and help you adjust your helmets (so get there about 15 minutes before the scheduled start time for your tour.
They have child seats that can be installed on a parent's bike for kids up to34 years old, or maximum of 36 pounds, for a small fee. You can rent a lock, so you can safely park and lock the bike while you explore on foot. One fun thing, the bikes also have a bell. Though probably there to warn pedestrians, we mainly used it to "say hello" to people we were passing!
Bike Rentals Without a Tour Guide
For people who want to just go out and explore on their own, they also rent bikes by the hour or the day. The folks at Rent The Bicycle will give you a map and a suggested route for biking, so you are not riding willy-nilly or in lots of traffic. They also have a car carriers available (for a fee) if you want to rent a bike and take it outside of the Old San Juan area to ride.
Customer Service
I was very impressed with the customer service this company offers — they understand service and want you to be safe and enjoy yourself. They responded to my emails quickly, and the guides were pleasant and excited to show you the sites. They offer drop-off and pick-up of bicycles to hotels in Old San Juan, Condado, Ocean Park and Isla Verde for bike tours or hourly rentals. They have a large air-conditioned van, and they can even pick you up if you decide you just can't/don't want to continue riding. For cruise ship passengers, they will pick you up from the cruise dock and get you set up with a tour or a bike rental. You should let them know if you need a tour in a language other than English or Spanish, they might be able to set that up for you!
Other Things Worth Mentioning
Helmets are included in the rental/tour price and it is mandatory that you to wear them.
Height requirements- at least 5 ft tall and less than 6′ 3 in. And maximum weight 225 lbs..
They do not allow children under 14 to ride alone. It is an insurance issue. So children between 3 years and 14 years can't go on these tours.
The tours include a bottle of water. I would suggest you bring (or buy along the way) another one. You will biking/exercising in a tropical climate and staying hydrated is really important!
Make sure to use sunscreen on your face/arms/legs for the tour. You will be riding for almost 3 hours and will not realize you are getting sunburned (until it is too late). Some is available at the shop if you don't have any.
They say these tours are appropriate for anyone in decent shape that knows how to ride a bike.
No matter how many people are in your party, inquire about tours. They can accommodate 4 or more people (up to 10 people per guide). They need 4 people minimum for a tour. They have over 100 bikes, so they can even do large groups.
Ask about personalized tours, birthday parties, or special request.
Normally, when we review an activity that is not free to the public, we pay the admission price out of our own pockets. However, we just want you to know that the folks at Rent The Bike were kind enough to offer us this tour for free. While we don't feel that this free ride influenced our review one way or the other, we felt that we should tell you, just as a matter of fact.


The Details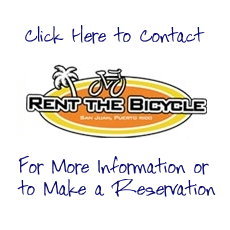 Prices for Guided Tours
Old San Juan tour, including going inside the forts $87/person
Old San Juan tour, without going inside the forts $57/person
San Juan City and Beach tour $82/person
Other tours may be available- just ask!
Prices for Bike Rentals, picked up at their store in Old San Juan. Rentals are for only for adults under 70 and kids 14 years old (accompanied by an adult). Bikes are not rented directly to minors under 18 years old.
$10/person for 1 hr, $20 for 3 hours, $30/person for all day until 4pm
Child's seat (for up to 3 yo or 36 lbs) to attach to bike is $7/day
They are open Tuesday – Sunday 9am -4:30pm. Hours may be longer during high season or shorter during low season. Guided tours are offered at 9:00am and 1:00pm. Minimum 4 people for guided tours. Guided tours are about 2.5 hrs long.
Their phone number is (787) 661-2728 (787) 602-9696.
You can visit their web site , Facebook page , or send email to rentthebicyclepr@gmail.com for more info.
2 Locations! At the corner Del Muelle/ St. Fernandez Juncos Corner, #205 Capitolio Plaza Condos in Old San Juan. And the newest location Just by Fort San Cristobal, at Muñoz Rivera Avenue , and Norzagaray St. Just look for the yellow bikes lined up on the sidewalk.
Click on a placename below to view the location on Google Maps ...
PuertoRicoDayTrips.com assumes no responsibility regarding your safety when participating in the activities described in this article. Please use common sense! If your mother or that little voice in your head tells you that you are about to do something stupid … then don't do it!