Art Museums in Bayamón
The museums are open but with new COVID guidelines. Please call them before visiting.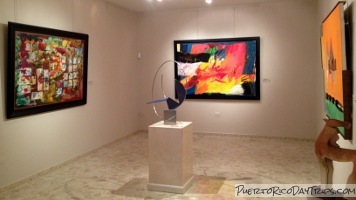 If you are an art fan, Bayamón should be on your list of places to visit. There are two noteworthy art museums in town — the Bayamon Museum of Art (Museo de Arte de Bayamón) and the Oller Museum of Art and History (Museo Francisco Oller).
Both museums are on the small side, but they are free of cost and have guided tours available. Both feature local artists, from the mid-1800s through today, so you get to appreciate an eclectic mix of styles and designs.
The Bayamón Museum of Art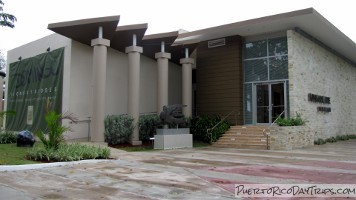 Located inside the Luis Ferre Science Park, this small museum has been recently (in 2010) renovated. It contains 9 exhibition rooms that hold many objects on permanent exhibit, and then some rooms with temporary/rotating exhibits, from Puerto Rican artists like Jose Campeche to current day artists.
Art works range from 18th century classic still-life and portraits to 21st century contemporary works. There is also a small (really small) garden area with sculptures and another area for activities. When we visited, the displays were mostly contemporary (modern) art.
admission to the art museum is free.
The museum is open Tuesday to Saturday, from 8:30am to 5pm.
Spanish-language guided tours are available. Sometimes, they have an English-speaking guide, call ahead if an English-speaking guide is important to you.
A couple times throughout the day on Saturdays, free transportation is provided between this museum and the Francisco Oller Museum.
You can call the art museum at 787-740-6868 for more information. Check their Webpage for more info.
Directions from the San Juan area: Drive westbound (oeste) on Expressway 22. Take Exit 13, turn left toward Road 167 (go underneath the expressway) and in about one mile you will see the rockets on your right. The drive should take about 20 minutes.
While the science park is closed for renovations, you can access the art museum through the guard gate just north of the park's main entrance.
FRANCISCO OLLER MUSEUM OF ART AND HISTORY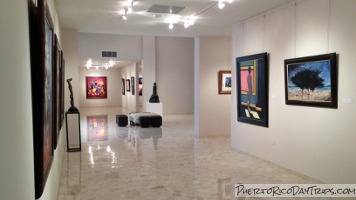 The Francisco Oller Museum museum is located in the center of the historic part of town, right on the outside of the main plaza in what used to be the old City Hall & Mayor's office. This beautiful old building has 2 floors of art exhibits, featuring (of course!) the works of Puerto Rican painter Francisco Oller.
They also have a permanent collection of locally-carved wooden Santos statues. There are other rooms celebrating the beautiful sculptures of Puerto Rican sculptor/artist Tomas Batista, and a few other famous local artists like Juan Santos and Ángel Luis Rivera. There are also a couple other rooms displaying temporary/rotating collections from local artists. There are also other objects on display, like some historic pieces and Taino artifacts.
Admission to the museum is free.
The museum is open Tuesday to Saturday, from 8:30am to 4pm
Check their Facebook page for more info. Guided tours are available. Sometimes they have an English-speaking guide, call ahead if an English-speaking guide is important to you.
You can call (787)785-6010 or (787)787-8620 for more information
The Francisco Oller Museum is located on the corner of Calle Maceo and Calle Degatau, across the street from the Bayamón Town Plaza. Parking is on the street or in a nearby lot.
Click on a placename below to view the location on Google Maps ...
PuertoRicoDayTrips.com assumes no responsibility regarding your safety when participating in the activities described in this article. Please use common sense! If your mother or that little voice in your head tells you that you are about to do something stupid … then don't do it!